If you're like me, you still have a few of your Halloween decorations hanging up! I know, I know, they'll come down soon, but that doesn't mean I can't start thinking about what I need for Thanksgiving!! I found a similar picture of these placemats on Pinterest, thought they were so cute, and would make for a great project with me and the kids. I have to be honest, this project was a little more complicated than I thought it would be! I discovered there's a trick to cutting burlap that you might not know about either.
For these placemats you'll need:
1 yard of burlap
Scissors
"Fray Check" glue
Poster board or cardboard
Measuring tape
2" letter stamps to spell "Gobble"
Paint brushes
Black, brown, white, yellow, orange and red fabric paint
Directions:
1. Cut the fabric We'll start by laying out, measuring and cutting the burlap. When I picked it up at the fabric store, the woman at the cutting station let me in on a little secret to cutting this particular fabric. Measure where you want to make the cut, find the string that is nearest that location, then carefully pull that individual string out.
Why? The threads that make up burlap don't necessarily fall in a straight line. And following this guideline might create some slight imperfections in the place mat rectangle. However, while the uneven nature of the burlap may make out place mats slightly uneven, it will overall look better if we keep each thread in tact.
So, once the string is out, you'll see a gap in the fabric. Cut along that line. Do this with your burlap fabric to create 4 rectangles measuring 17 inches by 13 inches.
2. Add some fringe! Depending on how you want these to look, this step may be optional! I simply removed a couple of threads from each side of the placemat to create a more country-style look.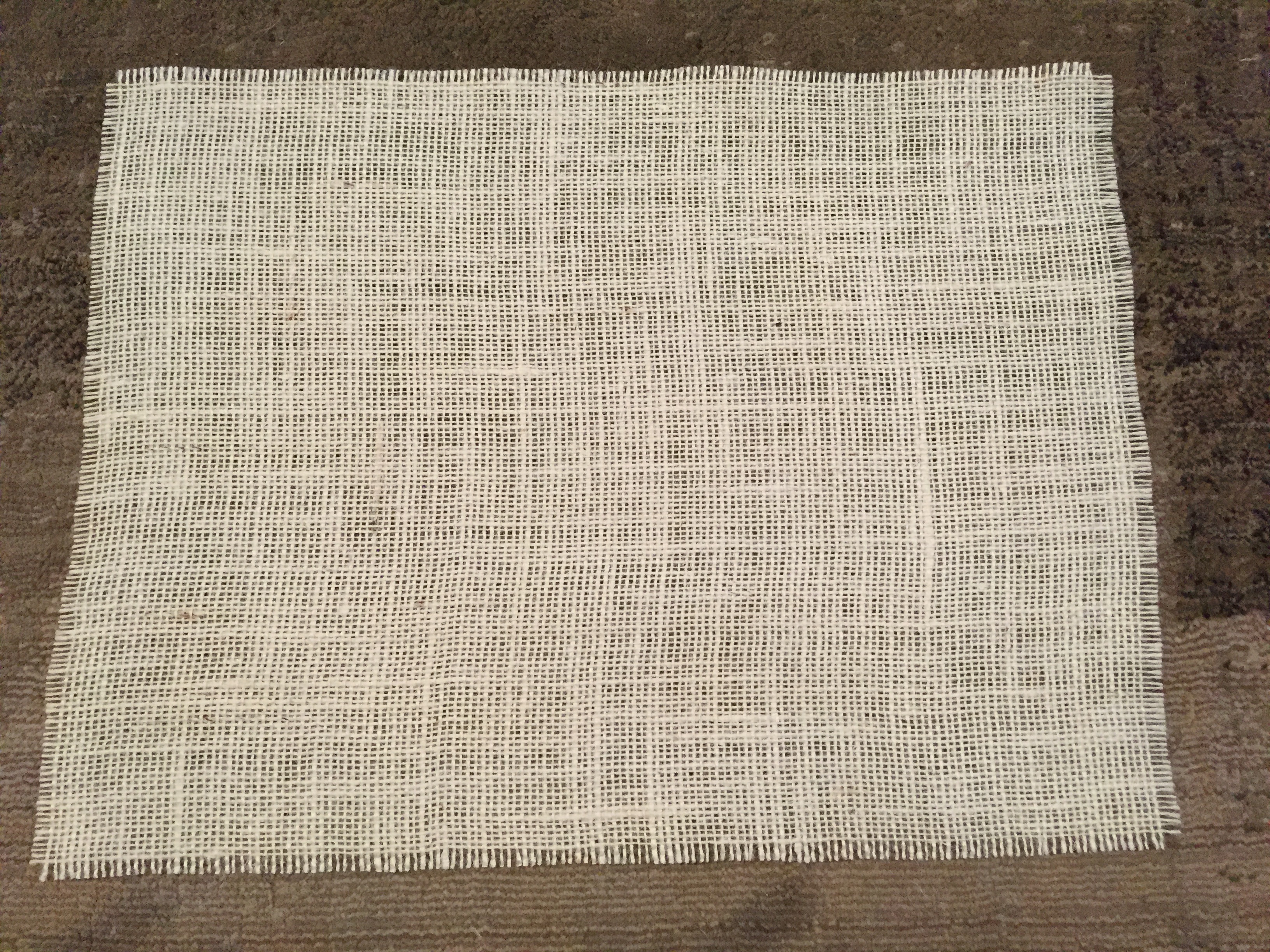 You'll notice that these threads are now extremely easy to remove!! To keep this from happening any more than you want it to, you've got a couple of options. I used a special glue called, "Fray check" and applied it to each side of my placemats to keep the threads in place. Or… if you're feeling extra crafty… grab your sewing machine and sew each side in place.
3. Paint! I placed a piece of poster board underneath my placemat, then using my letter stamps and brown paint, I painted on the word "Gobble" to the top and bottom of each rectangle.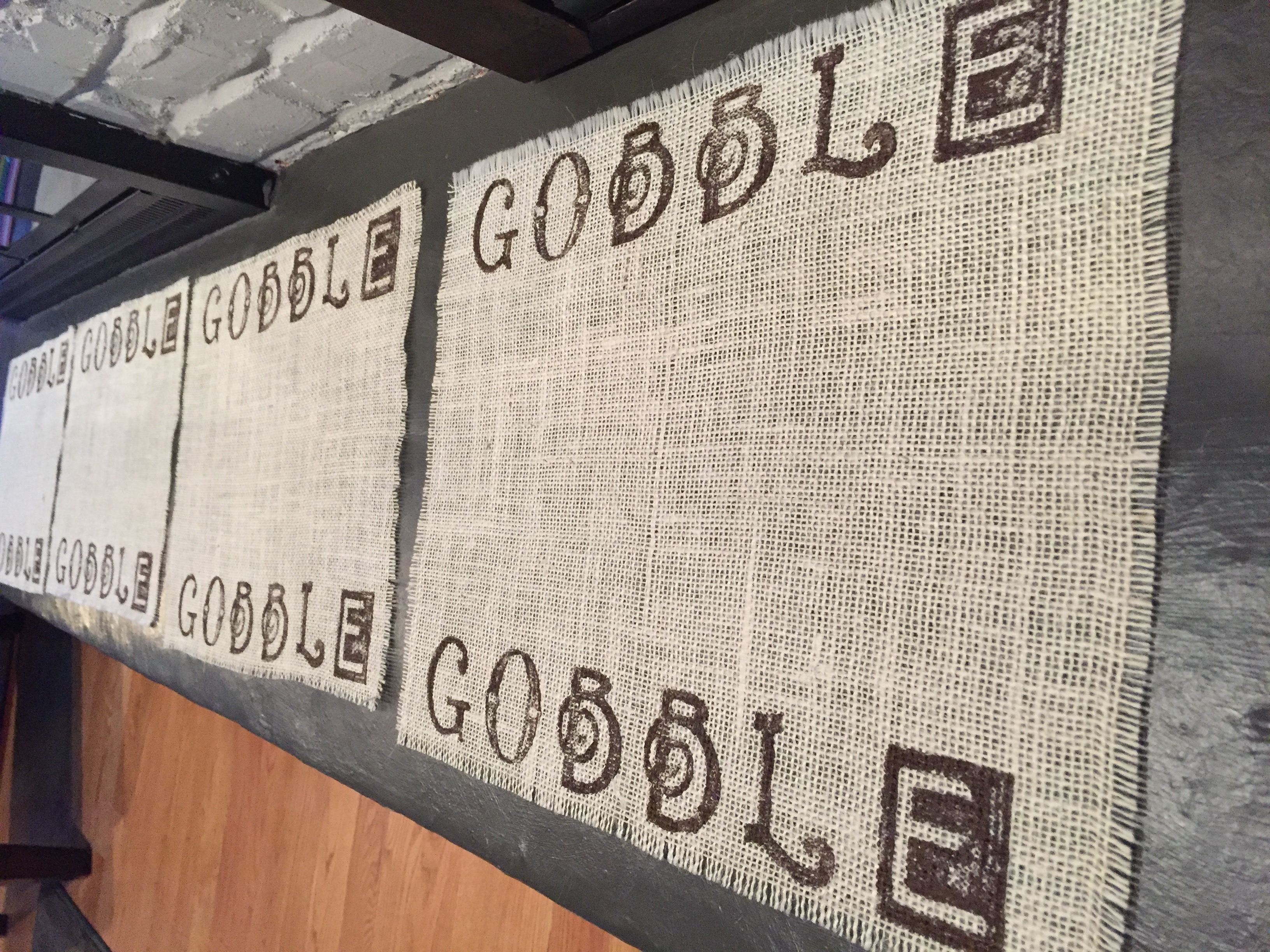 I set each aside to let dry, and then went and grabbed my kids. Admittedly, this part may be easier if your children are older than 2 and 4… but it's still doable at this age!!
First, I applied a generous amount of red paint to one hand, and placed the hand print towards the middle of the placemat. Then I painted a generous amount of brown paint to the other hand, and placed that hand print next to the red one. The children were told to "not touch anything", and we quickly washed the wet paint off and let the sat down to let those hand prints dry.
Once those are dry, it's time for the yellow hand print! That one goes in the middle.
Once all hand prints were dry, paint on the body, feet, eyes and nose of the turkey!!
Each turned out great! And I now have a fun memory to keep of Thanksgiving 2016!