A group of journalists crammed into a van Tuesday to take a tour through traffic on Interstate 70.
The Colorado Department of Transportation led the tour along a stretch of I-70 that will be changing soon.
"We'll be rebuilding about ten miles of interstate east from Brighton Boulevard out to Chambers Road," Rebecca White said.
RELATED: Sprinkler system in I-70 widening project could cost $5 million
RELATED: I-70 expansion given the green light despite neighborhood objections
RELATED: Feds sign off on $1.2B overhaul of I-70 across north Denver
White is the communications manager for the Central 70 Project. The $1.2 billion CDOT plan includes widening, restriping, new express lanes and lowered section of interstate capped with a 4-acre park.
"If we didn't do anything today, we'd be looking at a 65-minute commute from I-25 to Tower Road in the future – in 2035," said Keith Stefanik, lead engineer of the CDOT project.
Stefanik was one of several speakers who met with media along I-70 Tuesday to talk about the project, which is expected to take four to five years to complete. During construction, CDOT expects to keep three lanes of I-70 open in each direction.
"The only full closures will be in the middle of the night and that can only happen a handful of times," White said.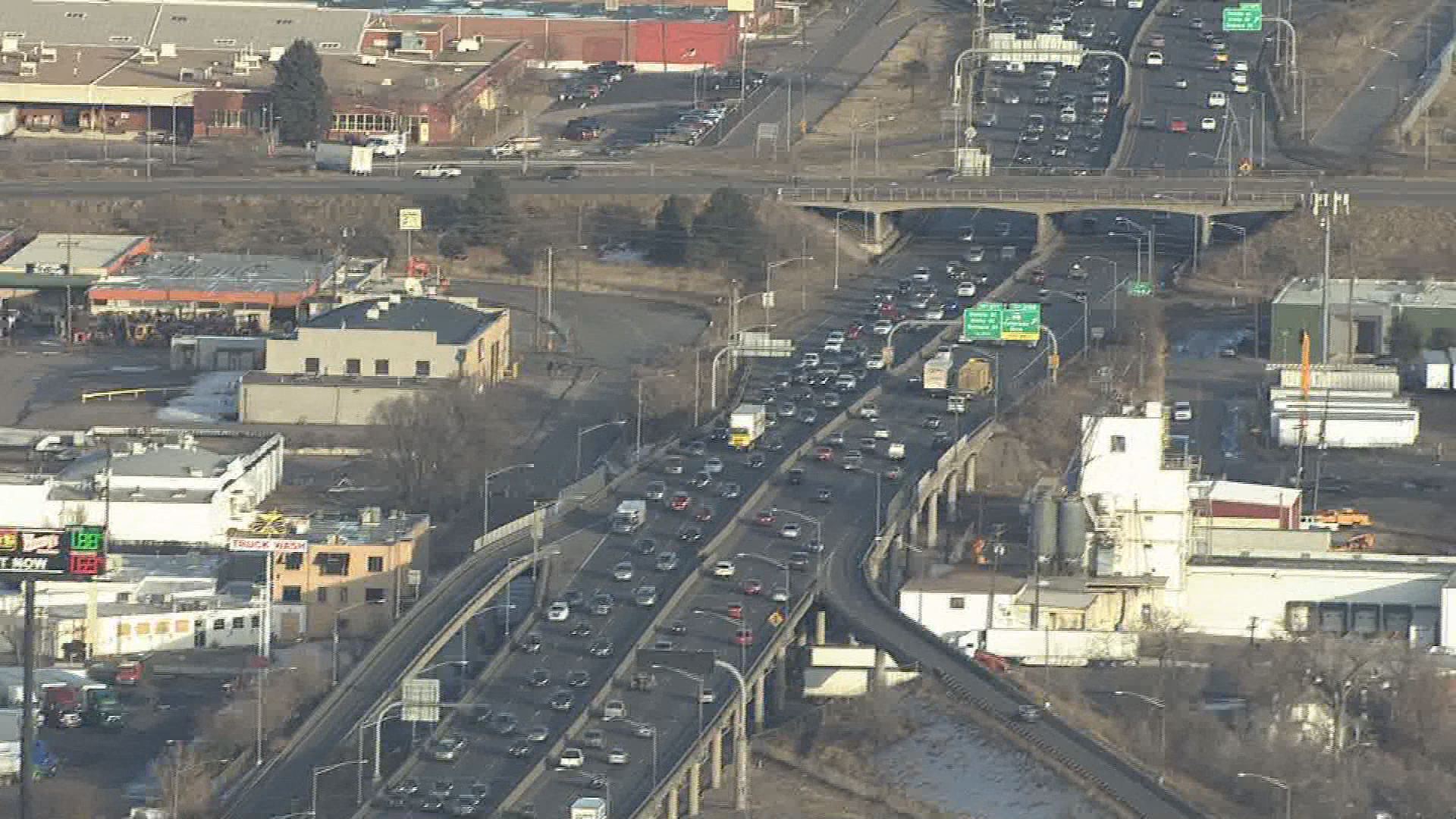 CDOT is working with the High Performance Transportation Enterprise to choose between four different developers interested in taking on the massive construction project as a public-private partnership. The chosen developer will design, build, operate and maintain the stretch of I-70 for 30 years. Much like the recent US 36 overhaul, the Central 70 Project will also include tolled express lanes in each direction.
"We, HPTE, the state of Colorado, will be managing the toll rates as well as the toll operations," said David Spector, director of the High Performance Transportation Enterprise.
Perhaps the most noticeable change that will come with the I-70 project is the destruction of the aging viaduct between Brighton and Colorado boulevards.
"It's hard to visualize today, but where I'm standing now will be a park," Rebecca White said in front of the 50-year-old viaduct.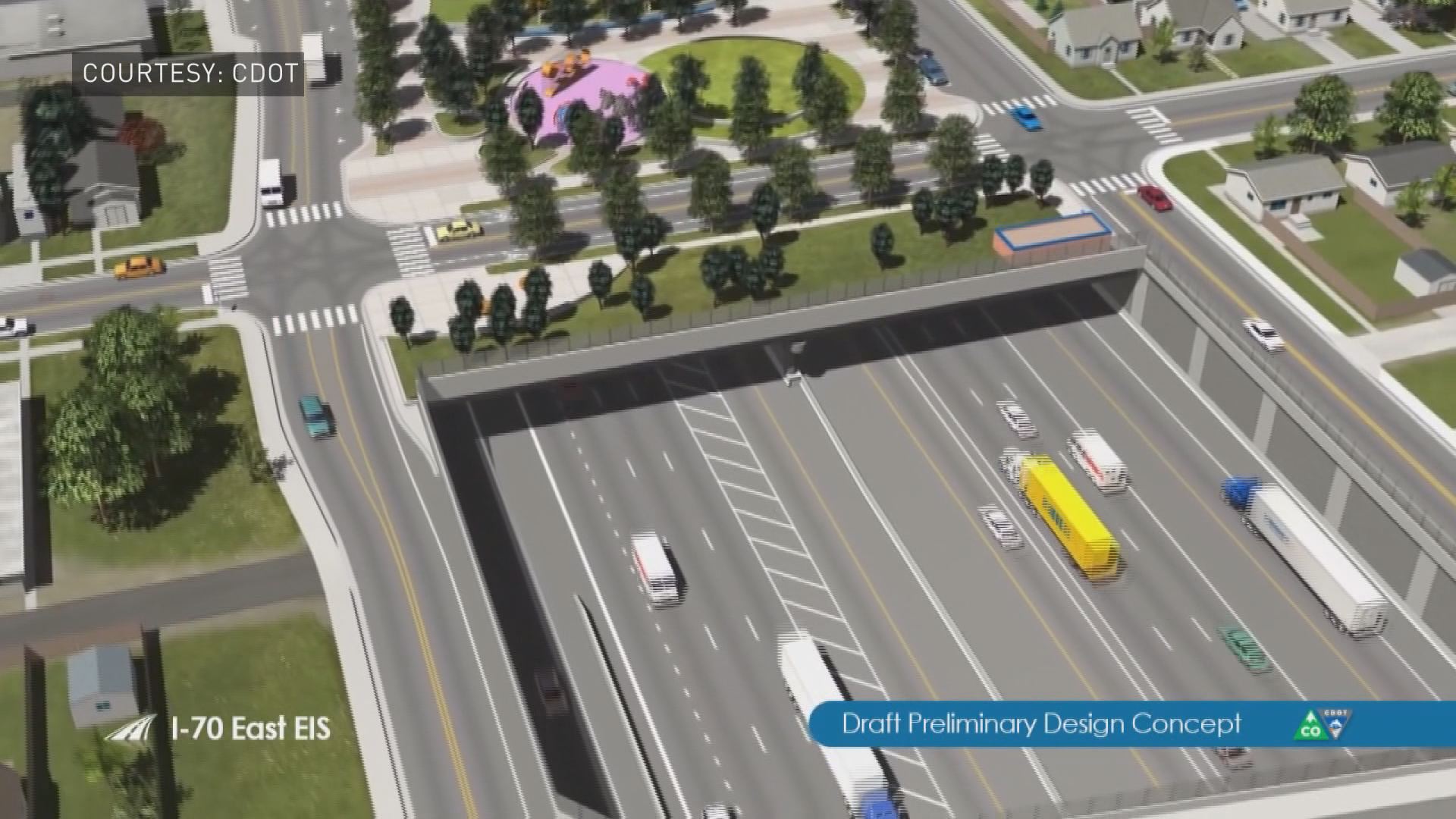 CDOT plans to tear down the viaduct, lower I-70 by 30 feet and build a 4-acre park on top. CDOT and Denver city officials showed off plans for the park Tuesday which will include space for a large turf field, amphitheater, splash park, green space and more.
CDOT also addressed concerns raised over the years from those worried about the impact on the Elyria-Swansea neighborhood in northeast Denver.
"This is a big project," White said. "There's never going to be 100 percent of people who are supportive of it, but I think the people who are truly impacted will be excited to see this change come to their community."
In April, the Federal Highway Administration denied a civil rights complaint filed by environmental group Earthjustice on behalf of Elyria-Swansea residents. In a statement provided to 9NEWS, Joel Minor, an attorney with Earthjustice, expressed disappointed in the decision.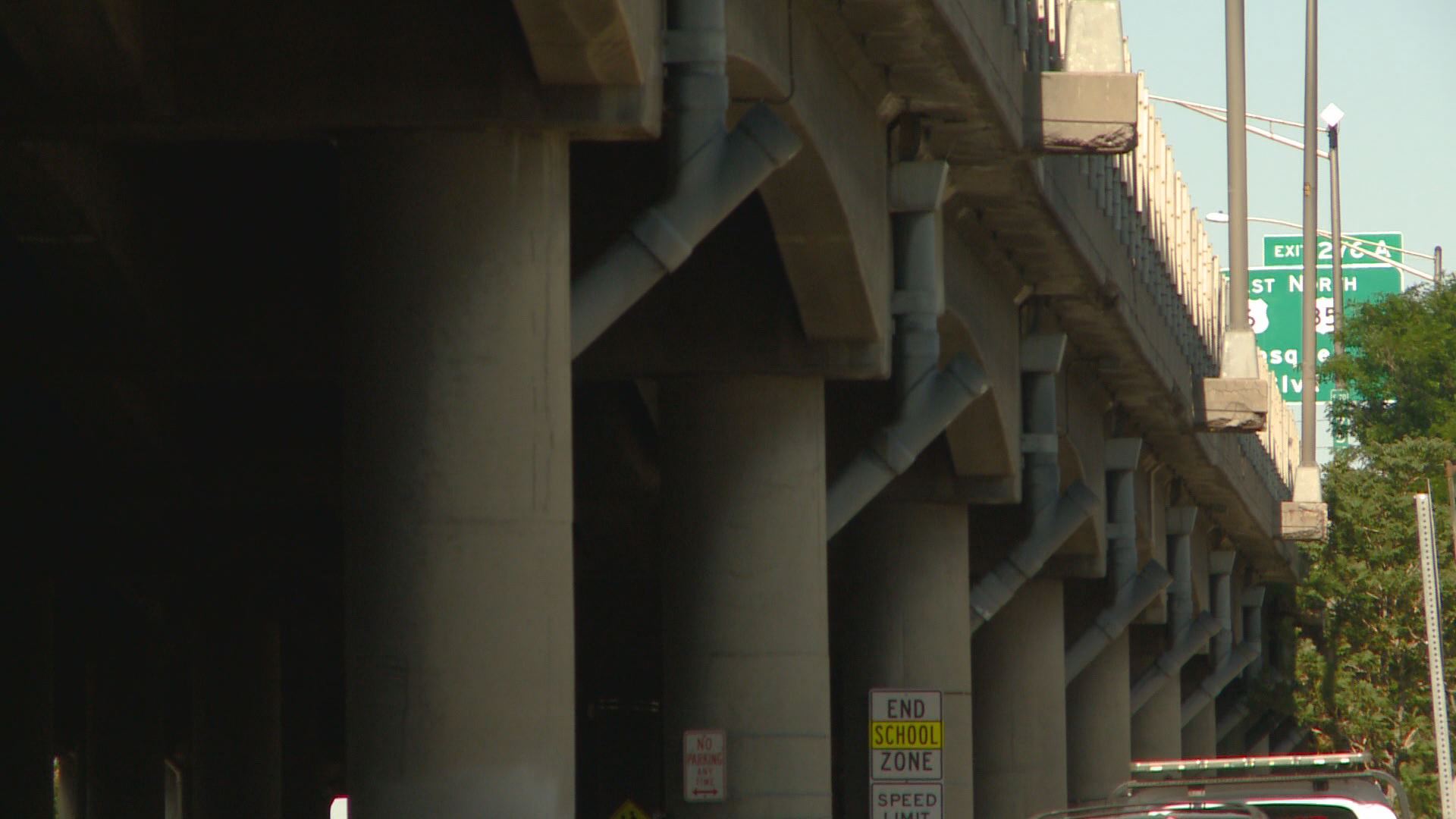 "It ignored a mountain of evidence that the Elyria-Swansea and Globeville neighborhoods are already overburdened by pollution, not only from the highway, but also from many other toxic hazards that threaten their health," Minor said.
Rebecca White said CDOT committed $20 million to $25 million in improvements to the community affected by the I-70 project. CDOT spent $15 million on Swansea Elementary to provide new doors, windows, two new classrooms and an HVAC system. CDOT will also help homeowners forced to move, relocate.
"This is a difficult process. There's no doubt about it, but when we do have to acquire these homes, there's a lot of benefits we provide," White said.
CDOT acquired 56 homes and 17 businesses to complete the Central 70 Project. CDOT will cover the difference in rent for those forced to move for 42 months. White said renters could also use that money as a down payment to buy a home.
CDOT expects to have a developer for the I-70 project picked by this fall. Construction on I-70 is slated to begin in spring of 2018.