Wind gusts upwards of 80 miles per hour ripped through the Front Range mountains and foothills early Wednesday morning, prompting travel advisories and warnings for drivers to be cautious amid hazardous conditions.
A restriction on high-profile vehicles from Idaho Springs to the Eisenhower Tunnel forced Clear Creek RE-1 schools to cancel class.
A 9NEWS photographer shot video of an overturned semi-truck near Georgetown. The driver was able to walk away, but was taken to a local hospital as a precaution.
It was the second overturned truck spotted on Interstate 70 in the mountain corridor Wednesday morning. Another was reported at around 2:50 a.m., according to Colorado State Patrol.
Signs on the highway warned drivers to be cautious.
Here's a look at some of the wind gusts reported in mountain towns Wednesday morning:
-Georgetown: 96 mph
-Berthoud Pass: 93 mph
Aspen Springs: 85 mph
-Floyd Hill: 76 mph
-Glen Haven: 75 mph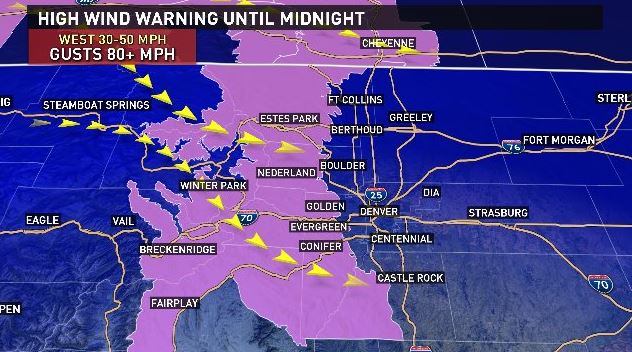 Strong winds already this morning along the Front Range. #9WX #9news #9newsmornings #cowx pic.twitter.com/zAONZHkD72

— Marty Coniglio (@martyconiglio) November 1, 2017