The first full week of October starts off warm and windy. A cool down arrives this week with lows near the freezing mark.
A disturbance approaching from the west is increasing winds and causing scattered storms in the mountains. A red flag warning will be in effect for much of eastern Colorado due to strong winds, warm temperatures, and low humidity.
In the mountains and southern Wyoming, wind advisories and watches will make travel difficult for lightweight and high-profile vehicles.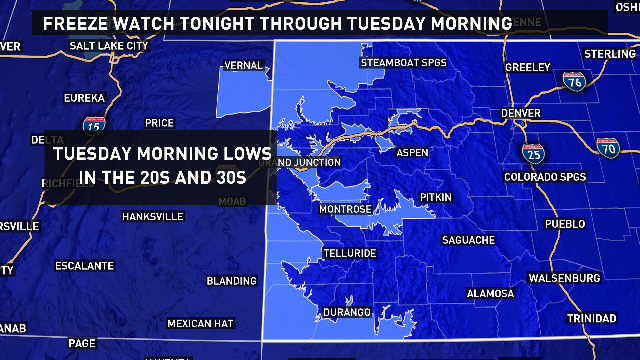 Cooler air will settle in Monday night and temperatures will drop to below freezing for the mountains. A freeze watch will be in effect through Tuesday morning because of lows expected to drop into the 20s and low 30s.
Temperatures for the Front Range will be in the low 40s overnight. Highs on Tuesday will be in the mid 60s with partly cloudy skies.
A second disturbance arrives Wednesday into Thursday and it will further drop our temperatures and bring a chance for measurable snowfall to the mountains. Rain showers are possible on the Front Range during this period, however if temperatures drop closer to freezing then a rain/snow mix is possible Thursday morning.
Temperatures will be milder on Friday with highs in the mid 60s with partly cloudy skies.