The monsoon season visited Colorado Sunday. Heavy rains in southern Colorado - including several inches of rain in many parts of El Paso, Las Animas, and Pueblo counties - have caused flooding.
Pictures sent into 9NEWS show cars driving through heaps of water on Walsenburg roads in Huerfano County. Please note - you should NEVER drive through standing water on roadways. It is extremely dangerous - FEMA says it only takes six inches of water to cause loss of control and a foot will float your vehicle.
It's that monsoon moisture we've been hearing so much finally hitting the area - and with the ground already saturated from the previous days' rain, the National Weather Service says they expect flash flooding to happen in some parts of southern Colorado.
Places with a high risk of flooding include areas across the central and southeastern mountains and the entirety of the southeastern plains.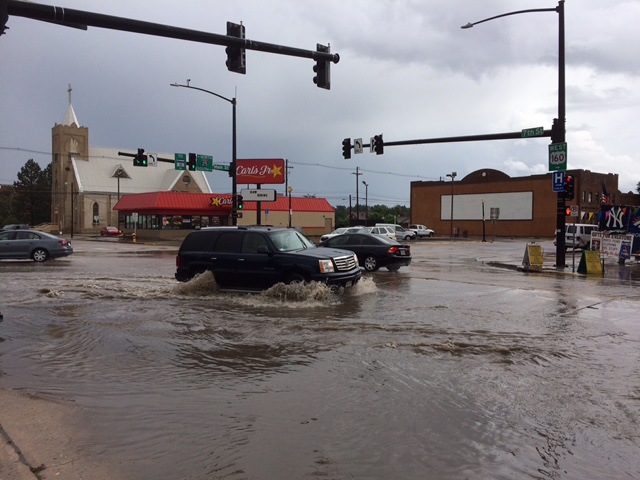 The risk of flash flooding in the plains will go into the overnight hours, with the highest chance hitting places south of Highway 50.
If you're safe and able, send us weather photos via YourTake!
Mud, ash and debris getting knocked loose is possible near and on burn scars - especially if high rainfall hits those areas.
While burn scars are a significant concern, heavy rains hitting roads, creeks and drain areas could easily cause flooding as well.
The National Weather Service says that flash flooding is a very dangerous situation. If flash flood warnings are issued, be prepared to take immediate action. However - please note there haven't been any flash flood warnings issued.
An Areal Flood Advisory is in effect for Huerfano and Las Animas Counties.
Flash Flood Watch for several areas until 6:00am Monday. #9WX radar/alerts https://t.co/JfNLrbMida #cowx

— 9NEWS Weather (@9NEWSWeather) July 30, 2017
You can always keep on top of weather by following 9NEWS Weather on Twitter, heading to our weather section, and watching the forecast live on 9NEWS at 5.