April showers will kick off the workweek in Colorado.
A spring storm is headed our way and will bring rain and snow in Colorado Monday evening through Tuesday night.
Skies will be mostly sunny for the first half of the day, with temperatures rising into the mid-50s. A weak front arrives Monday afternoon, with increasing clouds and winds and causing a few sprinkles.
The bigger changes happen late Monday evening. Snow and rain will develop in the mountains and spread into the foothills and metro area by Tuesday morning.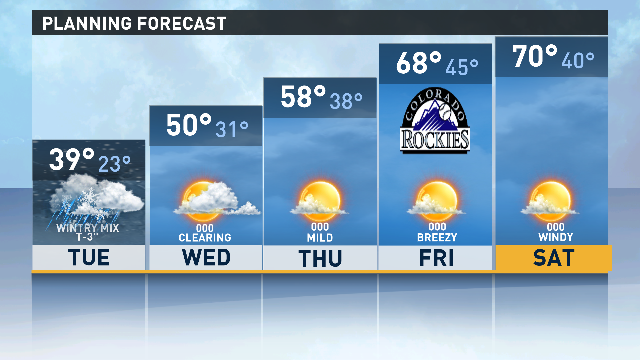 Winter travel advisories will be in effect starting at 9 p.m. on Monday and last through midnight on Tuesday. Heavy snow, reduced visibilities and snowpacked roads are possible. The heaviest snow will fall along and east of the divide as well as the southern Front Range foothills and Palmer Divide.
The precipitation for the Front Range will be mixed with any accumulation happening mainly on grassy areas. Here's a preliminary snow forecast based on the current model information. Please check back frequently for updates.
Denver Metro: Trace to 3 inches
Fort Collins and plains: <1"
Douglas County: 5 to10 inches
Foothills: 6 to 12 inches
Tuesday will be mostly cloudy, with a mix of rain and snow and highs in the upper 30s.
The storm will slowly move east by Tuesday night. Skies clear by midweek with temperatures gradually warming through Friday. The Rockies home-opener looks mild and dry with partly cloudy skies.