The temperature is soaring in Denver on the last day of spring -- and we've officially set a temperature record.
That heat record of 97 degrees was set back in 1968, and again in 2007. Denver International Airport already hit 93 degrees at noon, and the record was officially broken at around 3 p.m. when temperatures hit 98 degrees.
A strong ridge of high pressure is also guiding warm air from the desert southwest into Colorado.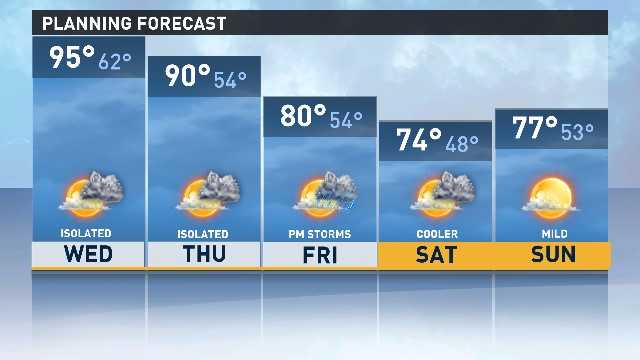 LOOKING AHEAD: 7 Day Forecast
RELATED: Denver weather forecast
The ridge is keeping convection at bay as well, but clouds are expected to develop by late afternoon or early evening.
Any precipitation Tuesday will mostly evaporate on its way to the ground, so showers will likely be very light, and only form in scattered spots this evening.
The evaporation process will cause some gusty winds in the vicinity that those showers that do develop however.