Sunshine and westerly winds pushed temperatures into the lower 80s Wednesday afternoon -- in fact, the 82 degrees recorded at Denver International Airport is officially a record high!
Windy conditions overnight into Thursday will keep temperatures mild through the morning commute.
A cold front moving in after the morning commute Thursday will bring cooler air and light snow for Thursday afternoon and evening.
RELATED: There's snowfall in the forecast for Halloween
The snow will wrap up before midnight Thursday.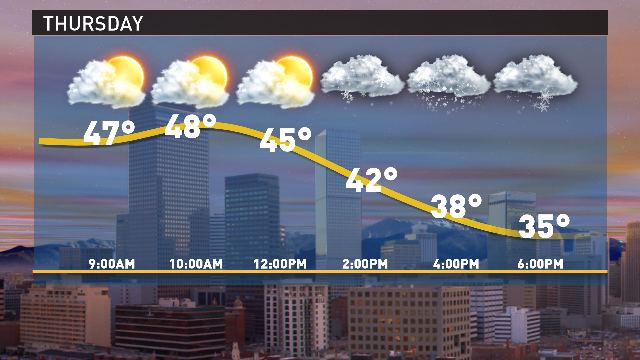 Snow forecast for most of Metro Denver is for up to 1". In the western and southern suburbs 1 to 3" is expected (mainly on the grass).
For the Front Range mountains and foothills above 7,000 feet, a total of 3 to 7" is forecast by late Thursday night.
Temperatures will be in the low 20s early Friday morning.