A strong early April storm will cause a sloppy Tuesday morning commute. Skies will be mostly cloudy, with a mix of rain and snow and highs in the upper 30s.

Winter travel advisories will last through midnight on Tuesday. Heavy snow, reduced visibility and snow-packed roads are possible. The heaviest snow will fall along and east of the divide as well as the southern Front Range foothills and Palmer Divide.
FORECAST: See the full weather forecast
INTERACTIVE MAP: 9NEWS traffic map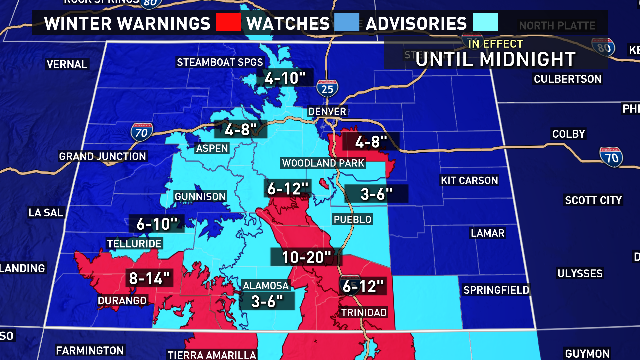 The precipitation for the Front Range will be mixed with any accumulation happening mainly on grassy areas. Here's a preliminary snow forecast based on the current model information. Please check back frequently for updates.
Denver Metro: Trace to 3 inches
Fort Collins and plains: <1"
Douglas County: 4 to 8 inches
Front Range mountains and foothills: 6 to 10 inches
The storm will slowly move east by Tuesday night. Skies clear by midweek with temperatures gradually warming through Friday. The Rockies home-opener looks mild and dry with partly cloudy skies.
And if you get some good pictures of the snow in your area, feel free to submit them to 9NEWS.