DENVER — Colorado's largest amusement park will move out of downtown Denver in the coming years and could relocate to Aurora.
Elitch Gardens Theme and Water Park co-owner Revesco Properties has been working for years on a project to turn the land where the park sits into a new urban neighborhood.
Called River Mile, Revesco Properties shared plans for the 62-acre riverfront redevelopment project in March 2018. The Denver City Council voted to move forward on the River Mile project in December 2018.
The project will eventually include residential units, schools, retail and restaurants along a stretch of the South Platte River. The project also includes access to the South Platte River and a mile-long riverfront.
A spokesman for the project said the goal is to build a place where families want to live and work.
'River Mile' project in downtown Denver
While Elitch Gardens plans to eventually relocate, Revesco Properties has not yet decided where the park will land.
Aurora could be in the running to land the amusement park one day, with room to expand and entertainment opportunities near Gaylord Rockies Resort and Conference Center near Denver International Airport.
Aurora Mayor Mike Coffman said Kroenke Sports and Entertainment, who is helping to build River Mile, has expressed an interest in relocating Elitch Gardens to Aurora, but no proposal has been submitted.
A spokesman for Revesco Properties said they have been in discussions with a number of jurisdictions who may have suitable sites in the Denver metro area.
Elitch Garden has a long history in Colorado. The park will turn 134 years old in 2024.
On May 1, 1890, John and Mary Elitch opened Elitch Zoological Gardens for the public to enjoy on their farm located on the outskirts of the city — or what is now 38th Avenue and Tennyson Street.
Elitch's was one of the first zoos to open west of Chicago and held the distinction as the city's first botanic garden.
The ferris wheel was erected at the park in 1936 and the famous "Mister Twister" roller coaster arrived in 1965.
A $94-million financing package allowed Elitch Gardens to move to its current location in 1994.
Big changes came in 1997 when Premier Parks, Inc. acquired the park and announced the addition of a water park. It was also at this time that the park released an improvement plan that included rides like The Mind Eraser, Tower of Doom, and Shipwreck Falls.
In 1998, the park became "Six Flags Elitch Gardens." That lasted until 2007, when the park changed ownership again and reverted back to its original name.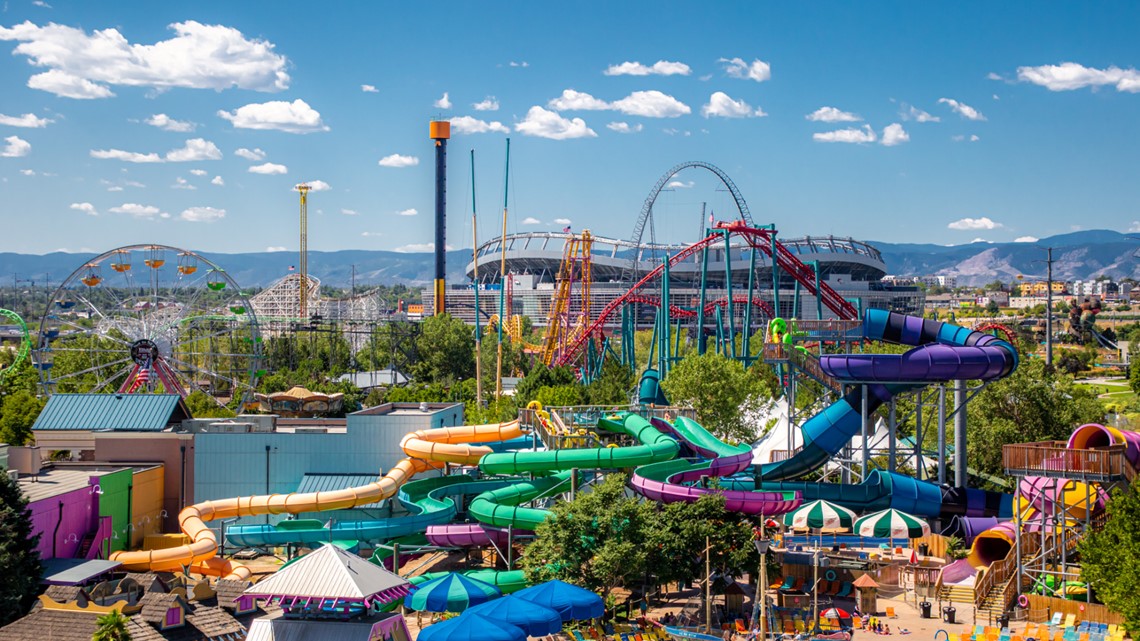 The park introduced a spring concert series highlighting local and national talent of a variety of musical genres in 2001. That concept has since evolved into a summer concert series that's free to attend with park admission or a season pass.
In the last decades, the theme park has introduced rides like the Star Flyer, an extreme swing that takes guests to the top of a 17-story tower, and the water slide Mega Wega Wedgie, described as an "extreme speed slide tower."
In September 2021, Santa Fe-based Meow Wolf would open a 60,000-square-foot permanent art installation called Convergence Station next door to Elitch Gardens at Colfax Avenue and Interstate 25.
The park said it has refurbished and reimagined the roller coaster for the 2023 summer season. The 10-story Twister III: Storm Chaser features a 90-foot drop and a 100-foot, pitch-black tunnel that features the sights, sounds and winds of a real tornado.
9NEWS+
9NEWS+ has multiple live daily shows including 9NEWS Mornings, Next with Kyle Clark and 9NEWS+ Daily, an original streaming program. 9NEWS+ is where you can watch live breaking news, weather updates, and press conferences. You can also replay recent newscasts and find videos on demand of our top stories, local politics, investigations and Colorado specific features.