COLORADO, USA — Happy Independence Day weekend!
Celebrate the United States' 243rd birthday by soaking in the best summer festivals and events Colorado has to offer. With festivals, fireworks, parades, fairs, expos and runs, there's so much to do, see and explore in Denver and Colorado this first weekend of July. Have a terrific weekend!
> Have an event tip? Send it here.
DENVER — A Colorado tradition returns this weekend at Denver's Cherry Creek North Shopping District. The 29th annual Cherry Creek Arts Festival is an award-winning celebration of the visual, culinary and performing arts. In addition to 265 national juried artists selling incredible original artworks, the show offers live performers, live music, interactive art experiences, food booths, drinks and a full block of family-friendly activities on "ARTivity Avenue." The festival runs Friday to Sunday on 2nd Avenue through 3rd Avenue from Clayton Street to Steele Street. To learn more, visit CherryCreekArtsFestival.org.
READ MORE | Cherry Creek Arts Festival returns this weekend
Todd Powell
FRISCO — Saturday is Frisco's Founders Day at the Frisco Historic Park & Museum. Held to celebrate the history of Frisco, and the museum's 36th anniversary, the event will feature gold panning, lawn games, sidewalk chalk, live burro rides, refreshments, live music and entertainment, a Ute tipi dedication and drum circle. Events will take place at the museum from 10 a.m. to 6 p.m. To see a complete Frisco's Founders Day schedule, visit TownofFrisco.com.
Getty Images/iStockphoto
GUNNISON — The Gunnison Valley has celebrated its western way of life for 119 years with Cattlemen's Days. Selected by American Cowboy magazine as one of the best western events in the country, Cattlemen's Days honors ranching culture with the "Granddaddy of Colorado Rodeos." Running from Friday to Sunday, July 14, there is something for everyone at Cattlemen's Days which begins with a 4-H Horse Show on Friday, a Ranch Rodeo on Saturday and Open Horse Show on Sunday. A complete schedule of the 11-day western celebration is available at CattlemensDays.com.
Getty Images/iStockphoto
MEEKER — The 134th annual Range Call will be held this weekend in Meeker. The rodeo, which began in 1885, is the "oldest annual rodeo in Colorado." Downtown Meeker will hold a 5K walk/run at 7:45 a.m. Thursday followed by a 10 a.m. 4th of July parade. A CPRA rodeo is scheduled for Friday evening at the RBC Fairgrounds. Jack Russell's Great White will perform Saturday at 7 p.m. Sunday night's main event is a concert with Sammy Kershaw, Aaron Tippin and Collin Raye at 7 p.m. For tickets and a complete Range Call schedule, visit MeekerRangeCall.com.
AEG Presents Rocky Mountains
BOULDER — Jam music godfathers Dead & Company ended a 15-year concert hiatus at Folsom Field in 2016 and have returned each year since. The Grateful Dead spinoff will play a pair of shows on the University of Colorado campus for a fourth-consecutive year. The band, which consists of original Grateful Dead members Bob Weir, Bill Kreutzmann and Mickey Hart and new members John Mayer, Oteil Burbridge and Jeff Chimenti, will perform Friday and Saturday nights. Tickets can be purchased at CUBuffs.com.
Greeley Stampede
GREELEY — The 98th annual Greeley Stampede is underway at the Island Grove Regional Park. The 13-day festival has been a Colorado tradition since 1922 focused on celebrating and preserving our state's Western heritage through rodeo, concerts, a carnival, vendor fair, food and more. Cody Johnson will headline a show on Friday and Brothers Osborne will headline a concert on Saturday. The Greeley Stampede, which runs through Sunday, also features a large Independence Day celebration. For tickets, visit GreeleyStampede.org.
> 9NEWS will broadcast the 2019 Independence Day Parade on Thursday, July 4 on 9NEWS.com and the 9NEWS app
TBT | 98 years ago the Greeley Stampede was a rodeo to honor potato farmers
RELATED | 9Things to do at the Greeley Stampede
Getty Images/iStockphoto
LAKEWOOD — Lakewood's annual Fourth of July celebration kicks off at 5:30 p.m. Thursday at Jeffco Stadium. The festivities include kids' activities, local food trucks, a beer garden and 20-minute firework display choreographed to music provided by Mix 100.3 FM. The event is free with food and beverages available for purchase.
RELATED | Keeping your pets calm during fireworks
City of Aurora
AURORA — The City of Aurora will celebrate the 243rd birthday of the United States of America with a celebration at the Aurora Municipal Center. The free 4th of July Spectacular runs from 6 p.m. to 10 p.m. Thursday with live musical performances by Syndicate and School of Rock, food vendors, beer vendors and a 30-minute firework display launched from nearby Bicentennial Park.
RELATED | Independence Day week food deals and freebies in Colorado
Getty Images/iStockphoto
BRIGHTON — Adams County will enjoy the Stars & Stripes Independence Eve Celebration at Riverdale Regional Park on Wednesday. The party takes place from 4 p.m. to 11 p.m. at Riverdale Regional Park with live music from Southern Fryed, Kory Brunson Band, and Midnight Party Machine, food vendors, beer, childrens' fun zone and fireworks.
RELATED | Where to watch Fourth of July fireworks in Colorado
Getty Images/iStockphoto
GRANBY — Granby will have four days of Independence Day festivities beginning with a Family Bike Parade and Rodeo on Wednesday. Granby's 75th annual 4th of July Parade steps off at 11 a.m. Thursday. The 1st annual "These Colors Don't Run 5K Fun Run" is scheduled for Friday. Registration is available at GranbyChamber.com.
RELATED | How to get a free rideshare or cab over 4th of July weekend

Getty Images/iStockphoto
KREMMLING — Town of Kremmling will host a free block party from 2 p.m. to 5 p.m. on Thursday. The party will have music, bounce houses, kids' games, cotton candy, snow cones, hot dogs and hamburgers, all leading up to Kremmling's fireworks display at dark.
MAP | Firework shows in Colorado in 2019
Getty Images/iStockphoto
ASPEN — The Old Fashioned 4th of July Celebration in Aspen begins Thursday with a Boogies Buddy Race and Kids' Parade Bicycle Decorating followed by an 11 a.m. Old Fashioned 4th of July Parade on Main Street. The 19th annual "America's Birthday Carnival" will run from 10 a.m. to 2 p.m. at Paepcke Park with bounce houses, face painting, kids' games, BBQ, beer tents, silent auction and more. Aspen Valley Ski & Snowboard Club will hold a community picnic at 3 p.m., the Aspen Music Festival and School's free Fourth of July concert is planned for 4 p.m. and the Aspen Volunteer Fire Department and Mountain Rescue's Block Party runs from 5 p.m. to 10 p.m. DJ Naka G leads the evening festivities at Wagner Park followed by a drone light show at 9:15 p.m.
RELATED | Where to watch Fourth of July fireworks in Colorado
Getty Images/iStockphoto
PAGOSA SPRINGS — The Pagosa Springs Rotary invites locals and visitors to line main street in downtown Pagosa Springs for the annual 4th of July Parade. With floats, music and patriotism, attendees should come dressed in their red, white and blue. The parade gets underway at 10 a.m.
RELATED | How to be safe when using firecrackers this 4th of July
Getty Images/iStockphoto
GRAND JUNCTION — Downtown Grand Junction's annual 4th of July Parade steps off at 10 a.m. Thursday on Main Street between 1st Street and 9th Street. The parade if free to the public.
Getty Images/iStockphoto
WELLINGTON — The Town of Wellington's Independence Day Parade steps off at 10 a.m. Thursday on Cleveland Avenue. The 29th annual Northern Colorado Car & Truck Show returns to the Town of Wellington on Independence Day. All years, makes and models are welcome at the family-friendly show on Harrison Street north of Centennial Park. Bounce houses and inflatables will be at Centennial Park from 11 a.m. to 5 p.m.
Getty Images/iStockphoto
MANITOU SPRINGS — Woodshed Red – Manitou Springs' most-beloved band – leads a 4th of July concert at the town's Bud Ford Pavilion at Soda Springs Park. The new Manitou Springs tradition features hot dogs, ice cream, beer, music and dancing. Bring your lawn chair, blanket and cooler (although no outside alcohol is allowed). Free parking will be available Thursday at 10 Old Man's Trail with No. 33 free shuttle bus.
RELATED | Where to watch Fourth of July fireworks in Colorado
Getty Images/iStockphot
CENTENNIAL — Ten local businesses are holding a free community carnival on Thursday from 10 a.m. to 1 p.m. at 6700 S. Colorado Boulevard (at Arapahoe Road). The carnival will have family-friendly activities including food, games, bounce house, water slide, dunk tank, face painting and more. Kids can decorate their wagons or strollers for a patriotic march at 10:30 a.m. The first 1,000 guests will receive a free t-shirt. Parking for the event will be available across the street at Newton Middle School.
Getty Images/iStockphoto
EVERGREEN — The 30th annual Evergreen Music Festival takes place Thursday from 10 a.m. to 7:30 p.m. at Buchanan Park. Music will be provided at two points at the park and blankets and chairs are welcome. Performers on Thursday include Denver Brass, FACE Vocal Band, Montbello Drumline, Wash Park Band and more. Free kids' artists will be on hand from 11 a.m. to 3 p.m. For tickets, head to EvergreenMusicFestival.org.
Music in the Mountains
DURANGO — Durango has been home to one of the premiere classical music festivals in the country for over 30 years. Music in the Mountains kicks off this weekend with a World Music Concert, featuring FY5, scheduled for Saturday at 6 p.m. at the Bayfield Performing Arts Center. Tickets are available at MusicintheMountains.com. The music festival has free and ticketed rehearsals, lectures and concerts scheduled through Sunday, July 28.
Getty Images/iStockphoto
COLORADO SPRINGS — Colorado Springs' America the Beautiful Park will be home to this weekend's Colorado Springs Art & Music Festival. National and local fine artists will be displaying and selling their art in categories that include painting, jewelry, ceramics, sculpture, wearable art, leather, painting and more. Hazel Miller Bad, Ponder The Albatross, Scarecrow Revival, Band On The Fence, Doc & Kit, Flute Daddy, and Tullis Blues will be providing live music at the festival, which runs Saturday from 10 a.m. to 7 p.m. and Sunday from 10 a.m. to 4 p.m.
Getty Images/iStockphoto
BRECKENRIDGE — Now in its 36th year, the Breckenridge July Art Festival was ranked No. 59 in Sunshine Artist's top 200 fine art festivals in 2017. The art festival will feature over 100 artists from around the country presenting their ceramics, mixed media, fiber, jewelry, painting, wood, glass, sculpture and more. The Breckenridge July Art Festival runs from Thursday to Sunday at Main Street Station and The Village at Breckenridge, on the corner of South Main Street and Park Avenue and admission is free.
Center for the Arts Evergreen
MANITOU SPRINGS — Memorial Park in Manitou Springs will be home to the annual Garden of the Arts this weekend. The art show, scheduled for Saturday and Sunday, is a celebration of fine visual arts and handcrafted goods. The works of more than 90 artists will be on hand with booths showcasing show painting, sculpting, glasswork, photography, ceramics, woodwork and handcrafted goods. The art show and sale will also include free live music and family fun. Garden of the Arts will run from 10 a.m. to 6 p.m. Saturday and 10 a.m. to 5 p.m. Sunday.
Thinkstock
LA VETA — Celebrate summer with La Veta's beautiful Art in the Park event this weekend. Featuring handmade arts, crafts, jewelry, apparel, paintings, ceramics, glass, wood and more, Art in the Park will be held Saturday from 10 a.m. to 5 p.m. and 10 a.m. to 4 p.m. Sunday. With food and live music as well. Admission is free!
Getty Images/iStockphoto
LA VETA — The 2019 Spanish Peaks Music Festival opens Friday with "Blues Night" featuring Ken Saydak with The Delta Sonics, Albuquerque Blues Connection, and Jack Hadley. Saturday night is "Country Night" with headliner Cody Johnson, as well as Charley Jenkins, Bri Bagwell, Exit West, and Cappton Reid. For tickets and information, visit SpanishPeaksMusicFestival.com.
RELATED | Cody Johnson is bridging the Texas-Nashville musical gap
Mitch Warrick, Crested Butte Wildflower Festival
CRESTED BUTTE — The 33rd annual Crested Butte Wildflower Festival begins Friday and runs for 10 days through July 14. The festival offers over 200 opportunities for hiking and walking for all stamina levels, photography and art workshops, birding and butterfly outings, geology, geobotany, garden tours, cooking classes and backcountry Jeep tours. The festival's headquarters are located at the Old Historic Train Depot at 716 Elk Avenue. To learn more about the festival or to register for one of the many offerings, head to CrestedButteWildflowerFestival.com.
Thinkstock
WINTER PARK — The 4th annual Tequila & Tacos Festival arrives Saturday in Winter Park. The afternoon of tequila and taco tastings, with live music from El Javi – the King of Rock Flamenco – plus the Santana tribute band Soul Sacrifice, opens at 12:45 p.m. at Rendezvous Event Center in downtown Winter Park. Snag your tickets at AltitudeTickets.com.
High Country Stampede Rodeo
FRASER — The High Country Stampede Rodeo begins its 36th rodeo season this Saturday night. This week's rodeo theme is "Celebrating the 4th of July," so be sure to wear red, white and blue. The rodeo features a slack competition at noon, a junior rodeo at 3 p.m. and the main rodeo at 7 p.m. The rodeo also features delicious food options at the Chuck Wagon Grill which will be open from 4 to 9 p.m. The 2019 High Country Stampede Rodeo continues Saturday nights through Aug. 17 with tickets available at gate.
Getty Images/iStockphoto
PAGOSA SPRINGS — The 70th annual Red Ryder Roundup Rodeo takes place Thursday, Friday and Saturday. The event features a grand entry, 4-H truck raffle, mutton bustin', Red Ryder BB gun drawing and sanctioned rodeo events each day. Tickets are available at the gate of the Western Heritage Event Center Rodeo Grounds at Highway 160 and 84.
Getty Images/iStockphoto
DEER TRAIL — The world's first rodeo celebrates its 150th anniversary this holiday weekend. The rodeo, held Friday and Saturday, offers all traditional rodeo events plus mutton bustin', and live music from Tyler Walker Band and Christopher Thomas on Friday and Casey Donahew and Austin Wahlert on Saturday. Reserve your tickets at DeerTrailRodeo.StubWire.com.
Colorado Shakespeare Festival
BOULDER — The Colorado Shakespeare Festival will hold its opening night of the timeless classic Romeo and Juliet on Sunday at 7 p.m. One of the most breathtaking romances ever written will be brought to life on stage under the gorgeous Boulder sky at CU's Mary Rippon Outdoor Theatre with beautiful poetry and explosive swordplay. Romeo and Juliet will be performed through Saturday, Aug. 10. Head to CUPresents.org for tickets and showtimes.
Colorado Music Festival
BOULDER — The Colorado Music Festival will present its family concert "Peter and the Wolf" this weekend at Boulder's Chautauqua Auditorium. The performance, with Really Inventive Stuff, animateurs and vaudeville-inspired storytellers for orchestras, includes Saint-Saëns' "Carnival of the Animals" and Serge Prokofiev's "Peter and the Wolf" with conductor Earl Lee and guest artists Jon Kimura Parker and Coco Ma on piano. Scheduled for Sunday from 3 p.m. to 5 p.m., the event also will have interactive musical activities, face painters, balloon artists, instrument petting zoo and more. Tickets are $10 and available at Chautauqua.com.
The Hudson Gardens & Event Center
LITTLETON — Singer-songwriter Melissa Etheridge brings her "The Medicine Show" tour to Littleton's Hudson Gardens on Sunday. Etheridge will be performing hits such as "Come to My Window," "I'm the Only One," and "Bring Me Some Water" at 7 p.m. Tickets to the Hudson Gardens Summer Concert Series are sold through AltitudeTickets.com.
Getty Images/iStockphoto
MORRISON — The Avett Brothers return to Colorado in a big way over the holiday weekend. The folk-rock band will headline three concerts at Red Rocks Amphitheatre on Friday, Saturday and Sunday. Tickets to see the band at the hallowed Colorado venue are sold at AXS.com.
Scott Roth/Invision/AP
COLORADO SPRINGS — Billy Ray Cyrus headlines a July 5 Independence Celebration at Weidner Field on Friday. Cyrus' concert will conclude with a patriotic fireworks show. One dollar craft beers will be available for the first 30 minutes after doors open at 4 p.m. Cyrus recently earned his first number-one single on the Billboard Hot 100 on Lil Nas X's song "Old Town Road," which has been number one for 13 straight weeks. Johnny McGuire, Kimberly Dunn and The Tyler Walker Band will also be at Friday's show. Tickets are available at AXS.com for between $19 and $49.
Isaiah J. Downing/Switchbacks FC
COLORADO SPRINGS — Colorado Springs Switchbacks FC will hold its annual 4th of July Fireworks Spectacular on Thursday with a battle against Orange County SC set for 6 p.m. Check out AXS.com for the best seat.
AP Photo/David Zalubowski
COMMERCE CITY — The Colorado Rapids' fun-filled Independence Day celebration opens at 5 p.m. Thursday and features a free community festival outside the stadium and live music before the Rapids battle the New England Revolution at 7 p.m. While Denver's own Lola Rising will be performing live on the main stage, there will be kids' activities, entertainers, mechanical bull, inflatables, face painting, obstacle course, toddler zone, pedal carts, human foosball and more. After the Rapids match is complete, the night will finish with the largest public fireworks show in Colorado with music from DJ Jen Jones. Tickets are available via AltitudeTickets.com.
AP Photo/David Zalubowski
DENVER — Crowds will fill Broncos Stadium at Mile High on Thursday for the annual 4th of July Denver Outlaws matchup. The red-hot Outlaws will host the Chesapeake Bayhawks at 7 p.m. followed by a grand firework display. Reserve your seats at Ticketmaster.com.
Colorado National Speedway
DACONO — Colorado's fastest three-eighths-mile NASCAR-sanctioned racetrack will host two big nights of racing and fireworks this Independence Day weekend. King of the Wing Sprint Cars will headline Friday and Saturday night's extravaganza with Elite V Twin Legend Cars, Bandoleros, Whitthar Racing Trains and Circle Drags set for Friday and Elite V Twin Legend Cars, Elite Diesel Service Figure 8s, Demo X and Circle Drags on Saturday. Gates open at 4 p.m. each night with tickets at the gate or ColoradoSpeedway.com.
Getty Images/iStockphoto
LOVELAND — The Loveland Museum/Gallery will honor Loveland's longstanding connection with the cherry industry with the annual Cherry Pie Celebration on Saturday from 5 p.m. to 8 p.m. During the 1920s, Loveland boasted the largest cherry orchard to the west of the Mississippi River and was famous for producing over $1 million in cherries every year. This free celebration will take place in Peters Park and 5th Street in front of the Loveland Museum. There will be live music, vendor booths, family-friendly activities, a Art of the Tart Cherry Pie Contest as well as pie, ice cream and drinks for sale. Admission to the Cherry Pie Celebration is free for all. For more information, visit LovelandMuseumGallery.org.
World Soccer Celebration 5K
COMMERCE CITY — Soccer fans can get warmed up before the World Cup by participating in a 5K race before the Final matchup on Sunday. The course runs through Dick's Sporting Goods Park. There will also be a Fan Fest with food and drinks. Get your tickets at AltitudeTickets.com.
Getty Images/iStockphoto
DENVER — Leash up the pooch for a dog-friendly 5K to support the Hearing Dogs in training. The 8th annual Walk, Run & Wag 5K will take place Saturday at 8 a.m. at Denver's Sloan Lake. The Hearing Dog organization trains dogs to assist persons who are deaf or hard-of-hearing, with and without multiple disabilities, at no cost to the recipient. Saturday's event will have 20 vendors, food trucks, ice pools, live music, and smooch-your-pooch kissing booth. Race registration, which includes a t-shirt and goodie-bag, is available online.
The Color Run
GRANBY — The 1st annual These Colors Don't Run 5K Fun Run begins at 11 a.m. Friday in Granby. The untimed 5K fun run will begin and end at The Lot with a post-race festival with music, dancing, photo ops, color throws and more. Head to GranbyChamber.org to learn more.
Getty Images/iStockphoto
EVERGREEN — The Mount Evans Freedom Run 5K will begin promptly at 8 a.m. Thursday at Evergreen Middle School. The scenic 3.1-mile course will end at Nick's Pro Fitness. Finishers of the stroller-friendly and dog-friendly run will enjoy a post-race party with refreshments, music, prizes, bounce house, face painting, balloon sculptures, games, vendors and clean mountain air. Registration can be completed at FreedomRunRace.org.
Thinkstock
COLORADO — Colorado is known for its abundant sunshine and its residents' love for the outdoors. How about enjoying some of the spring or summer sun at a local farmers' market? There are hundreds across the Centennial State - open during the week or on the weekends. Explore our interactive map or see our list to find a farmers' market anywhere in Colorado.
RELATED | A list of farmers' markets across Colorado
Would you like to see your favorite Colorado festival, fair, expo, concert, drama, musical, ballet, run or event listed in 9Things? Send it to alexander.kirk@9news.com.
RELATED | Where fireworks are and are not legal in Colorado
RELATED | How to be safe when using firecrackers this 4th of July
RELATED | This is what goes into making Denver's big fireworks shows safe
PHOTOS | Cherry Creek Arts Festival in Denver, Colo.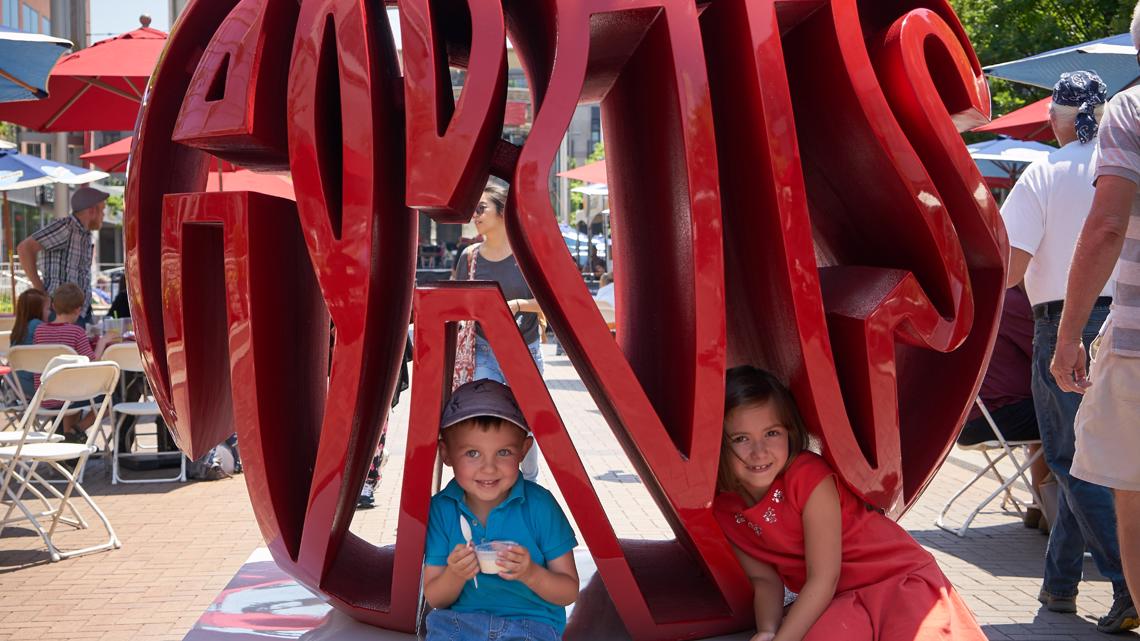 RELATED | Keeping your pets calm during fireworks
MAP | Firework shows in Colorado in 2019
SUGGESTED VIDEOS | Feature stories from 9NEWS