CONTENT PROVIDED BY GOLDEN SPIKE ROOFING
The largest recorded hailstones in Colorado are 4.5 inches, which have been recorded 20 times from 1971 to April 2012, according to NOAA Storm Data Reports.
But, it's possible for Colorado to get even larger hailstones. So if you think you found a hailstone that could break the record the Colorado Climate Center lists these steps to measure and preserve the hailstone:
SAFETY FIRST! Stay inside or in a shelter and report the severe weather itself to your local law enforcement agency or the closest National Weather Service Office.
After the storm and it's safe to be outside, photograph the hailstone without touching it. In fact, take several photos of the stone itself, hailstones around it, damage caused by the hail and photos of the hailstone showing its measurement.
Measure the stones greatest length and circumference. Photograph the measurement
Weigh the stone to the nearest gram or 1/16 ounce.
Preserve the stone by putting it in a bag or wrapping it with plastic wrap and placing it in the freezer.
Call the Colorado Climate Center: 970-491-3690
These recorded 4.5-inch hailstones are referred to as grapefruit-size hailstones.
When you hear meteorologists talk about hail size in comparison to objects, they aren't just making up the objects. This is the official list they follow:
Pea = 1/4 inch diameter
Marble/mothball = 1/2 inch diameter
Dime/Penny = 3/4 inch diameter
Nickel = 7/8 inch
Quarter = 1 inch — hail quarter size or larger is considered severe
Ping-Pong Ball = 1 1/2 inch
Golf Ball = 1 3/4 inches
Tennis Ball = 2 1/2 inches
Baseball = 2 3/4 inches
Teacup = 3 inches
Grapefruit = 4 inches
Softball = 4 1/2 inches
What the hail? Storm hits Colorado
If you'd like to learn more about hail, check out these resources:
Golden Spike Roofing advises you take steps to make sure you're not scammed by fake roofing companies. Check out "No Roof Scams" from the Better Business Bureau.
Here are links to resources for dealing with hail damage:
PHOTOS: Golf ball sized hail hits north Metro area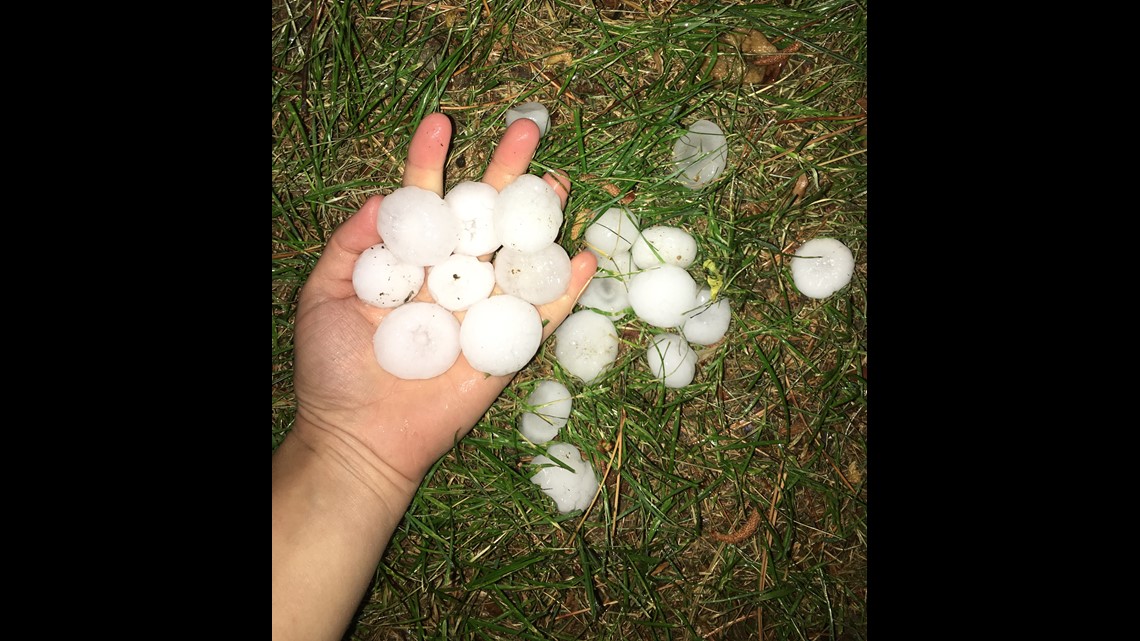 THIS ARTICLE INVOLVES COMMERCIAL CONTENT. THE PRODUCTS AND SERVICES FEATURED APPEAR AS PAID ADVERTISING. FOR MORE INFORMATION, EMAIL US.
COLORADO & COMPANY IS A PART OF 9NEWS AND FEATURES COLORADO EVENTS, COMPANIES, BUSINESS PEOPLE AND OTHER OTHER GUESTS FROM AROUND THE COUNTRY.