HIGHLANDS RANCH, Colo. — The Denver Museum of Nature and Science (DMNS) hosted an interactive lesson for students Thursday morning following the discovery of dinosaur fossils at a construction site in Highlands Ranch.
"It's a paleontologists dream; you always wait for that phone call and when you go out to the site and turns out to actually be a fossil sitting there, it's thrilling," said Natalie Toth, chief fossil preparator at DMNS.
Construction workers near Wind Crest, a continuing care retirement community developed and managed by Maryland-based Erickson Living, stumbled upon the fossils earlier this month.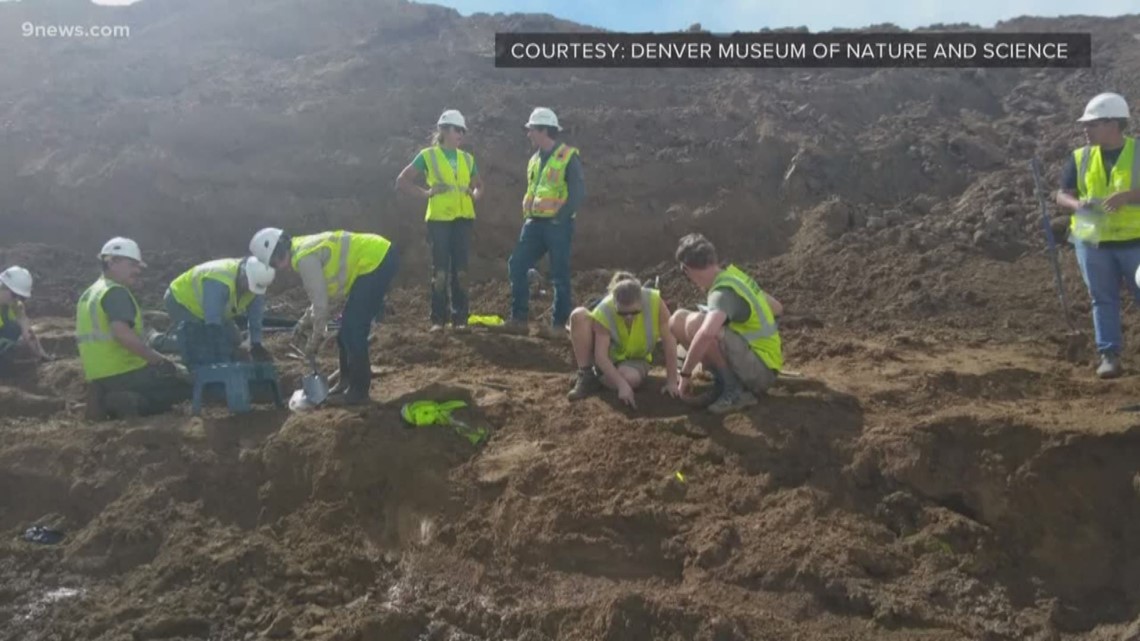 Thursday morning, Toth and Salvador Bastien, another fossil preparator, took part in a live video chat with students from different schools. They answered questions from them while others worked behind them at the site.
"Some of the bones...are in a little bit better condition than the others," Toth said. "Those are the ones that were not right at the surface and exposed right as the bulldozer was going over the surface of the bone."
One student was curious about the color of the bones and why they're darker than human bones.
"Over time, the white part of the white bone gets replaced by rocks and minerals," Toth said in response. "So as these bones are buried in the sediment that surrounds them, they tend to take on the color and the texture of the rock that's encasing them
Toth told students the recent wet weather has created challenges, but so far they've found about 20 pieces.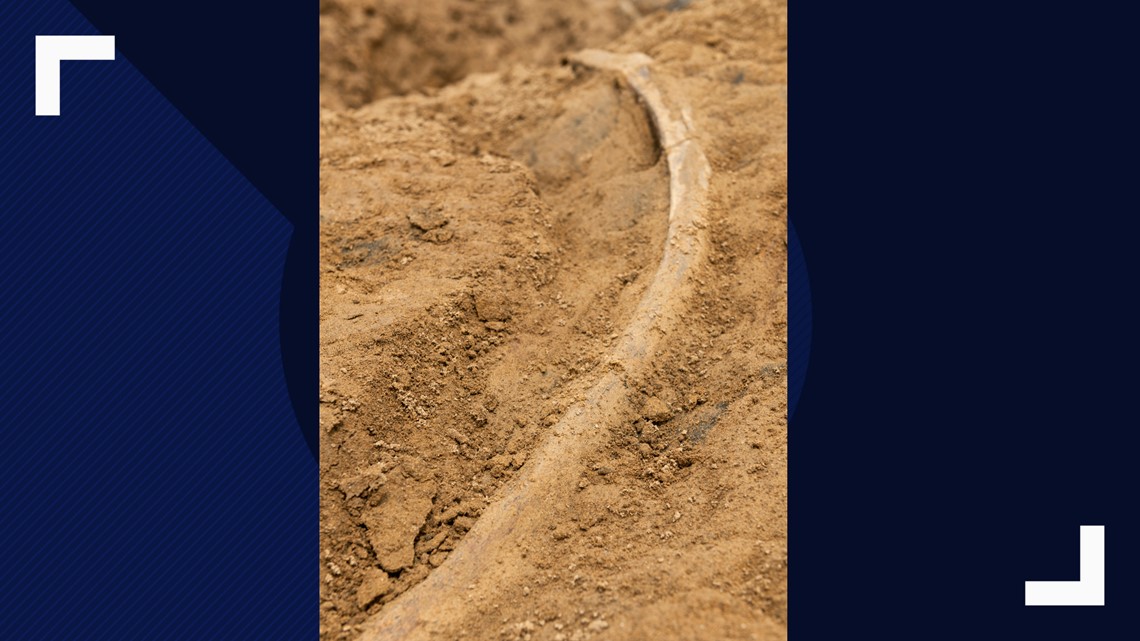 "We have a number of ribs. We have the humerus, or the upper arm bone, one of the lower leg bones called the tibia, and we even we think we have a part of the frill or the big shield on the back of the dinosaurs head," Toth said.
They're searching an area that's about 30 feet wide.
"These dinosaurs have something over 200 bones in their body," Toth said. "So there's a lot left to find."
Everything that's unearthed is wrapped in paper towels and then encased in plaster and burlap for the trip back to the museum.
The encasing is then carefully removed so that the real research can begin. That research could lead to a new discovery.
One student wanted to know how they get named.
"People will name fossils based on the location that they're found like Denversaurus," Toth responded. "Other times they've named it after the rock unit they're in, so it really just depends. It's up to the researcher when they're making a new discovery and looking at all the different pieces and parts of the animal they get to make that decision about what they want to call it."
Right now they're not sure exactly what they have other than it's like a horned dinosaur of some kind. The fossils will eventually be at the museum.
One student asked how many fossils end up in museums.
"The folks that own this land, Erickson Living, they don't actually have to give us these bones. They own this land, so the dinosaur bones belong to them," Bastien said. "But they've been incredibly kind and gracious in letting us dig here and sharing these bones with the museum. Certainly, lots of bones all over the place end up in private collections. Not everything does go to museums."
"We found what we thought was a triceratops in Thornton, and we got it back to the lab and started digging into it a little bit and figured out it was a Torosaurus, which is exciting because that's a little more rare," Bastien said. "And it was a really exciting specimen to have."