COLORADO SPRINGS, Colo. — Three mountain lion cubs will have a new home at the Cheyenne Mountain Zoo after being recently orphaned in Washington state, the zoo announced Tuesday.
The cubs — two females and one male — were found in their den last week after their mother died as a result of a "human-wildlife conflict," according to the Washington Department of Fish & Wildlife (WDFW).
"These situations are bittersweet," said Rebecca Zwicker, senior lead keeper in Rocky Mountain Wild, where the cubs will live. "We wish we didn't have to find homes for orphaned cubs. ... We can offer the cubs an amazing life of choices, care and compassion."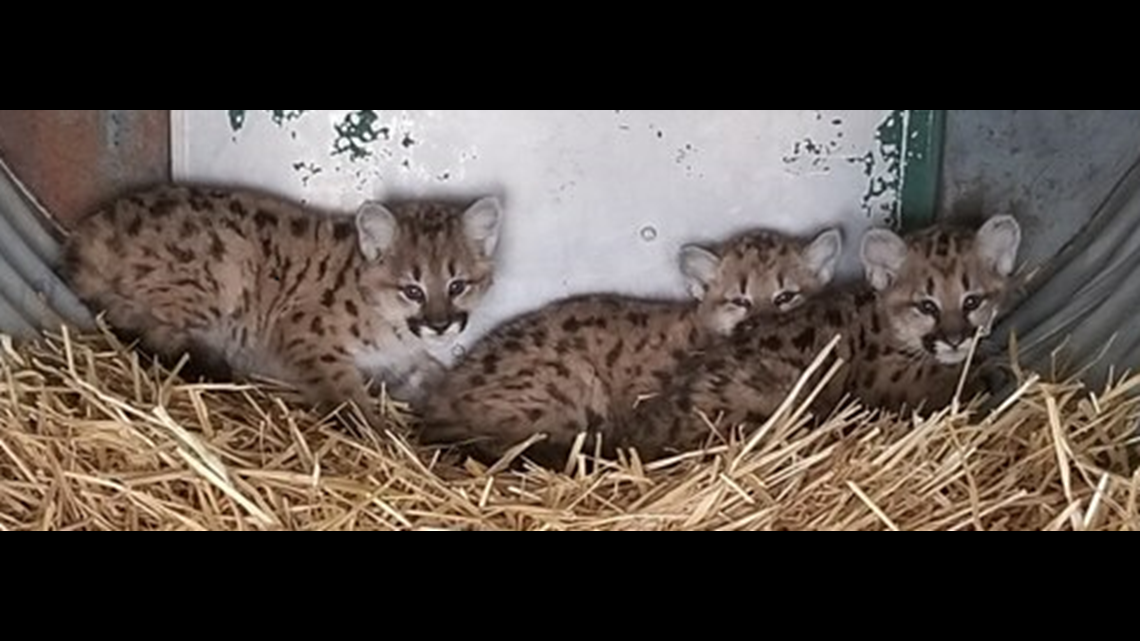 Cheyenne Mountain Zoo's Rocky Mountain Wild exhibit is home to moose, mountain lions, Canada lynx, North American river otters, porcupines and grizzly bears.
This is the second time Cheyenne Mountain Zoo has taken in orphaned mountain lion cubs.
Four mountain lion cubs from Wyoming — three males and one female — were rescued in 2006. The males, Tocho, Motega and Yuma, have since passed away, but zookeepers are hoping the female, Kaya, will play an integral role in helping the three new cubs survive.
"We're hoping Kaya, who is blind and aging, will enjoy having company again," Zwicker said. "We'll take our time letting Kaya and the cubs have opportunities to interact from a safe distance, and then we'll follow their lead. It would be ideal if they could live together, because the cubs can learn how to be mountain lions from Kaya."
Zoo veterinarians will administer vaccinations and assess the cubs' health over the next few weeks before introducing the cubs to their home in Rocky Mountain Wild.
"Mountain lions are part of our daily lives in Colorado," Zwicker said "These cubs will be ambassadors for their wild relatives, helping our guests learn about their species, their unique personalities and behaviors, their contributions to our ecosystem, and how we can live peacefully with them."