DENVER — Little Man Ice Cream's newest expansion opened Saturday just one block away from Sloan's Lake on West Colfax Avenue.
The Little Man Ice Cream Factory is a 6,000-square foot ice cream factory, creamery and tasting bar that's been in the making since 2017.
The new location will allow customers to witness the ice cream production process first-hand, while also letting them try out Little Man's scratch-made treats.
"With 'The Factory,' we're giving our guests the opportunity to explore the heart of our operation in a completely interactive way," said Little Man founder and owner Paul Tamburello. "We've combined a number of unique design elements that allow guests to truly experience our process. We can finally open up the curtain and unveil the chef-driven mystery of ice cream making in a thoroughly engaging way."
The factory has a full bakery with cookies and brownies (the same goodies they bake for use in their ice cream recipes), pastries, truffles, and a coffee bar.

The location will also become Little Man's new primary facility for making ice cream. The new space allows for 10-times the production capacity of their current kitchen.

Both the ice cream kitchen and bakery and encased in glass so that visitors can watch the whole process.
The tasting counter itself has been dubbed by Little Man as the space's "Flight Deck." Customers grab a number and when it's their turn they can order cups, cones, milkshakes or even flights of different ice cream flavors.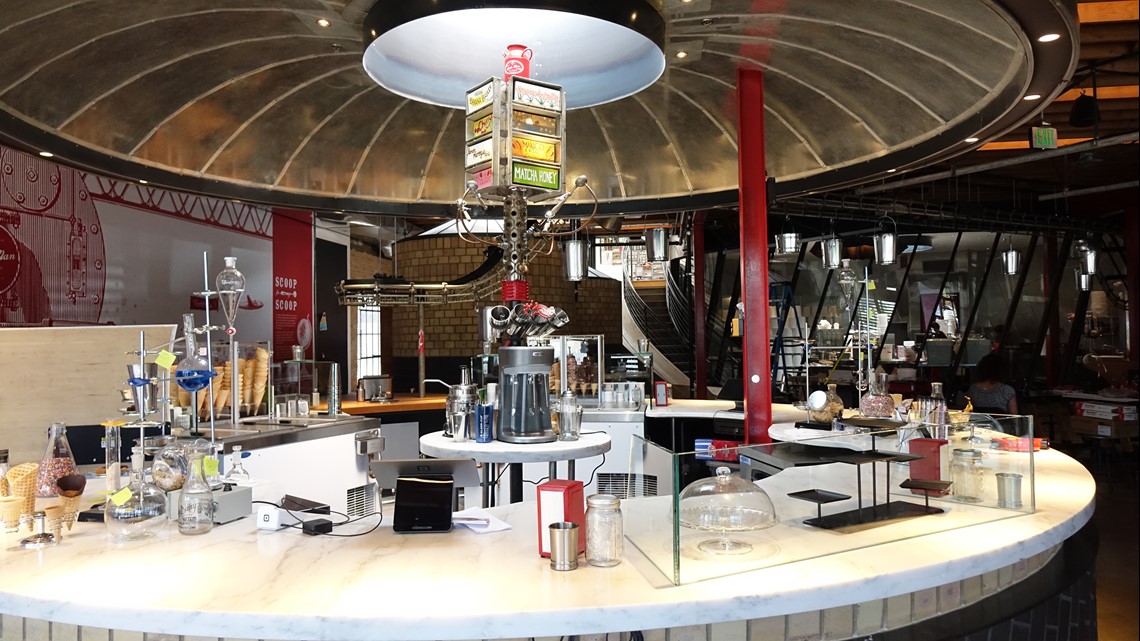 Ice cream, toppings and confections are brought from the kitchens to the tasting deck via an overhead conveyer belt.

About 2,000 square feet of the shop is dedicated to just walk-in freezers.

The space also features grab-and-go pint freezers and Little Man memorabilia for sale.

A ribbon-cutting ceremony, live music and a chance to win an ice cream party for 20 people were part of a grand opening celebration on Saturday.
The Factory is located at 4411 W. Colfax -- between Tennyson and Utica streets.
PHOTOS: Inside Little Man's new West Colfax creamery