BURLINGTON — With just over 4,000 residents, Burlington could easily be dismissed as a sleepy city with little more to offer than a quick respite from the I-70 drive.
When you take a moment to explore its history and community, though, you'll be pleasantly surprised to find there's more to Burlington than what you can see from the Interstate!
The small Colorado city of Burlington embraces its character as an old western community offering a quiet respite from the hustle and bustle of city life. Its primary industry is agriculture, the foundation for the community and a mainstay of employment today.
Old Town Burlington is all about the central plains history. The Old Town Museum sits on six and a half acres, embodying "Life in the Past Lane."
The Old Town Museum has shows featuring gun fighters and can-can girls, as well as a soda fountain where patrons can snag a shake or malt. It also offers tractor-drawn-wagon rides between the museum and the carousel.
PHOTOS: Burlington's plains history, as told by antique images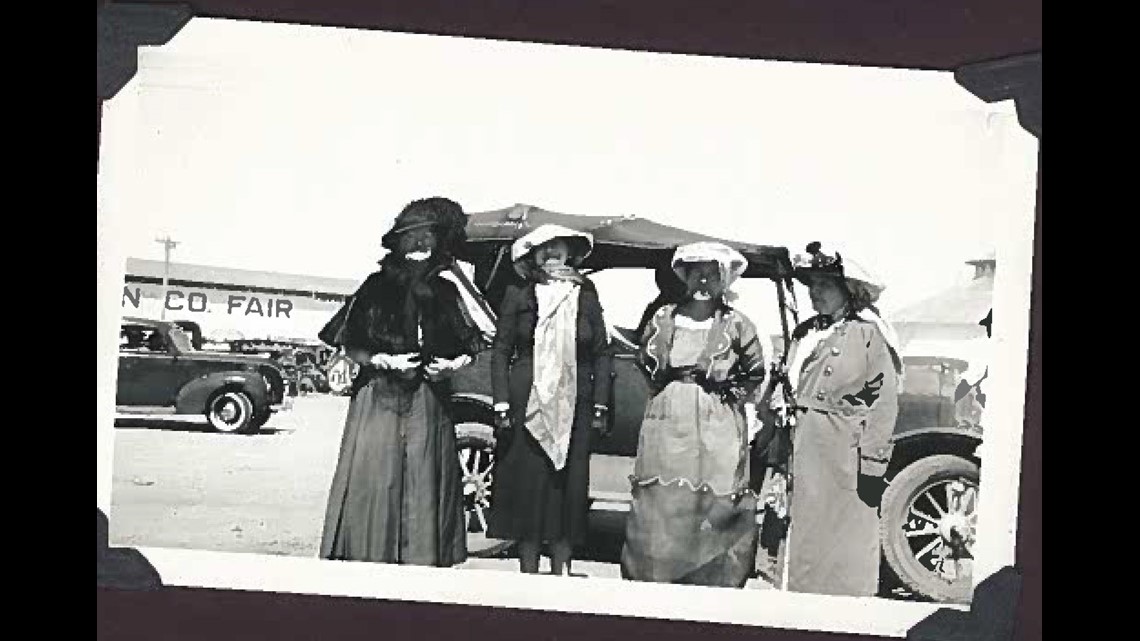 Burlington's Plains History
Think Burlington is named for the Burlington Northern Railroad? Think again! The Burlington Northern Railroad never came through Burlington.
It is said that several land buyers came to the area of Burlington, Kansas, and Burlington, Iowa, and thus together they insisted the name of the town be Burlington.
The town was established in 1888, although never became a junction town as was planned.
On November 5, 1889, Election Day, the Kit Carson County Seat was placed in Burlington. The City of Burlington offered to build and donate to the county a court house, which was to be constructed at a cost of $4,500.
Like many Colorado towns, Burlington weathered through the Dust Bowl era and then the deadly floods that followed.
When drought struck from 1934 to 1937, the soil lacked the stronger root system of grass as an anchor, so the winds easily picked up the loose topsoil and swirled it into dense dust clouds, called "black blizzards."
Recurrent dust storms wreaked havoc, choking cattle and pasture lands and driving 60 percent of the population from the region.
Old Town Museum
In response, the federal government mobilized several New Deal agencies, principally the Soil Conservation Service formed in 1935, to promote farm rehabilitation.
The Republican River Flood brought more destruction and deaths at the end of the Dust Bowl years to Burlington.
The storm of May 31 and June 1, 1935 dumped an average rainfall of 9 inches on the river's watershed. This storm was also unique in that it moved in the same direction as the drainage basin.
According to witness accounts, the roar of the water could be heard coming down the Republican Valley five miles away.
At one point, the water rose six feet in 30 minutes and was 10 to 15 feet higher than the previous record crest. Water was 20 feet deep in some places and the discharge was 280,000 cubic feet per second more than 320 times the normal flow today.
The Kit Carson County Carousel
The shining gem of Burlington is the Kit Carson County Carousel, located at the Kit Carson County Fairgrounds.
It was originally manufactured in 1905 for Elitch Gardens by the Philadelphia Toboggan Company. It was a fast carousel, traveling ten miles per hour, but Elitch Gardens eventually opted to replace it with a more modern carousel, one with four rows of animals that all went up and down.
KELLY JENSEN
The amusement was sold to Kit Carson County for $1,200, including delivery to Burlington. Its purchase was originally criticized as an extravagant expenditure.
Today, it still costs just 25 cents to ride the piece of history!
The carousel is made up of 46 hand-carved animals on a 45-foot diameter platform, with 16 outside row animals being the largest.
The carousel's carvings are incredibly detailed, including an Indian pony whose hooves have been shod.
There are real antlers on the deer and real horse-hair tails on many of the horses!
One giraffe has a snake twined around its neck, and behind the saddle of a zebra is a gnome, sitting in a shell and aiming a spear at the rider's seat.
KELLY JENSEN
In 1981, several of the carousel animal's were stolen, one of 10 thefts from a Kansas-based burglary ring specializing in antiques. The missing animals were discovered a few months later in a Salina warehouse.
After a parade down Main Street, the stolen donkey and three horses were returned to their home.
Celebrating America's Bicentennial in 1976, Kit Carson County decided to restore the carousel's band organ.
The Monster contains 255 pipes, bass and snare drums and cymbal, played by Style 155 music rolls. When it was built, it sold for more than $3,000, today's equivalent of more than $250,000!
Only three Monster organs are known to exist, of which the Kit Carson County example, No. 2,453, is the most complete.
In 1976, the badly damaged organ was taken in parts, via horse trailer, to a renowned Colorado Springs organ restorer, Art Reblitz.
More than 1,000 hours of work went into the organ's restoration, and it was completed just in time for the County Fair that year.
Later, in 1996, Reblitz restored the organ to as close to original condition as possible, finishing the project in 1999.
Today, Kit Carson County's Monster plays just as it did in 1909, enabling the carousel's 46 wooden animals to march counter-clockwise to the wonderful waltzes and magnificent marches from the turn of the 19th Century.
PHOTOS: Burlington, a small city off I-70 worth exploring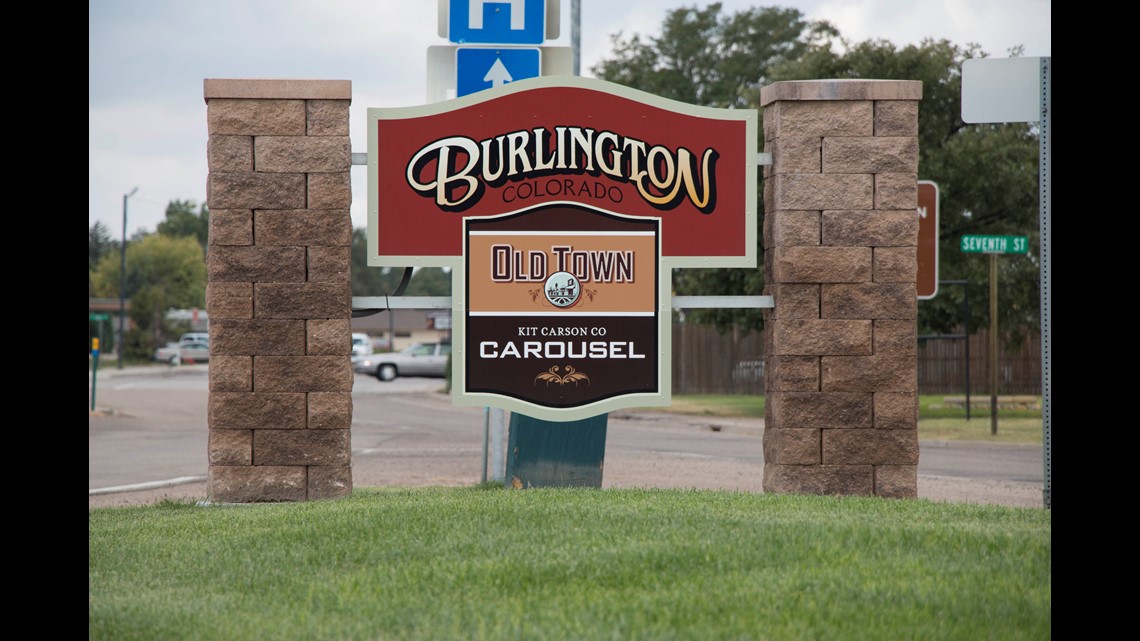 Burlington Today
Burlington has about 230 businesses: everything from dog boarding, machinery, restaurants and a host of hair salons and barber shops.
The Veterans of Foreign Wars, a nonprofit honoring veterans and military families, has a large monument with plaques listing veterans who have lived in Burlington. There is also a diner at the site, The Post Bar & Grill. You'll know it by the old Cobra helicopter mounted outside it.
Fun fact: Many of the locals rely on the town's single movie theater, the Midway, for their weekend entertainment.
KELLY JENSEN
However, the theater closed down in 2012 due to the cost of needing digital upgrades. The result? Town residents banded together to fundraise the money through events like "Drag Main on the Midway" and a website where people could submit donations.
Renovations were completed in December 2016 and the non-profit, volunteer-run theater is showing movies, theatrical events and musical performances once again.
Besides the theater, locals often head to Burlington Bowl & Recreation Center for some fun and drinks.
Golfers can also swing a few clubs in the town at the Prairie Pines Golf Course, which also has an on-site restaurant called Spices on the Green.
Burlington has an elementary, middle and high school, part of the RE-6J School District. The high school offers classes where students can simultaneously earn college credit from Fort Morgan Community College, the Fort Morgan-based college that has a satellite school in Burlington.
Plus, high school sports are a favorite past-time of Burlington locals. The high school's athletic department has everything from a cross-country and golf team, to volleyball, tennis and more.
Homes in Burlington are pretty affordable, ranging from $60,000 to just $360,000.
A small-town community
Throughout the year, the community of Burlington hosts various events such as the Celebration of Summer, Old Town Ghost Town in October and Old Town Country Christmas.
Then, there's the Carousel Christmas at the Kit Carson County Carousel as well as the Burlington Parade of Lights and Festival of Gingerbread!
The County Fair is both a modern-day entertainment and a tribute to Burlington's past. Held each year in the first week of July, the fair has been going since 1917, with livestock exhibits, rodeo, and much more.
Hunting, camping and fishing are a large part of the local tourism economy, with area farmers donating their land each year for hunting as part of the Burlington Rotary Club's Annual Rooster Roundup in November. Proceeds benefit the community.
Just north of Burlington is the South Republican State Wildlife Area, about 22 miles outside the town, offering nature watching and more.
For birding enthusiasts, the area of Burlington features several trails to see all kinds of feathered friends such as Warblers, Songbirds, Eastern Bluebirds, and Pheasants, and explore nature in the nearby towns of Yuma, Otis, Akron and Beecher Island.
Despite being home to just a few thousand people, Burlington has several parks, including Palmer Park, which has been recently renovated to include a splash park and amphitheater.
KELLY JENSEN
Across town from Palmer Park, is another park that locals refer to as the "Wooden Park." All the equipment there — slides, swings, monkey bars, as well as several small buildings where children can play hide-and-seek — was hand-built by local volunteers about 25 years ago.
Main Street and more
For a great cup of local coffee, check out The Main Cup, located in a tiny, red former-gas station along 14th Street in the center of town.
KELLY JENSEN
Although kind of a hole-in-the-wall right off the interstate, El Reynaldo's Mexican in Burlington is no-frills, but tasty, local food at reasonable prices.
Besides El Reynaldo's, Tequila's Mexican Grill is another Mexican spot that opened just this year.
If you're looking for healthy fare, the one place you're sure to get it is Health Essentials, owned by local Melissa Klewneo.
Health Essentials is a medical spa with aestheticians, massage therapists and yoga instructors. It also has a store and a restaurant where patrons can order things like wraps and salads.
KELLY JENSEN
For gifts and such, Mimi's Designs at 15th and Senter is a beautifully-renovated old building now filled with treats for the home and other finds.