KUSA — We could break a record for heat Saturday with scorching temperatures in the forecast.
With that being said, we've compiled this list of places where you can beat the heat this weekend.
Don't listen to TLC, go chasing waterfalls
Spring runoff means that Colorado's waterfalls are out in full force – and let's be real, nothing's better on a 90-degree day than a dip in a cool mountain stream.
Here are some awesome Colorado waterfall hikes.
Ouzel Falls, Rocky Mountain National Park
This out-and-back hike in the nicely shaded Wild Basin area of Rocky Mountain National Park is around 5.2 miles – and you're rewarded with an incredible view of a 40-foot waterfall.
On the way, you'll pass the Calypso Cascades, a 200-foot stretch of creek that's a great place to dip your feet and enjoy some lunch.
Here's a writeup on the hike: http://bit.ly/2sbPTii
Elk Falls, Staunton State Park
A fairly new trail will take you right to the base of this formerly inaccessible waterfall in Staunton State Park.
It's not just a walk in the park though. This hike is 12 miles roundtrip with 1,500 feet of elevation gain. Your journey will take you through a dense forest and that view at the end? Totally worth it.
Read more here: http://bit.ly/2rdWYtB
Horsetooth Falls, Fort Collins
Sure, this might be one of the busier trails in northern Colorado, but if you live in Fort Collins, it's only a 15-minute drive away, which is a huge plus.
It's also only 2.35 miles round trip with a moderate elevation gain, and a view of a relatively cool waterfall at the end -- always a plus.
Learn more about Horsetooth Falls here: http://bit.ly/2r3oFGg
Maxwell Falls, Evergreen
The 4.2 mile Maxwell Falls trail takes you a journey past two small waterfalls and then the big one at the end.
You gain around 600 feet in elevation -- meaning it's definitely not the toughest hike on the list, and you cross plenty of water, so your dog will love it too!
Read more about this waterfall hike here: http://bit.ly/2sLuVnx
Bridal Veil Falls, Telluride
At 365 feet, this is the tallest waterfall in Colorado -- and that means it's worth the six hour (give or take) drive from Denver.
The 1.8 mile one-way hike has a 1,200 elevation gain. At the bottom, you get to feel that nice waterfall-type mist that makes hot days a little bit more bearable.
Here's a look at the hike from Visit Telluride: http://bit.ly/2t38Tfg
Castlewood Canyon waterfall hike, Douglas County
Is this the tallest waterfall on the list? No, but it's an easy drive from Denver and -- if you don't park in the lot only 10 minutes away -- gives you the chance to check out the other stuff this super cool state park has to offer.
The Creek Bottom trail 1. Kind of sounds like a place hobbits would live if you say it with an English accent and 2. Gives you a nice chance to cool off in the creek when it gets warm. You can also check out the broken dam in the park -- it looks little bit like something you'd see in Mordor.
You can download a trail map and read more here: http://bit.ly/2slUnmc
Eldorado Falls at Walker Ranch, Boulder
This 2.5 mile hike is a little bit backwards from normal treks: you lose elevation getting to the destination, then gain 500 feet coming back to the parking lot.
You follow a stream for parts of the trail, and when you reach the falls themselves, you'll see Boulder Creek cascade through some large Boulders.
It's shady and cool for much of the way, another bonus when it's hot out.
There's a nice writeup on the hike here: http://bit.ly/2s4WPgg
But if you want to stick to the rivers and lakes that you're used to …
But if you want to stick to the rivers and lakes that you're used to …
Colorado is filled with plenty of mountain lakes worth exploring.
And really, is there anything better than posting up at a lake when temperatures climb into the upper 90s?
Bear Creek Lake Park
If you're looking for place close to Denver that still offers some pretty great views, Bear Creek Lake Park is worth checking out.
The sandy swim beach at Big Soda Lake is a go-to spot for swimmers of all ages during hot summer days.
Plus, the nearly 15 miles of hiking trails at the park gives visitors plenty of options for exploring the area.
Those wanting to do more than lounging on the beach, can rent paddleboats, canoes or kayaks. Admission costs $7.
More:
http://bit.ly/2sLGpY1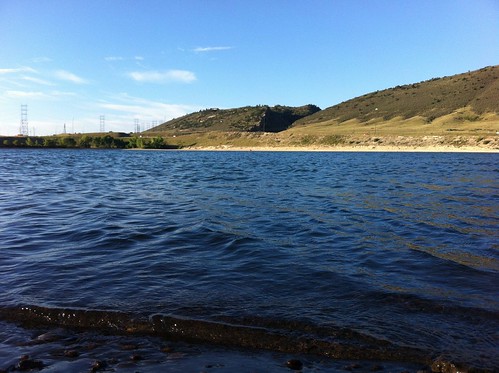 Boulder Creek
Taking a float down a lazy river should be on any Coloradans summer bucket list.
Grab an inner tube (or rent one from a nearby business) and hop along Boulder Creek for a relaxing afternoon.
Tubers can get in at Eben G. Fine Park and travel down the creek to 55th Street.
If you'd rather go rogue – a bike path parallels the creek along the way – so you can hop in and out anywhere you please along the way.
The water will feel ice cold, but with temperatures in the upper 90s – that's probably not such a bad thing.
More: http://bit.ly/2r3Fzok
Lost Man Lake
Sometimes a swim is better enjoyed after a long hike.
Located in the Independence Pass area, the hike to Lost Man Lake comes in at about 10 miles roundtrip.
The trailhead is located just below Independence Pass -- along the north side of Highway 82
It'll take you awhile to reach your destination, but just think about how accomplished you'll feel when you make it.
Since the lake sits at 12,450 feet, expect your swim to be a chilly one.
More: http://bit.ly/2rUUKRX
Jackson Lake
Avoid I-70 traffic to the mountain and head an hour and a half northeast of Denver to Jackson Lake State Park.
You won't need to hike more than a few hundred feet to take a dip in this beautiful destination along the eastern plains.
Jackson Lake offers sandy beaches for swimmers looking to beat the summer heat.
A day pass at the park costs $7.
More info: http://bit.ly/2sn8Jm2
If you want to have it your way (and you're an adrenaline junkie)
If you really want to get your blood pumping while you cool off, don't just slowly ease into the water. Go flying into it from a cliff.
Now, cliff jumping is obviously extremely dangerous, so if you choose to do this, make sure you know what you are doing, test the depth of the landing area before you go in, dress appropriately, and check for any obstacles. If you feel uncomfortable in any way, it can be just as fun to sit on the rocks around the area and watch others jump instead of actually jumping yourself.
Devil's Punchbowl
If you really want to cool off, the frigid water at Devil's Punchbowl should do the trick. You just need to get up the courage to plunge about 20-feet into the water.
Take Independence Pass about 9 miles outside of Aspen and hike in from the Grottos Trailhead to access it.
More: http://bit.ly/2sbVll4
Paradise Cove
Located on BLM land near Florissant, it's about a half-mile walk into this once-hidden swimming and cliff-jumping hole.
A deep pool is surrounded by smooth granite cliffs, making it both a beautiful and popular spot in the summer months. Weekends can get pretty crowded so expect to share the spot, or come during the week.
More: http://bit.ly/2rUUkLb
Seaman Reservoir
A little closer to town that the others, Seaman Reservoir is just about 15 minutes north of Fort Collins. It's about a mile hike to actually access the water and once you do, there is a well-known cliff jumping spot along the east side of the reservoir.
A rock juts out about 25-feet above the water and people can regularly been seen leaping off it into the water below. Hang out and watch the show, or maybe try it yourself.
More: http://bit.ly/2s5IyzX
Or you want to do nothing at all (hey, you might think you're moving too fast!)
Maybe you're reading this and thinking to yourself: hey, I really don't want to go hike. It's the weekend. I just want to lounge -- maybe by a body of water … AND I DON'T WANT TO JUMP OFF OF A CLIFF.
Here's some good news -- despite being a landlocked state, Colorado actually has its share of beaches. Here's a look at a few.
Horsetooth Reservoir
Horsetooth is arguably one of the most beautiful bodies of water in Colorado, and you're afforded some great mountain views right from the swim beach.
You can also watch people cruise around on boats, kayaks and paddleboards. Since you're in Fort Collins, you're in close proximity to some great beer -- something that makes lounging even better.
Grand Lake
This mountain lake is super popular with people who have boats so, basically, make a friend who has one.
According to Grand Lake's website, you can also "swim, fish kayak, paddle, row or just kick back" at the sandy beach -- as well as take in those fantastic mountain views.
Sandbeach Lake
Yup, there's a sandy beach in Rocky Mountain National Park (not something you'd expect). Unfortunately, given that the subheadline above this explicitly mentioned not moving, it's a 4.5 mile hike to get here, but when you do, it's totally worth it (and very unique at that!).
The Coloradoan has a great writeup on the hike here: http://noconow.co/28UU6vX