DENVER — Colorado's state fossil is getting its own license plate.
Colorado Gov. Jared Polis (D) signed SB23-145 into law Monday creating a stegosaurus fossil license plate for motor vehicles in the state.
SB23-145 was proposed in the Colorado state legislature to create a special license plate to commemorate the state fossil, the stegosaurus.
The bill was sponsored by Sen. Jessie Danielson, Sen. Lisa Cutter, Rep. Tammy Story, and Rep. Brianna Titone.
Beginning Jan. 1, 2024, Colorado residents can purchase the new plate for the standard motor vehicle fees and taxes, a donation to Dinosaur Ridge, and two $25 payments for issuance of the plate.
One $25 fee will go to the highway users tax fund and the other $25 to the licensing services cash fund.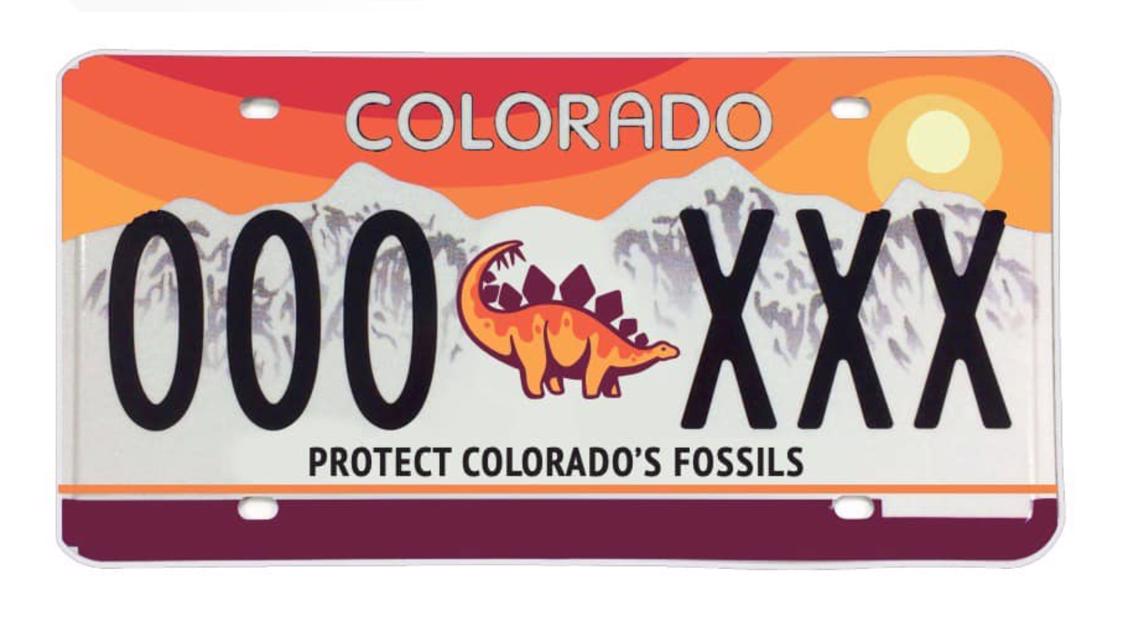 The world's first stegosaurus fossil was found at Dinosaur Ridge in Morrison, on the west side of the Denver metro area, in 1877.
Each purchase of the "Protect Colorado's Fossils" license plate includes a donation to Dinosaur Ridge to further support the preservation of dinosaur fossils, educational resources, and paleontology sites.
"The stegosaurus is a Jurassic giant that is beloved by Coloradans of all ages," said Danielson. "The 'Protect Colorado's Fossils' license plate will raise awareness about protecting Colorado's fossils while benefiting Dinosaur Ridge. With today's signing, Colorado families can support this organization and the preservation of our fossils in a fun and unique way."
"Dinosaur Ridge is a treasure, and I'm thrilled that it's located in my district," Cutter said. "This terrific organization works to preserve and educate the public on dinosaur fossils, dinosaur tracks and paleontology sites. Coloradans in all corners of the state are excited to get their very own stegosaurus license plate, which will support this important work."
In March 1877, Arthur Lakes, a professor and geologist, discovered massive dinosaur bones along the Dakota hogback in Morrison. Lakes hoped an expert would be interested in his find and would hire him to continue searching the area.
He first wrote to Othniel Marsh, one of the most prominent dinosaur specialists of the time, about his discovery. Marsh only vaguely responded and then stopped correspondence altogether, so Lakes sent a sample of one of the bones to Marsh's rival, Edward Cope. As soon as Marsh got word Cope might be interested, he hired Lakes.
For the next two years, Lakes and his colleagues would continue excavating the hogback under Marsh's direction. It would be one of the most prominent sites of the "Bone Wars" between Marsh and Cope during the late 19th century.
These quarries also yielded the world's first fossils of the stegosaurus and apatosaurus (better known as the brontosaurus).
9NEWS+
9NEWS+ has multiple live daily shows including 9NEWS Mornings, Next with Kyle Clark and 9NEWS+ Daily, an original streaming program. 9NEWS+ is where you can watch live breaking news, weather updates, and press conferences. You can also replay recent newscasts and find videos on demand of our top stories, local politics, investigations and Colorado specific features.