KUSA — "The Run for the Roses" is the unofficial kickoff to summer. The 144th Kentucky Derby will be held Saturday, May 5 on 9NEWS. All around the world people tune in to experience the pageantry and beauty of our old Kentucky home. No matter if you're pulling for Justify, Magnum Moon, Mendelssohn or Audible, you'll enjoy the fun and festive atmosphere of one of dozens of Derby parties taking place across Colorado:
Arvada
Derby de Mayo Party, The Bluegrass - Old Towne Arvada: 7415 Grandview Ave., 3rd annual Derby Party will feature great drink specials and delicious Hot Brown Pizza.
Kentucky Derby Party, Bout Time Pub & Grub: 5225 W. 80th Ave., Come down to your neighborhood pub in your best hat and outfit and enjoy a refreshing mint julep!
Bowregard Live at SHC Kentucky Derby Day Party, School House Kitchen and Libations: 5660 Olde Wadsworth Blvd., Bowregard plays this 4th annual Derby Party. There will be food and drink specials as well. Come dressed to impress!
Aspen
Summer Season Opening, Aspen Brewing Company: 121 S. Galena St., Aspen Tap is reopening for the summer season with a new summer menu plus an expanded cocktail and wine menu. It's also Cinco de Mayo and the Kentucky Derby, so dress to impress!
Aurora
Moe's Original Bar B Que, 2727 S. Parker Rd., Derby Day For Hearts: Festival of Live Blueglass, Bonnets, Bow Ties, Bourbon & Brews.
Denver Mini Derby, Stanley Marketplace: 2501 Dallas St., Kentucky Derby Watch Party with Mini Horse Race afterwards, live band, DJ, open bar, hat contests, food options and more.
Kentucky Derby at Blackstone, Blackstone Country Club: 7777 S. Country Club Pkwy., Don your finest hat and best bow tie for the big race. There will be great food and drink specials and the event is family-friendly. There is no cost to join the party but reservations are required at 720-330-7127.
Boulder
Boulder Kentucky Derby Party, St. Julien Hotel & Spa: 900 Walnut St., Derby party on the terrace and inside the Great Room on Saturday. Live music from Good Manners Quartet, complimentary photograph, hat contest, drink specials and more.
Broomfield
Rails End Beer Company, 11625 Reed Court #B, Rails End will have a hat contest and food and drink specials.
Sill-TerHar Kentucky Derby Party, Sill-Terhar Motors: 150 Alter St., The 4th annual Sill-Terhar Kentucky Derby Party benefits life-saving pediatric cancer research through The Morgan Adams Foundation. General admission and VIP ticket options allow guests to choose a tailored Kentucky Derby experience.
Centennial
Kentucky Derby Viewing Party, ViewHouse Centennial: 7101 S. Clinton St. Centennial, Derby viewing party featuring a la carte brunch, mimosa specials, mint juleps and more. Derby attire highly suggested!
Colorado Springs
Kentucky Derby Party at Axe, Axe and the Oak Whiskey House: 1604 S. Cascade Ave., Axe's 2nd annual Derby Party begins at 2 p.m. with mint julep specials, best costume contest and tunes all day from DJ Rocky Ross.
Kentucky Derby Party and Beer Release, Brass Brewing Co.: 318 E. Colorado Ave., Brass Brewing will be releasing one of its newest beers. There will be $1 off pints, hourly raffles and guests are encouraged to wear their best hats.
Kentucky Derby Party, The Playing Field Sports Bar: 3958 N. Academy Blvd., Free derby party with live music, hat contest, cash prizes and many more giveaways.
Denver
Bar Car, 819 Colorado Blvd. Denver, 8th Annual Kentucky Derby Party.
Bout Time Pub Derby Party, Bout Time Pub & Grub: 3392 W. 38th Ave., Dress up, wear a big hat and enjoy the 144th Kentucky Derby.
Cinco de Derby, Julep Restaurant Denver: 3258 Larimer St., Races will be on throughout the day, the patio will be open and there will be derby-inspired bites and drinks. Come dressed for the "best dressed contest," stay for the whole big roast.
Derby Party with Curio, The Denver Central Market: 2669 Larimer St., Live music, beer & wine bars, lawn games, food specials and more.
Del Frisco's Derby Party, 100 St Paul St., Del Frisco's "Run for the Rose" Patio Party features appetizers, mint juleps and wine. Reservations required.
Denver Derby Party 2018, Sculpture Park Denver, The Original Denver Derby Party now in its 17th year held in downtown Denver, spread out over 4 blocks.
Derby de Mayo, Declaration Brewing: 2030 S. Cherokee St., Watch the Kentucky Derby with live music from Andrew McCarthy of The Drunken Hearts from 3 to 5 p.m. There will be a hat and sombrero contest, beer specials and Gyros King Food Truck.
The Unofficial Derby Day After Party, The Corner Office Restaurant & Martini Bar: 1401 Curtis St., The Corner Office is your pre-race and post-race headquarters if you're checking out the party at Sculpture Park. There will be a DJ from 2 to 8 p.m., mint julep specials, food specials and dressed lady and gent contest.
The Big Wonderful, 4400 Fox St. Denver, Beerfest, Bluegrass, Bazaar on Saturday and Sunday. Food trucks, bands and more featuring Leftover Salmon on Sunday.
Hearth & Dram Derby Party, 1801 Wewatta St., Wear your big hats because the best hat wins a $100 gift card. There will be $5 mint julep and $3 Old Grand Dad shots from 11 a.m. to the end of the race.
INTERSTATE kitchen & bar, 1001 Santa Fe Dr., Free snacks and julep specials and pick-the-winners contest.
Kentucky Derby Viewing Party, ViewHouse Ballpark: 2015 Market St. Denver, Derby viewing party featuring a la carte brunch, mimosa specials, mint juleps and more. Derby attire highly suggested!
Kentucky Derby Big Hat Party, Kingman Estates Winery: 800 E. 64th Ave., Don your big hats for a Kentucky Derby Party with fine Colorado wine, lite bites and watching the big race.
Kentucky Derby at STB, Sloan's Lake Tap and Burger: 1565 N. Raleigh St., Mint juleps will be flowing all day for the Derby at Sloan's Lake Tap and Burger.
Kentucky Derby at The Station, Lincoln St. Station: 776 Lincoln St., Come enjoy derby-inspired drink specials and fun food options.
Derby Day with Denver Union Station, Denver's Union Station: 1701 Wynkoop St., The Derby will be live streamed throughout the Great Hall and throughout the station. The Derby Day Party, presented by Bulleit Whiskey and Ketel One Vodka, will have mint julep specials, live music and best dressed contest.
Englewood
Whiskey Biscuit Derby Party, The Whiskey Biscuit: 3299 S. Broadway Englewood, Food and drink specials, ladies hat contest and suit contest for men.
Littleton
Kentucky Derby Party, Ned Kelly's Irish Pub: 5686 S. Sycamore St., Mint Juleps, drink specials, prize giveaways and more.
Kentucky Derby Party at Mirage, The Mirage Sports Bar: 8340 W. Coal Mine Ave., Get your tickets to the Mirage's Derby Party that runs from 10 a.m. to 2 a.m. Food, fun, hat contest, julep and Bloody Mary bar and giveaways.
Kate's Derby Party, Kate's Wine Bar: 5671 S. Nevada St., Come dressed in your best derby attire and enjoy mint julep specials!
Derby Party at ViewHouse, ViewHouse Littleton: 1680 W. Main St., Brunch will be served from 10 a.m. to 2 p.m., live race broadcast at 4 p.m. and DJ will be playing from 2 to 6 p.m.
Northern Colorado
Down & Derby Party, Big Red Barn in Highland Meadows: 6300 Highland Meadows Pkwy. Windsor, NOCO Unify brings Churchill Downs to Northern Colorado with this 9th annual Derby Party. This 21-and-over event benefits charities serving youth in Northern Colorado. Tickets are available online.
Kentucky Derby Fiesta, Tony's Bar: 224 S. College Ave. Fort Collins, Tony's roof top wil be open for Fiesta de Derby with a hat contest, drink and food specials.
Kentucky Derby Party, Mulligan's Pub & Sports Club: 2439 S. College Ave. Fort Collins, Best hat prizes, $3 mint juleps and margaritas, $2.50 Mexican beers and more.
Mead
Kentucky Derby Party, Black Canyon Distillery: 4340 Highway 66, Mead, Live music, food, mint juleps!
Parker
Vines First Annual Kentucky Derby Party, Vines Wine Bar & Bistro: 19501 E. Mainstreet, Derby Day ladies hat and men's dapper attire contests and prizes plus Woodford Reserve Kentucky Bourbon and mint julep specials.
Do you have a Kentucky Derby party you'd like us to list here? Email us with details.
DERBY RECIPE: How to make a classic mint julep
QUIZ: Find out your Kentucky Derby horse name
DERBY POSITIONS: Justify installed the early 3-1 favorite for Kentucky Derby
PHOTOS: Hats of the Kentucky Derby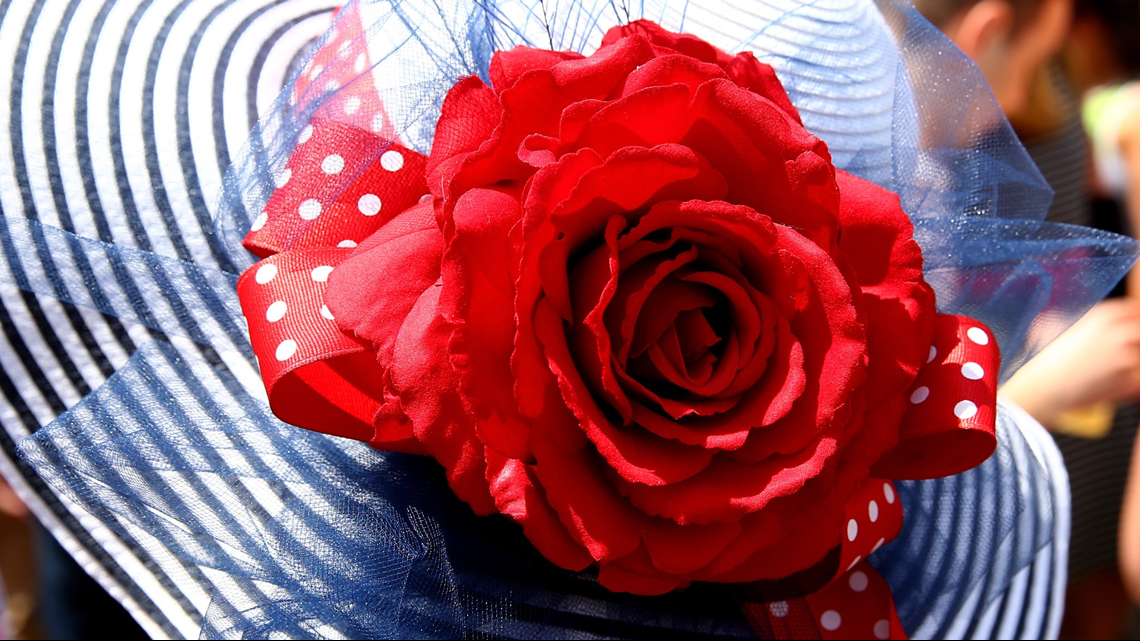 Getty Images