DENVER — For the past few years, members of the 9NEWS digital team have explored towns and neighborhoods all over the state as part of our weekly 9Neighborhoods series.
This has taken us everywhere from the heart of Denver to a town 45 minutes from the nearest gas station in the Eastern Plains.
Our state is incredible and there's so much to explore, but here are some favorites from four members of the digital team.
For a map of where we've been, take a look below – it could help you if you haven't planned a Memorial Day road trip yet.
This story is part of our weekly 9Neighborhoods series (even though it's about 9Neighborhoods … call it a 9Neighborhoods-ception, if you will). Join us on the 9NEWS Instagram start at noon on Friday for a photo tour of our producers' favorite places!
BURLINGTON
Kelly Jensen
There's a certain level of peace that comes over you when you're sitting on a farmhouse porch swing staring at a lonely tree with nothing but a windswept-field backdrop as far as the eye can see.
That's especially the case if you live or work in the bustling metro, where traffic, loud noise and busy people are the daily norm.
A dirt road, quiet small town street and sunshine over the plains provides the perfect escape, the perfect tranquility.
And what better place to provide it than Burlington? Located right on the Kansas-Colorado border, the small town has that quiet ambiance only the Eastern Plains can provide.
It's one 9Neighborhoods spot that is definitely worth the 2.5-hour drive.
­
- Digital Executive Producer Caitlin Hendee
READ OUR FULL BURLINGTON STORY HERE: on9news.tv/2EjupXw
CASTLE ROCK
Located about 30 miles south of the heart of Denver, Castle Rock offers plenty of options for city dwellers and outdoor enthusiasts alike.
The rapidly-growing city is surrounded by 50 miles of trails, 19 developed parks and 5,400 acres of open space. You can even take a 1.4 mile hike at Rock Park to reach the base of the rock that gave Castle Rock its name.
Or if shopping's more your thing, visit the largest open-air outlet mall in the state -- Outlets at Castle Rock
Take a trip downtown and you'll find a host of independently owned shops, galleries and tasty restaurants worth exploring. Stop into Maddie's Biergarten on Third Street for craft beer and food in a rustic space, or Smallcakes if you're craving a sweet treat.
- Digital Content Producer Bobbi Sheldon
READ OUR FULL CASTLE ROCK STORY HERE: on9news.tv/2JUKwvU
CRIPPLE CREEK
I am not a big fan of gambling, so it might seem surprising that a small town known for its nine casinos is on this list.
But this historic mining town has so much more to offer. Activities that are often overshadowed by the town's gambling reputation.
I had no idea about half of the things I found when researching this story and they all made me want to go back.
There's a narrow-gauge railroad, mine tours, a historic theater, trails and museums.
I would recommend going in the fall if you can, because the drive there is worth the trip in itself.
While it doesn't get as much attention as some of the other mountain passes, in my experience Colorado Highway 67 between Cripple Creek and Divide is one of the most spectacular (if not THE most spectacular) fall drives in the state.
READ OUR FULL CRIPPLE CREEK STORY HERE: on9news.tv/2JUKwvU
- Digital Content Manager Amanda Kesting
GOLD HILL
Allison Sylte, KUSA
Look, Boulder is … Boulder (if you've lived in Colorado for any period of time, you know what I mean). There's nothing wrong with that, but what I love about Gold Hill is it's got that Boulder granola-ness without what some could describe as pretension (don't @me).
Any option to get to this town of around 200 11 miles from Boulder is an adventure if you're coming from the Denver metro area. There's Sunshine Canyon, which offers views so good I had to pull over multiple times since it felt like a waste not to snap a photo. And then there's Lickskillet Road, which literally made my little Toyota start smoking when I drove up it back in college. Good times.
Allison Sylte, KUSA
Once you get here, there's a historic music venue and dinner place, and old school general store that sells everything from coffee to booze to survival gear.
With miles of dirt roads, a historic school house and views of the Front Range, Longs Peak, the Indian Peaks and even Eldora Ski area in the distance, this isn't a resort town, but rather a place to explore a quieter part of the Front Range – and maybe take a trip back in time.
Put on some Buffalo Springfield or Crosby, Stills, Nash and Young (Stephen Stills used to live up here and play free concerts at the Gold Hill Inn), take a drive, and just enjoy the scenery. You won't regret it.
- Senior Digital Journalist Allison Sylte
READ OUR FULL GOLD HILL STORY HERE: on9news.tv/2HATk7v
FORT MORGAN AND KARVAL (I COULDN'T CHOOSE)
Allison Sylte, KUSA
Whenever I mention that I think the Eastern Plains are beautiful on the 9NEWS Facebook page, I always get some pretty aggressive comments from folks who definitely disagree. That's fine, but there's something tremendously peaceful about looking out into the distance and seeing nothing but prairie and blue skies.
Colorado is rightfully known for its mountains, but it's wrong to ignore the other, less touristy half of the state.
In this part of Colorado, you'll have a hard time finding a traffic jam (we're looking at you, Front Range and I-70 up in the mountains). And you'll also have a hard time finding someone who isn't friendly and happy to talk about the place they're proud to call home.
This brings me to a town where I got to do one of my favorite 9Neighborhoods: Fort Morgan. Next time you make the drive up I-76, don't just blow by this community on your way to Nebraska. Instead, stop by the quaint downtown to explore some places that American music icon Glenn Miller worked as a teenager. There's also Zazzy's Café, which had a brie, fig and bacon panini that I'm still thinking about more than a year after my visit.
READ OUR FULL FORT MORGAN STORY HERE: on9news.tv/2NHIMVK
About an hour from Fort Morgan is Pawnee National Grassland, which has incredible views of buttes in the distance and the prairie of northeastern Colorado. Come at sunset. You won't regret it.
PHOTOS: Hiking Pawnee National Grassland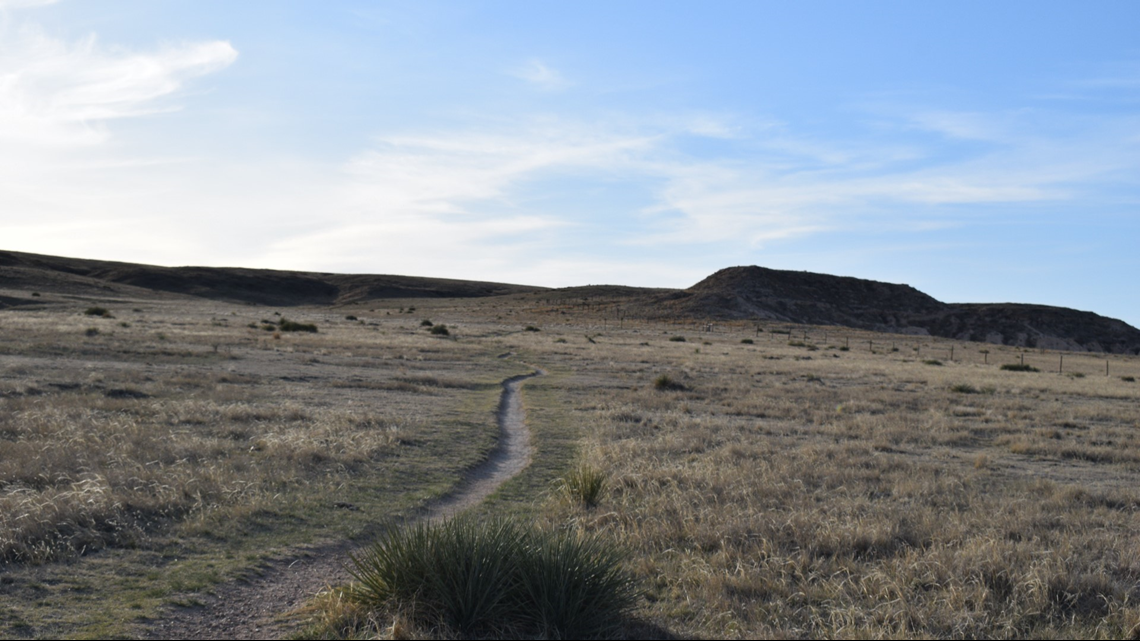 RELATED: A unique Colorado hike where you might be the only car in the parking lot
Farther south is Karval, which is about 45 minutes from the nearest grocery store and an hours drive from Limon. This little community is so proud you'll find multiple signs directing you to it as you navigate empty Lincoln County roads.
It's known for the yearly Mountain Plover Festival, which honors a rare bird with long legs that hops around the prairie. This isn't the only unique critter that calls this part of the state home: if you look carefully, you might see burrowing owls and maybe toads.
Allison Sylte, KUSA
READ OUR FULL KARVAL STORY HERE: on9news.tv/30BOHTa
For these adventures, it's probably worth it to blast some Johnny Cash or Luke Bryan on the radio (if you love cheesy modern country like I do), roll down your windows, and just relax.
- Senior Digital Producer Allison Sylte
LARKSPUR
Nearly a mid-point between Denver and Colorado Springs, Larkspur is a small town of with some unique offerings.
Where else in the state can you attend a Renaissance Festival that runs for eight weekends each summer? The event is one of Larkspur's biggest draws of the year, but it's certainly not all the tiny, 1.5-square-mile town has to offer.
Along Spruce Mountain Road through town, you'll find a bar & grill, a pizza place and some delicious Mexican food.
There's also plenty of trails, a private RV park, and about 25 miles southeast of town -- Colorado's first artisanal creamery.
Fruition Farms Dairy and Creamery is a 10-acre farm owned and operated by James Beard Award winner Alex Seidel. Seidel owns several Denver restaurants and uses supplies from the farm and creamery to create a sustainable relationship between farm and restaurant.
- Digital Content Producer Bobbi Sheldon
READ OUR FULL LARKSPUR STORY HERE: on9news.tv/2whmtzf
LITTLETON
Kelly Jensen, KUSA
Is this a long road trip if you live in the Denver metro area? No, but it is quite the escape if you're like a lot of my friends and only leave Capitol Hill to go to the airport.
And, if you don't have a ton of time to make a long drive this Memorial Day weekend, a visit to the gorgeous and historic downtown Littleton might be in order.
Seriously: this strip off Littleton Boulevard has everything from a renowned beer bar with a great patio (Jake's), a wine bar (Kate's), a Melting Pot located in an old library, and a cemetery where a legit cannibal was laid to rest.
Between that and multiple gorgeous parks in town (Sterne Park, Ketring Park and Gallup Park are all great), Littleton could make quite the staycation.
It's also just off the Platte River Trail, meaning you could connect Littleton to other parts of the Denver metro area via the Highline Canal Trail (or C470 Trail is you're feeling adventurous) and have quite the bike ride! Stop at Toast right at Santa Fe Drive and Littleton Boulevard to carb-load.
- Senior Digital Journalist Allison Sylte
OURAY
If you were to survey a group of people who have traveled around Colorado and ask them what their favorite town to visit is, I can almost guarantee Ouray would be the most common answer.
Affectionately known as "The Switzerland of America," Ouray is a gorgeous and one-of-a-kind Colorado mountain town nestled in the San Juan Mountains in the southwestern part of Colorado.
About 335 miles (a 5-hour, 30-minute drive) from Denver, it's definitely a trek. But it's well worth it. The town is filled with small boutiques, quaint restaurants and charming shops sitting against the backdrop of the stunning San Juan Mountain Range on all sides.
And it's just as beautiful all times of the year.
The first time I visited was in the summer, on a personal trip. Hiking the perimeter loop, seeing Box Canyon Falls, driving along the Million Dollar Highway and eating one too many scrap cookies made for an unforgettable weekend.
Then, I got to go back to cover the Ice Festival in January for work.
Each winter, as the picturesque falls of Box Canyon freeze, the Uncompahgre Gorge is transformed into an ice climbing mecca. The vast ice walls attract about 15,000 ice climbers from around the world every year.
KUSA
Now, I don't know how to ice climb. And I probably got more than a few weird looks wearing a snowboard helmet and tripping over my crampons while attempting to back down into the base of the ice park.
But being there felt almost magical (cheesy, I know). I might even say Ouray is more beautiful in the winter, covered in snow and ice. And the scrap cookies are still there.
READ OUR FULL OURAY STORY HERE: on9news.tv/2whmtzf
KUSA
- Digital Content Manager Amanda Kesting
ST. ELMO
This one comes down to nostalgia.
Growing up, my family used to go camping near the Mt. Princeton Hot Springs every summer and then on the way home we would stop in St. Elmo and feed the chipmunks.
I remember when I was little, no matter how hot it was out, I always wore pants and long sleeves that day because I felt like their little nails were scratching me.
As I grew up, I got more confident, putting sunflower seeds on my shoulders and head to try and get a chipmunk to climb up there.
And I guess I must not have grown up much because I still love it.
The last family to live permanently in St. Elmo left in the 1950s.
It's located about 20 miles outside of Buena Vista, is considered one of the best-preserved ghost towns in the American West, according to the town's historic society.
Visitors to the town can wander down the old main street and see it more or less as it appeared during St. Elmo's boom days.
Take a photo tour of one of the best preserved ghost towns in the US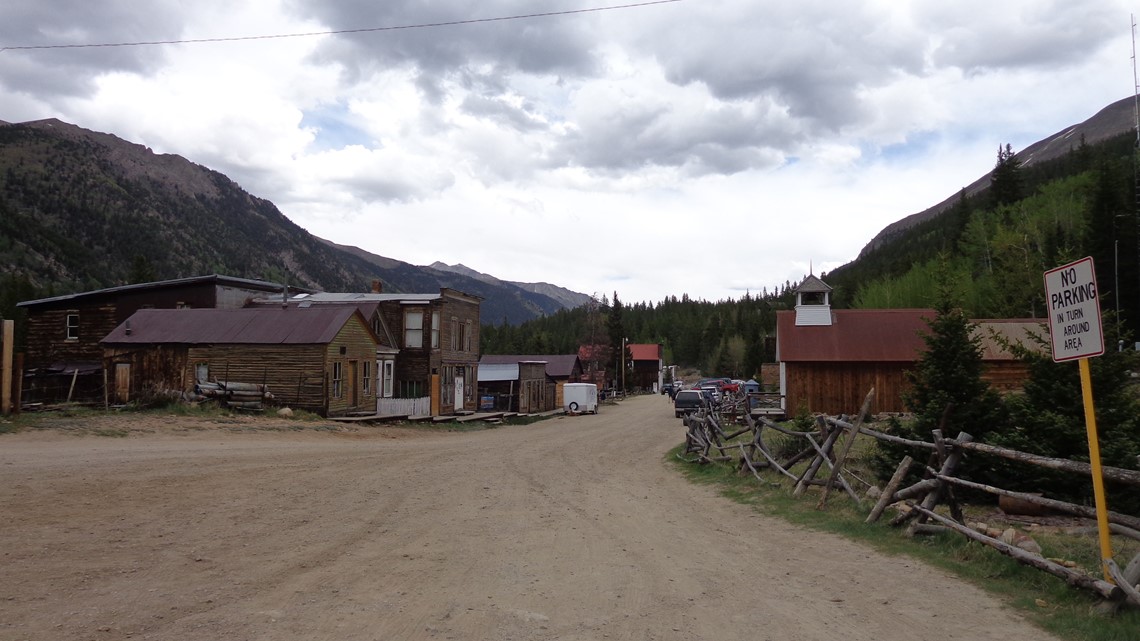 On top of those who come to feed the chipmunks, the area also attracts 4-wheelers, anglers and hikers.
READ OUR FULL ST. ELMO STORY HERE: on9news.tv/2whmtzf
- Digital Content Manager Amanda Kesting