Art is all about conversation, right? Well, a 12-foot high metal frame, painted bright blue, and installed at a national landmark in southern Colorado, has started more than a conversation.
It's practically started a social media firestorm.
Randi Hitchcock, the head of UpaDowna, an outdoor adventure non-profit, was chatting with her husband on a rock inside the Colorado Springs landmark, when they noticed some cement circles.
They thought it was odd, but had no idea what was about to happen.
A few days later, they saw the first photo surface on social media: a big blue frame.
And it all spiraled from there.
The couple returned a few days later to scout out a hike. This time, the blue frame had been installed off of Ridge Road and they saw it with their own eyes.
"Driving to the location where our hike starts, we could see this frame from where the road is, entering near Balanced Rock," Hitchcock said.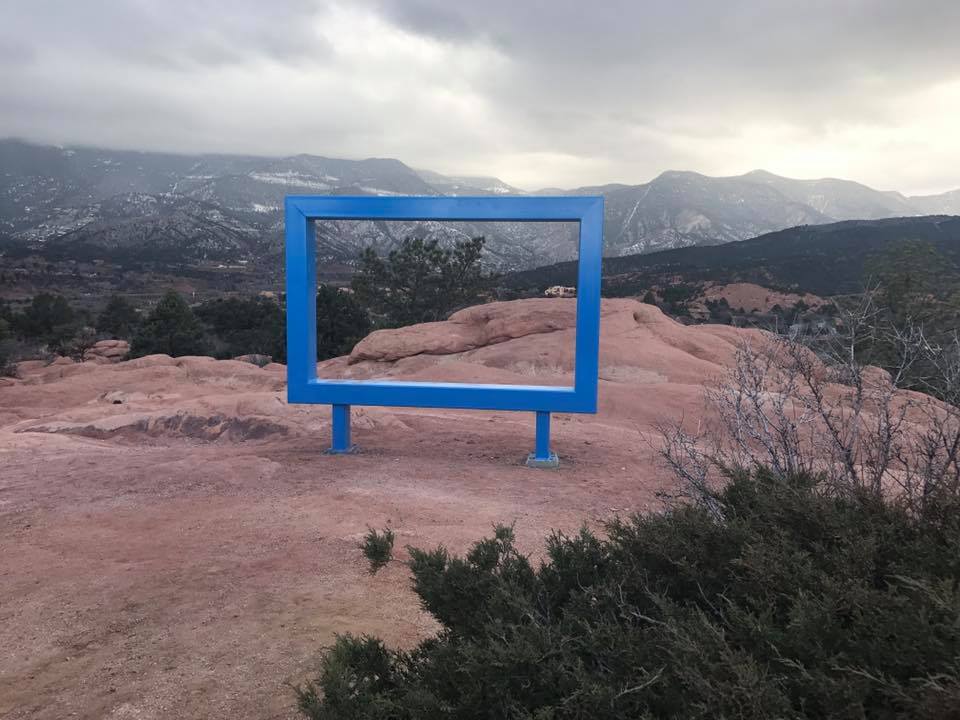 The frame sits on 'High Point' at Parking Lot 9 in the park.
"We checked it out. There was no information on why or who put it there," Hitchcock said by phone Friday.
They snapped some photos and posted them to their Facebook page, just to ask for the public's thoughts.
It escalated quickly. Hundreds of comments flooded the post.
First of all, it's quite large: 12 feet tall and 8 feet wide, in fact.
Some people thought UpaDowna had installed the frame.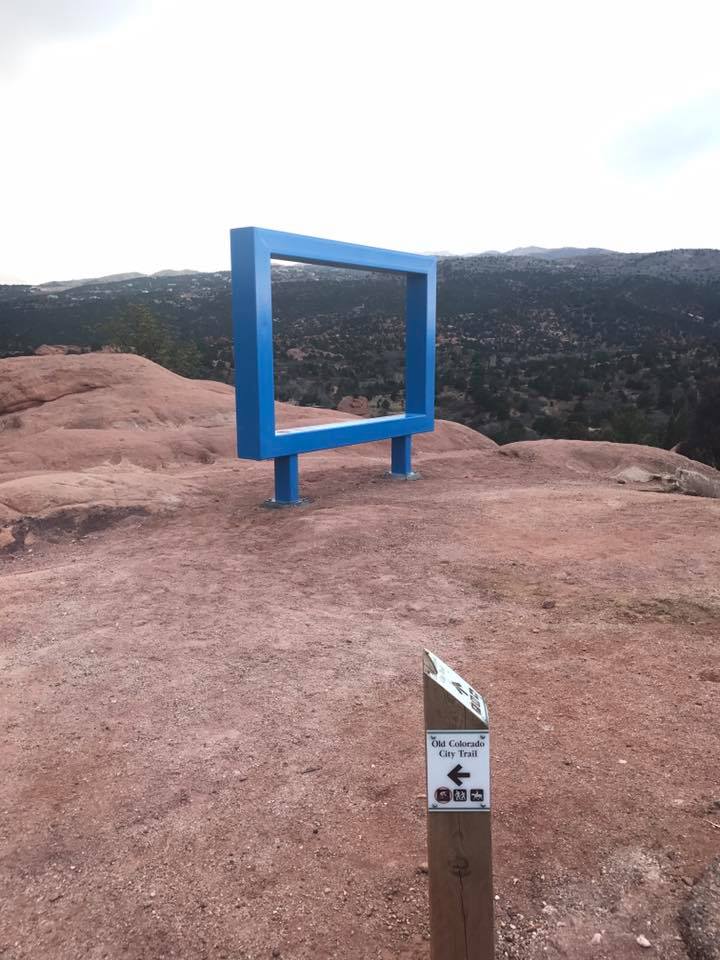 Turns out, it was donated by a Colorado Springs construction company, GE Johnson, at no cost. Both its construction and installation (labor) were donated, according to a spokesperson for GE Johnson.
With a Facebook statement released Friday morning, the City of Colorado Springs said it hoped the art installation would encourage the two million annual visitors of Garden of the Gods Park to snap photos and share memories using the art installation.
Its existence will be re-evaluated in about a year, according to the city.
In full, their statement reads:
"The 8' x 12' frame in Garden of the Gods Park was erected as a whimsical and fun way for residents and tourists alike to share the beauty of Colorado Springs, Olympic City USA. By occupying a small corner of a South parking lot, we hope that many of the 2M annual visitors will share their memories and celebrate Colorado Springs as an iconic vacation destination. No rock formations were impacted by the installation of the frame, which is adjacent to the parking lot. The location and installation will be re-evaluated at the end of 2018. No tax dollars were spent on the frame, as it was donated."
The idea for the installation appears to harken back to a February City Council meeting in Colorado Springs.
"Janet Suthers, spouse of Mayor John Suthers, displayed a slide picture of a giant frame that
contained the Olympic City U.S.A. logo on the top. GE Johnson will be donating the frame and it
will be strategically placed in Garden of the Gods Park with a view of Pike's Peak America's
Mountain in the background. Park visitors will be able to take their picture along with
promoting our City as Olympic City U.S.A.," according to the meeting minutes, which are posted publicly here.
During the meeting, Board member Charles Castle suggested that small versions of the frame be produced and sold at the park's visitor center.
If the comments on Facebook are any indication, we don't think they'll be selling very many replicas....
What do you think about the installation?