KUSA - If you've ever seen South Park, you might remember Greeley as the place that's described as "the exact opposite of Hawaii."
If you think about it, so are places like Telluride, Vail, or Aspen (because of the abundance of snow and lack of luaus), but no one is ever going to tell you not to treat these towns as destinations. And honestly Greeley, despite its reputation in some circles, also deserves plaudits as a place to visit — and live.
Don't believe me? The art downtown rivals that of other college towns like Boulder or Fort Collins. And speaking of Fort Collins, the breweries in this sleepy northern Colorado agricultural town are becoming destinations unto themselves — rivaling their neighbors farther north.
LEARN MORE | 9 things to do in Colorado this weekend
"OK," you might be thinking, "but what about the smell?"
I will go on the record and say it's not that bad. I'm a journalist. Everyone trusts us.
Moving on.
There's a reason why Greeley is one of the fastest-growing cities in Colorado … and if you're here anyway, there are also multiple reasons why you should stick around.
PHOTOS: A 9Neighborhoods tour of Greeley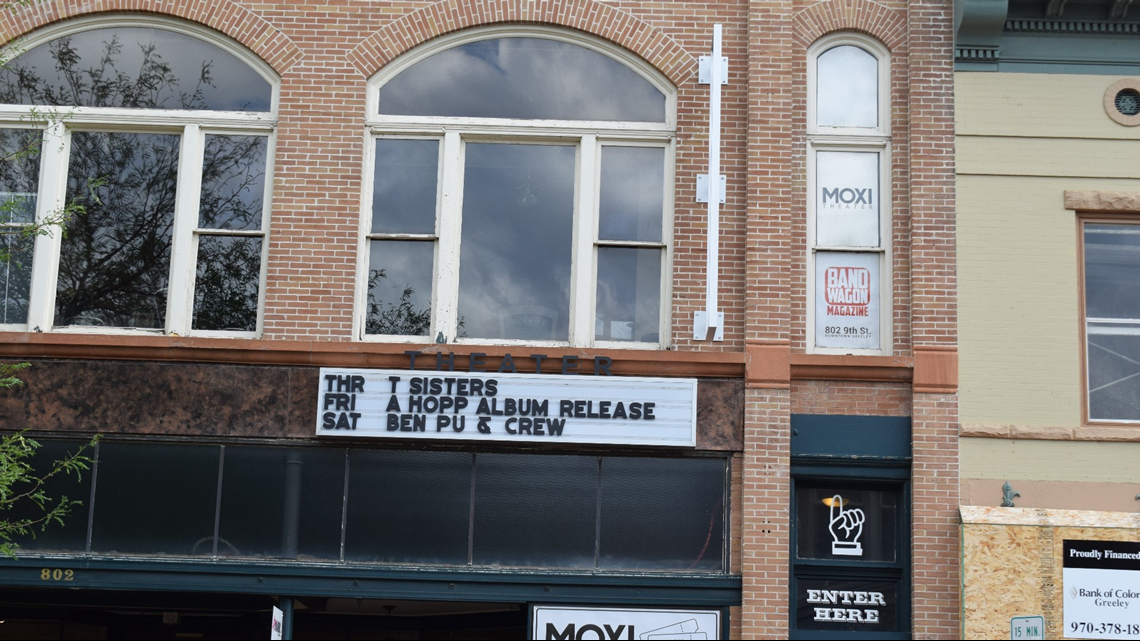 An 'experimental utopian society' that became one of northern Colorado's biggest cities
McClure, Louis Charles, 1867-1957
A phrase like "experimental utopian society" might seem like something straight out the mind of someone wearing Birkenstocks at a Boulder think tank, but actually, this is how Greeley was first envisioned.
Seriously though … what's now Colorado's 12th-largest city began in 1869 an "experimental utopian society" by Nathan Meeker, a newspaper reporter from New York who would go on to change the name of the town from Union Colony to Greeley, after his editor "Horace Greeley" (he's the guy who popularized the phrase "go west, young man.").
The town's heritage is agricultural, and now, the city's biggest employer is JBS Swift & Company, the meat processing plant that some say contributes to Greeley's at times pungent aroma.
Greeley has a well-educated population thanks largely to the University of Northern Colorado, the home of a nationally-known teaching program.
Allison Sylte, KUSA
Of course, Greeley itself acknowledges it doesn't have the best reputation. That's why the tourism campaign is called "Greeley Unexpected."
This highlights the fact the city has the best tap water in the country (no joke), and the fact it happens to be Colorado's fastest growing metro area.
A small town with a big heart
Allison Sylte, KUSA
There are only a little more than 100,000 people in Greeley, and this has its benefits. For instance, it's a real community that's committed to looking out for everyone.
For proof, look no further than the Weld Food Bank, which has gotten help from hundreds of volunteers and helped feed tens of thousands people in need.
"It really is a community effort," said Bob O'Connor, the CEO. He's been working there for more than 20 years.
O'Connor said when he first started, he didn't know what a food bank was and had to ask his wife. In the decades since, he's realized it's where "he needed to be" and it's a profession where every night, he comes home with a purpose.
"It's hard to sleep at night knowing a child is going hungry," he said.
The Weld Food Bank has a mobile pantry that helps bring healthy, fresh food to people in the far-reaches of the 4,000-square-mile county. And thanks to its agricultural roots, the fruits and vegetables are often locally sourced.
Allison Sylte, KUSA
A mobile food bank helps bring meals to people in the most rural parts of Weld County, which community members unload and distribute.
O'Connor said for them it's eye-opening, because they're realizing that being hungry is something many of us are just a few bad situations away from.
Allison Sylte, KUSA
"We're not here to point fingers or judge," O'Connor said. "We're here to help."
A dollar donation to the Weld Food Bank can provide five meals, O'Connor said. For more information and to learn how to help, go to: https://weldfoodbank.org.
The craziest warehouse near the train tracks you'll ever see
A group of small, smiling alien children gathered near the door to what some would liken to the underworld.
Of course, the sun was still shining, glinting off of the collection of disembodied hands and feet that hung from plywood shelves. And, though the contorted demonic creatures and stench of ammonia might make you think otherwise, it was still very much above ground.
And it was still in Greeley.
"I was just a kid that loved monsters," said Ed Edmunds, the man behind Distortion Unlimited, which has a national reputation for its hand-crafted monsters that have been used as props in haunted houses and are part of the collections of celebrities like Dick Van Dyke and Alice Cooper.
He was an art student at the University of Northern Colorado, and actually launched his monster-making business while he was still in college.
"It's a really fun business, and what we've found is that it's the people that are the real monsters," he joked.
Edmunds met his now-wife at church, and the pair have managed Distortions Unlimited together for four decades (for the record, his wife Marsha said when she learned Ed made monsters, she was very into it).
During that time, Edmunds said he's spent many of a night in the paint room which, when 9NEWS swung by, was eerily lined with aliens.
He'll blast music while he's working, which varies from Skinny Puppy to Lazerhawk to the Flower Kings to occasional bits of rap.
"It's sort of like a Frankenstein thing where you're creating a monster," Edmunds said.
Check out a photo gallery of Distortions Unlimited below:
I went to a place where they make monsters in Greeley and OMG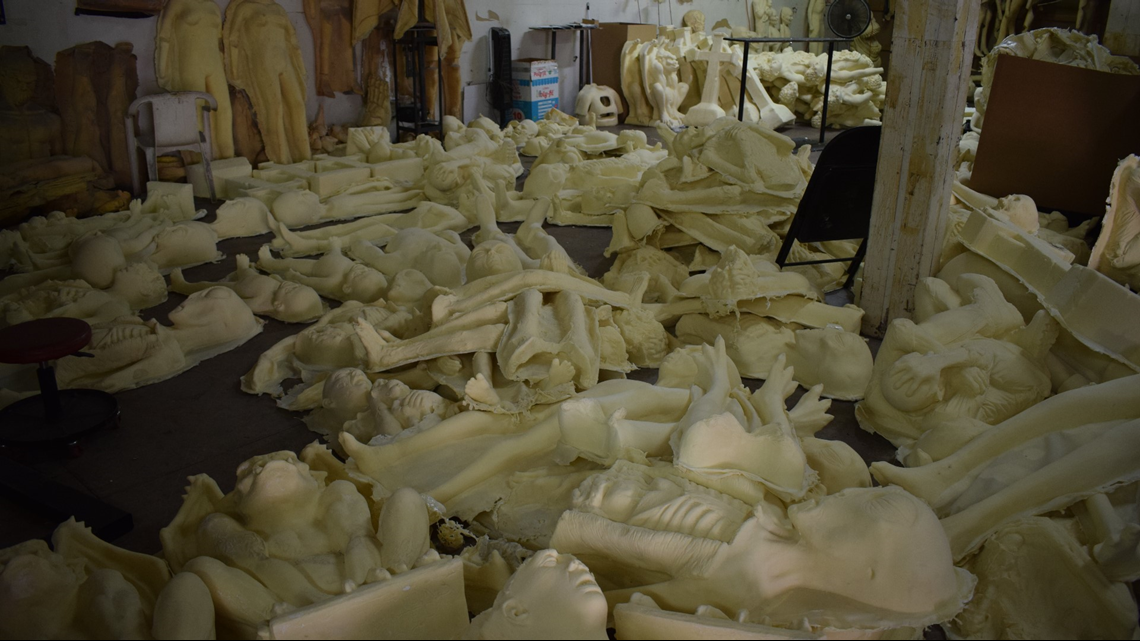 A beer destination worth traveling for
If you like beer, at this point, you've probably heard of WeldWerks Brewing. Maybe you've seen it on national lists of the best breweries in the country, or you've even tried Juicy Bits, a heralded IPA that is sort of WeldWerks' flagship.
The taproom is almost in the heart of downtown Greeley, and Neil Fisher, one of the co-owners, said he wouldn't want to base his rapidly-growing business anywhere else.
"When we were looking to open as a brewery, we didn't look at anywhere but Greeley," he said. "There's a sense of community you don't find in every town."
And now, Fisher said people are starting to treat Greeley as a beer destination.
Allison Sylte, KUSA
WeldWerks is releasing 100 new beers this year, and has been working to keep up with a large amount of demand. In part to showcase its hometown, the brewery is hosting an invitational festival that will highlight beers from across the country.
"The reason we're doing it is to bring people to Greeley," Fisher said.
Kyle Carbaugh is the owner of Wiley Roots Brewing, which is about a 10-minute walk from WeldWerks.
Wiley Roots is known for its line of sour "slushes" and has also won its share of national awards. Dozens of barrels line the back room of the facility, and Carbaugh said he and his team live to experiment with beer you can't find anywhere else.
Carbaugh grew up in Greeley, and when he decided to ditch the corporate life in Denver, moving up north with his wife was a no-brainer.
"It's so much more relaxed," he said. "Growing up in Greeley, you kind of want to root for your hometown."
He said he knows that among Colorado natives, Greeley doesn't have the best reputation, but that thanks in part to the revitalization of this agricultural city, folks are starting to come around.
"It has this rustic charm to it," Carbaugh said. "It's just taken people a while to realize it."
Moving to Greeley
Allison Sylte, KUSA
Greeley is cheaper than Denver (what isn't?) but doesn't quite have as much of an inventory, according to real estate website Trulia.com.
The median sales price for a home is $280,000 and rent runs for a median of $1,000 a month.
In Honolulu, the median sales price is more than $1 million and rent goes for $2,500, per Trulia, so maybe in this sense, Greeley is the exact opposite of Hawaii.