DENVER — Keeping scrolling for the Colorado Classic's stream and a schedule of events.
This weekend, the best female cyclists in the country and world will be in Colorado, racing a dream route that includes gravel grinding in Steamboat, one of the state's most notorious climbs and sprints against the backdrop of Denver's skyline.
The Colorado Classic will bring 16 top-ranked cycling teams to the Centennial State during a four-day event in Steamboat Springs, Avon, Golden and Denver.
Of course, for the fans, it's not just about cycling. If you're catching the race in person, here's a guide on where to watch and what to do when the action ends. If you can't watch it in person, don't worry, the entire Colorado Classic will be streamed online.
Watch it below:
This story is part of our weekly 9Neighborhoods series, where we highlight cool communities and events across Colorado. Is there somewhere you think we should check out? Email webteam@9news.com.
RELATED: Colorado Classic releases schedule of family-friendly events
RELATED: Riders announced for 2019 Colorado Classic
RELATED: Colorado Classic racers will compete for these jerseys in August
RELATED: Colorado Classic will race in these towns in 2019
Day 1: Steamboat Springs
Shannon Lukens/Steamboat Radio
Start: Thursday at 11:30 a.m. at the Meadows Lot (2310 Pine Grove Road)
Finish: Around 1:45 p.m. also at the Meadows Lot
Distance: 54.2 miles
Vertical Gain: 4,255 feet
The first day of the race begins and ends in Steamboat Springs, with a lollipop loop course that includes numerous small hills, a sprint through downtown Oak Creek, and 10 kilometers of gravel roads.
The Colorado Classic recommends that spectators gather at the start/finish, as well as during the sprint in Oak Creek and along Whitewood Drive. Find more information here: https://bit.ly/2Hdsd2T
One cool thing about the Colorado Classic? The course is on Strava, meaning when the race isn't going on, there are detailed directions for how to mimic the route. Here's the map: https://bit.ly/2KXMAlI
Since stage one is in Steamboat, which is literally a playground, here are a few things to do:
Hike: Hands down the most popular hike in Steamboat is Fish Creek Falls, which can range from .5 miles round-trip to the lower falls to 5 miles round-trip to the upper falls. It even has wheelchair access on the Overlook Trail. If you're looking for something a little harder, the Uranium Mine Trail is in the same parking lot and ends at a Cold War-era mine that was built in the 1950s but quickly abandoned.
Check out more recommendations from the Chamber of Commerce here: https://bit.ly/33NRtGC
Bike: The cool thing about Steamboat is you can explore everything from county roads via skinny tires to mountain biking up to Strawberry Park Hot Springs. You can find recommended routes here: https://bit.ly/2TQDGdO
Eat/Drink: Since this is Colorado, bikes and beers tend to just go together. The Mahogany Ridge Brewery and Grill is just off US 40 in downtown Steamboat, and Mountain Tap Brewery is just down the street. If you're looking for food, you'll find everything from Double Z Bar & BBQ to Brooklynn's Pizza on the main strip, as well as other businesses near the resort.
Day 2: Avon
Start: Friday at 1 p.m. at Nottingham Park (414 W. Beaver Creek Blvd.)
Finish: Around 3 p.m., also at Nottingham Park
Distance: 50.3 miles
Vertical gain: 3,428 feet
Day two heads to Avon, a cool community just west of Vail on Interstate 70. The opening miles of the course take place over the course of seven laps of a flat five-mile circuit that organizers say will be fast and technical, like a criterium. The last 15 miles, meanwhile, tackle the notorious Daybreak Ridge, which hits grades of 14% and features a technical descent through Bachelor Gulch.
In addition to cheering on riders at the start and finish, fans can also gather at Main Street Mall and Benchmark Road, as well as on Village Road – just ahead of the uphill battle up Bachelor Gulch.
Superfans can hike up to Daybreak Ridge via the Village to Village Trail.
Learn more about the official fan zones here: https://bit.ly/2Hdsd2T
Want to ride the difficult route yourself? Check out the map on Strava: https://bit.ly/2P49ME2
Avon and Beaver Creek are super cool resort communities that bring people to the area for skiing during the winter but are also destinations during the summer. Here's a look at things to do!
Galleries: Beaver Creek is a destination for art lovers, and includes several galleries including Walt Horton Fine Art, Paderewski Fine Art, and the Tony Newlin Gallery.
Hiking and biking: The Eagle Valley Trail, which runs through the canyon, river edge and valley towns, offers an easy tour of the area and connects to Eagle-Vail and Edwards.
The West Avon Preserve, meanwhile, has more than 11 miles of trails that range from the PB&J (named because it has pumps, berms and jumps) to easier options.
Beer/Food: All that hiking or biking (or watching other people hike and bike) earns you a couple of drinks and a good meal. Gondola Pizza is known for its reasonable prices (something that's rare to find in a ski town!) whereas the Avon Bakery and Deli is famous for its breakfast burritos/bakery items.
The Vail Brewing Company (which also has a location in Vail Village) has a second taproom near Avon. If you're watching your calories, it has an experimental hard seltzer on tap.
Day 3: Golden
PHOTOS: Western roots with a city vibe in downtown Golden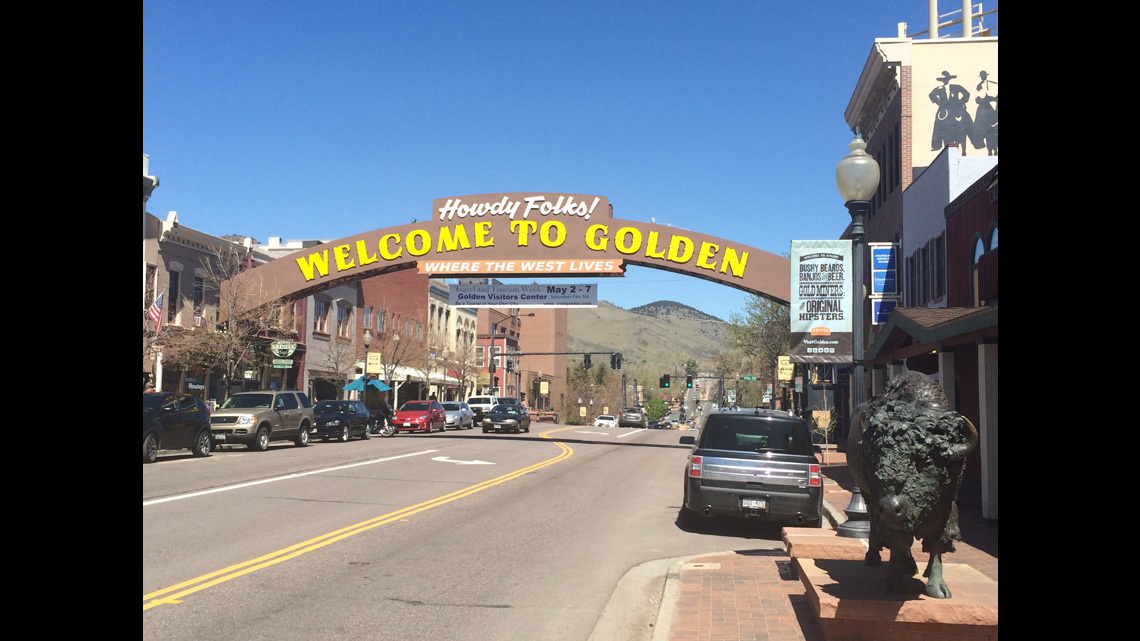 Start: Saturday at 11:30 a.m. at Washington Avenue and 12th Street
Finish: Around 2 p.m., also at Washington Avenue and 12th Street
Distance: 63.7 miles
Vertical gain: 4,639 feet
With a location close to Denver (but not quite in the city), and a nine-mile course (riders will complete seven loops) that starts and finishes under the Golden arch, this leg is perfect for spectators.
While the best sprinters will likely come out ahead, stage three does include the short and steep climb up Washington Avenue (it's miserable) and a bunch of rolling hills.
Spectators are encouraged to line Washington Avenue in Golden, as well as head to New Terrain Brewery -- where in addition to getting a beer, fans can also watch the race fly down 44th Avenue.
Since it's close to town, it's not too tough to ride the route either: https://bit.ly/2HjBRRp
Look, you've probably been to Golden. It's a great town with tons of things to do (the ultimate "staycation" for Front Range folks). Here's a short look at things to check out.
Hiking/biking: There's a reason why the North Table Mountain parking lot is basically overflowing on weekends: it's a fun hike/bike ride, combining a unique mesa-top with views of Denver. With that being said, it's a good, quick urban hike that allows you to work up a sweat before partaking in another Golden pass time.
Food/drink: Golden is famous for the Coors Brewery, but skip that tour (do it not on a weekend), and instead head to one of the smaller breweries. There's a reason why Colorado School of Mines students regularly do their homework at Golden City Brewery, and Cannonball Creek has won its share of awards.
Near Washington Street, Barrels and Bottles has both its own beer and wine (you can even get slushies).
When it comes to food, Bob's Atomic Burgers is famous for both its burgers and the names it puts on your card when you order one. The Golden Diner has been serving old-school breakfasts for years, and if you want to go exotic, the Sherpa House is known for its authentic Nepalese cuisine.
WATCH BELOW | Colorado Classic: One racer is a student at Colorado School of Mines
Day 4: Denver
KUSA
Start: Sunday at 1:30 p.m. at Blake Street between 20th and 22nd streets (in front of Coors Field)
Finish: 3:30 p.m. in the same area (followed by a post-race awards ceremony)
Distance: 52.8 miles
Vertical gain: 1,345 feet
Road closures: Drivers should be prepared for rolling closures along Blake, 20th and Lincoln streets, 17th Avenue, Grant Street, 21st Avenue, and Stout and 21st streets.
This will impact people in the LoDo, Uptown and City Park West neighborhoods.
The details: The final stage of the Colorado Classic ends in downtown Denver in a route that begins near Coors Field, heads through downtown and then circles through City Park in a six-mile course where riders will complete eight laps.
Given that it's in some of the busiest parts of downtown, it's spectator-friendly all over. But, the race recommends that folks watching the raise line 17th Avenue, put out blankets at City Park, or post up at the start/finish line.
This course is also on Strava, but if biking on busy Denver streets freaks you out, there's a super cool event just before the race.
Dubbed "open streets," this allows people to ride, bike or scoot on parts of the course while they're closed to traffic.
It's definitely worth checking out if you want to safely experience the course the pros will be riding!
Here's a look at things to do while the race isn't happening:
Get smarter: Since the course runs through City Park, it's not that inconvenient to check out the Denver Museum of Nature and Science or Denver Zoo. Those are easy ones, but hey, folks visiting from out of town might not know this!
Eat/drink: Yes, the race course involves LoDo, but seeing LoDo in the daylight is never a good idea. Or at night (just kidding, there are lots of fun places to explore).
East 17th Avenue, meanwhile, is home to numerous local restaurants, ranging from Steuben's, to the Denver Bicycle Cafe to Humboldt Farm, Fish and Wine -- where Bill Clinton and Bono once ate.