Indian Hills — If you've driven through Indian Hills over the past few years, chances are you've noticed a sign on the side of the road with humorous, oftentimes punny phrases.
It's the brainchild of Vince Rozmiarek, a local resident who decided to take it upon himself to switch up the status quo while working as a volunteer for the Indian Hills Community Center nearly 6 years ago.
"They had a little, tiny sign and asked me to build a bigger one" Rozmiarek said.
So he did. And for awhile he kept it straight and posted the usual wedding, birthday and veteran events the community center hosts.
That all changed, however, on April Fool's Day, when Rozmiarek decided to craft a sign that read:
"Indian Hills annexed by Morrison slow down."
Understandably, it took the community by surprise. And while some realized it was a joke, others contacted police to see if it was legit.
"I could not believe how many people were calling the police," Rozmiarek joked "I really had the people at the Sit N Bull bar scared out of their minds. I did that and just decided that got a lot of attention so I'll start throwing things up there."
From there, the sign shifted focus to also include funny sayings and punny phrases. Every few days, Rozmiarek puts out a new sign. Some ideas are his own, and some he takes from others.
PHOTOS: Punny signs in Indian Hills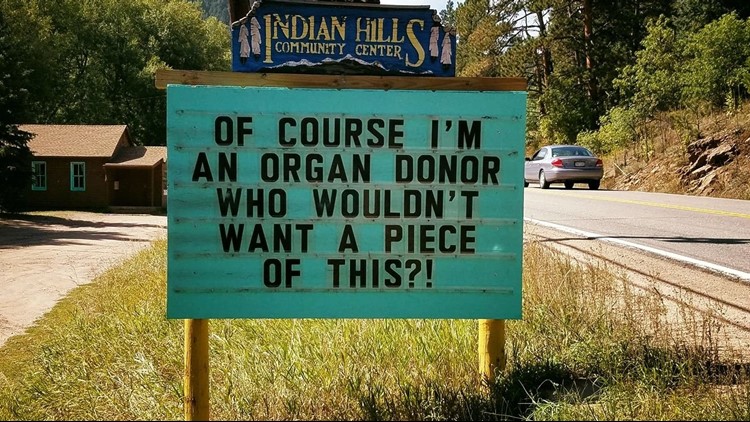 The signs became so popular in the community, Rozmiarek eventually decided to make a Facebook page with the help of Micahlynn Kaza.
More than 2-and-half years later, 26,000 people like the page, with each new sign post getting hundreds, if not thousands of likes and shares. It's even made the front page of Reddit a few times, according to Kaza.
"It's quite hilarious, really, seeing how far the sign has spread and how much people love it," Kaza said. "I think it's quickly becoming the 'thing' Indian Hills is known for."
The Facebook page has fans from 45 different countries - and in places as far reaching as New Zealand, Rozmiarek said.
And while coming up with fresh ideas isn't always easy, it appears to be a challenge Rozmiarek is willing to take on.
"I always get a big giggle out of it," Rozmiarek said. "It makes you feel good if you make a ton of people laugh."
Check out some of the signs below.