Have you ever just wanted to pull a "Wild?" As in quit your job, spend six months in the wilderness discovering yourself, maybe throw a boot off a mountain in a moment of catharsis, and then come back realizing that life doesn't suck as much you thought?
You might remember, then, when Lorelai Gilmore tried to do just that in the "Gilmore Girls" revival and she was surrounded other like-minded women who had giant backpacks that most definitely did not contain any of the 10 essentials.
Of course, this is a parody of the whole "pulling a 'Wild" thing, but with that being said, it is becoming more popular. According to the Pacific Crest Trail Association, around 4,000 people applied for permits to thru-hike this 2,650-mile National Scenic Trail (892 completed the whole damn thing).
Its perhaps more famous neighbor to the east, the Appalachian Trail, also saw 4,000 attempted thru-hikers, with 1,186 people claiming they made it from Springer Mountain in Georgia to Mt. Katahdin in Maine last year (a 2,181-mile trek).
And this is where the Continental Divide Trail comes in.
At 3,100 miles, this National Scenic Trail is longer than the ones on the East and West Coasts – and last year, fewer than 100 people completed it, according to the Continental Divide Trail Coalition's website.
It's part of the so-called "Triple Crown" of American thru-hikes, and 800 miles of it traverse the Rocky Mountains in Colorado.
STORY | The people of the Continental Divide Trail
We're doing a something a little bit different for this week's #9Neighborhoods and featuring the Continental Divide Trail and the people who explore it. Starting at noon on the 9NEWS Instagram, check out a photo tour of the CDT by 9NEWS Photojournalist Chris Hansen, who is highlighting the trail in honor of its 40th birthday.
INTERACTIVE MAP | The Continental Divide Trail
The history
You can say the history of the Continental Divide Trail started in 1968, when Congress established the National Trail System.
"It came from the environmental era of the 1960s, which was really the notion that with increasing development, increasing urbanization, people are getting cut off from nature," said Brenda Yankoviak, the Continental Divide National scenic trail administrator.
The Continental Divide Trail itself wasn't designated for another 10 years, on Nov. 10, 1978. It traverses 3,100 miles from Mexico to Canada, and goes through five states: New Mexico, Colorado, Wyoming, Idaho and Montana.
At this point, 76 percent of the trail is complete, and Yankoviak said it remains a work in progress as administrators work to reroute sections of the trail that require hikers to traverse roads – such as near Muddy Pass in Steamboat Springs.
"The CDT is not just a trail," Yankoviak said. "It's a combination of all sorts of different trail and road segments, and so when they conceived this idea of having a trail from north to south, they selected as many existing trails as possible to make that connection, and some of that included roadways."
The first person to complete the CDT was Eric Ryback in 1972 – before it was even designated. Since then, the Continental Divide Coalition has kept a list of people who, via an honor system, have reported finishing the entire Mexico to Canada thru-hike.
Many more backpackers complete section or day hikes – and in fact, some parts of the Continental Divide Trail intersect with places in Colorado you might recognize.
The Continental Divide Trail in Colorado
The Continental Divide Trail and Colorado Trail share the same path for around 234 miles. It crosses into the state through the Cruces Basin Wilderness area, and heads north into the San Juans and then east toward the Collegiate Peaks near Salida.
The trail then winds up to Leadville, over to Breckenridge, up Berthoud Pass and then into the Grand Lake side of Rocky Mountain National Park before turning west toward Steamboat and veering north into Wyoming.
The highest point of the trail in Colorado also happens to be a pretty crowded place: 14,278-foot Gray Peak, one of the most popular 14ers on the Front Range.
PHOTOS: Exploring a stretch of the Continental Divide Trail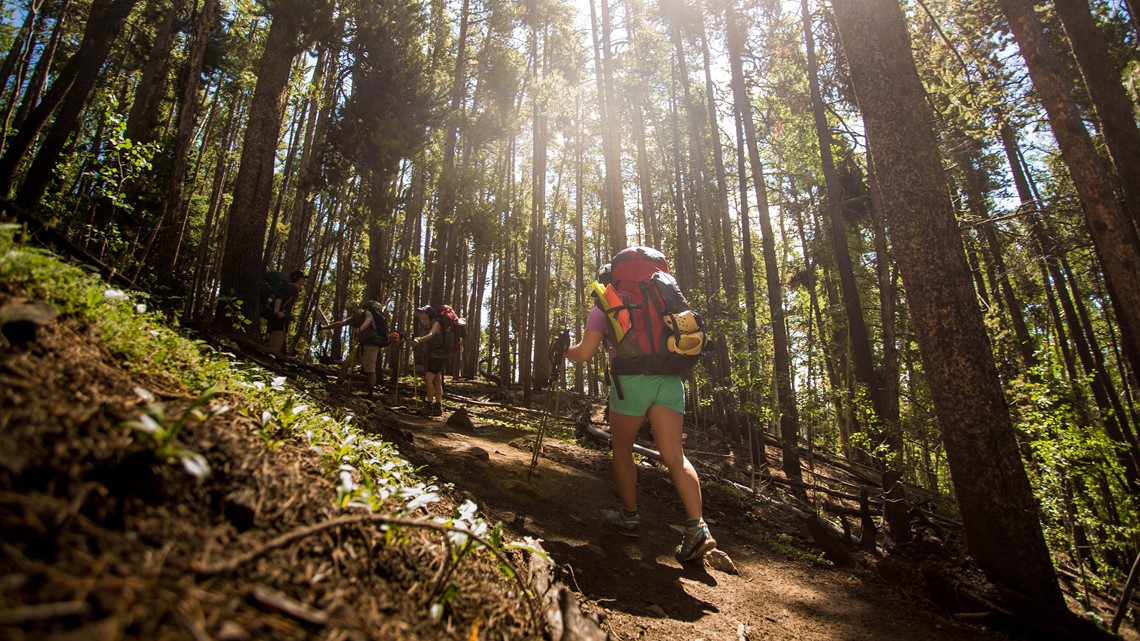 Grays and Torreys isn't the only day hike you can check out if you don't have the time to "pull a 'Wild.'"
The Continental Divide Trail Coalition has a list of shorter Colorado hikes and backpacking trips on the CDT.
One of those hikes, known as the Knife Edge in Weminuche Wilderness Area, is on the 70-mile stretch of the CDT that is at or above 11,000 feet for the entire time.
This is a 25-mile loop, and you can find more information here: https://bit.ly/2JMZphD
And, for a full list of Colorado section hikes recommended by the Continental Divide Trail Coalition, check out: https://bit.ly/2QtCf2e
Of course, you don't need to do an epic backpacking trip to fulfill the CDT's mission.
"We can also come out here and reflect," said Teresa Martinez, the executive director of the Continental Divide Trail Coalition. "Whether it's 10 feet, 100 yards or 3,000 miles, that we have this opportunity to connect in a very intimate way to these landscapes and really help whatever we are going through, or just have a nice day out in the woods."
Conservation and trail building
For a lot of the history of the CDT, it traversed roads and highways – and was quite a bit more difficult to follow than the PCT or AT. In fact, according to the Continental Divide Trail Coalition's website, it used to be marked by blue cans that volunteers left along the route.
But, in the years since, it has gotten dedicated trail blazes, and right now, a team of 50 so-called "blazers" are working to add additional markings.
"We still have a couple hundred miles that aren't connected … and you know we're celebrating the 40th anniversary this year, but we still have some work to do the next 40 to finish this trail," Martinez said.
Yankoviac said there are trail crews up and down the CDT from Canada to Mexico, and that over time, efforts have been underway to refine the alignment of the trail.
"The thought was to have minimal investment going in initially, but to kind of have this continuous route from north to south," Yankoviac said. "And so over time we have really been working to refine the alignment of the trail, but sometimes it may not be in the right spot, it may not be as scenic or the most remote."
Along the CDT are what's known as "Gateway Communities," or towns that have services for hikers and advocate for continued use of public lands. In Colorado, those gateway communities are Pagosa Springs, South Fork, Salida and Grand Lake.
This communities have a partnership with the CDT and its hikers.
Beyond this, anyone can volunteer for the Continental Divide Trail Coalition, be it through one to five-day trail building projects or fundraising. You can find that information here: https://bit.ly/2AU0O2Z
So, you want to hike the CDT?
A full thru-hike of the CDT takes four to five months, according to the Continental Divide Trail Coalition's website. Of course, before that there's planning and buying gear – which is why a full-on guide is available.
It actually takes a two-hour drive on a 4x4 road to reach the southern terminus in New Mexico – which is why the Continental Divide Trail Coalition runs a shuttle for thru-hikers.
This also comes with use of a water cache, since the hike runs through the desert.
If you're hiking northbound (which most people do), start sometime in April or May and shoot for a finish in September. Southbound hikers typically start in the early summer and end up in New Mexico as it gets cooler in the fall. Since this is the less popular option, the Continental Divide Trail Coalition said this is a more solitary experience.
Read some more of the FAQs here: https://bit.ly/2DvAm2t