THORNTON, Colo. —
Located about 10 miles north of downtown Denver sits the robust — yet quiet — community of Thornton.
At first glance, it could seem like another Interstate 25 suburb to drive straight past, but a closer exploration reveals some hidden gems in a city with a unique character of its own.
Situated on what was almost exclusively farmland up until the 1950s, the Thornton we see today is filled with homes, businesses and a plethora of chain restaurants.
Much like the cities that surround it, Thornton has had its share of rapid growth and development in recent years. The city saw a more than a 40% population spike between 2000 and 2010, and along with it a boom in housing and development projects.
Despite the rapid growth, the city has retained a more laid-back feel compared to that of Denver proper. Shoppers, art aficionados and outdoor enthusiasts can find something to enjoy there.
If you're planning on visiting this autumn, there are some seasonal opportunities for fun that are worth exploring too, including the state's largest haunted attraction (more on that later).
This story is part of our weekly 9Neighborhoods series, where we explore different neighborhoods, towns and cities around Colorado to find out what makes them unique. Join us on Friday afternoon for a full photo tour of Thornton.
PHOTOS | Take a photo tour of Thornton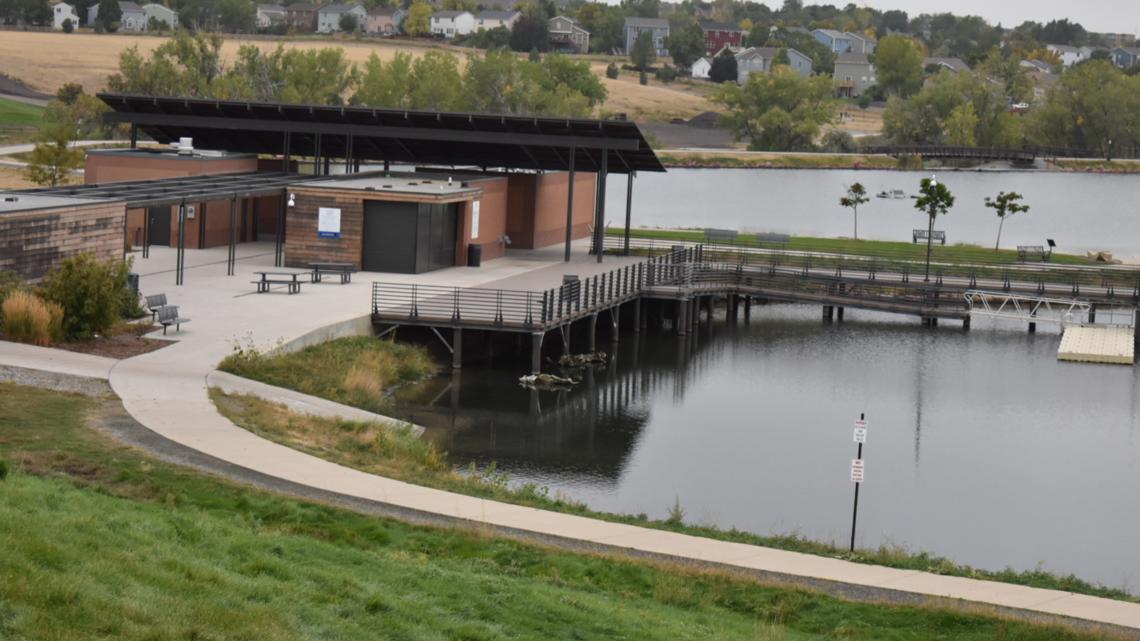 Covering 36.88 square miles in both Adams and Weld counties, Thornton is the sixth most populous city in Colorado. According to the U.S. Census Bureau, the city has a population of nearly 140,000 and thriving commerce with about 8,000 businesses.
Median home values in the area are relatively cheap compared to Denver, sitting at $362,400, according to real estate website Zillow. Just this year, Thornton landed itself on a MarketWatch list for affordable places to live in Colorado.
Bobbi Sheldon, KUSA
The first planned community in Adams County
Up until about 1950, most of what's now considered Thornton was undeveloped farmland.
That started to change a few years later when builder Sam Hoffman purchased land for a 5,000 home housing project north of Denver. By 1954, the first 40 families had moved into the brick homes constructed by Hoffman, and the groundwork for a new city had been set.
The city's first shopping center, Hoffman Heights Shopping Center, opened the following year on Washington Street and, for a time, hosted 30 stores in what was the heart of shopping in the city.
The mall's name was soon changed to Thornton Shopping Mall, and it remains so until this day. After falling into disrepair, the mall has been the topic of redevelopment conversations in recent years.
When the city was officially incorporated in 1956, it was just 1 square mile in size with a population of less than 9,000. The city was named after Colorado's 33rd governor, Dan Thornton, who served from 1951-1955.
Over the next decade, the city annexed large chunks of land that resemble more of what Thornton looks like today. One person to help with that effort was Mayor Margaret Carpenter, who was elected in 1979 and served for more than 20 years -- the longest serving mayor in the city to date.
To honor her legacy, the Thornton Recreation Center was renamed Margaret W. Carpenter Recreation Center in 2001, and in 2013, the new Carpenter Park was also named after her.
Bobbi Sheldon, KUSA
Recent growth and places to explore
Earlier this year, Colorado's second Top Golf location opened in Thornton at 16011 Grant St., bringing 500 full and part time positions to the city. The new location features 100 climate-controlled hitting bays on three different levels, a full-service restaurant and bar, and a rooftop terrace complete with a fire pit.
The Summit Thornton is the place to go if you're looking to bowl, play laser tag or indulge in arcade games. Stop in at Cheddar's Scratch Kitchen if you're craving some comfort food, Tequila's Family Mexican Restaurant or Taco Stop for a taco fix, or the family-owned Pho 7, which serves up tasty and authentic Vietnamese dishes.
Bobbi Sheldon, KUSA
Mother Tucker's Brewery is a good option if you're trying to cross a brewery off your list. Try the Pumpkin Spice Ale, Brown Sugar Blonde or Barrel Aged Orange Stout for a taste of fall.
The Denver Premium Outlets offer shoppers a mix of designer and lifestyle options at a discount. A surrounding outdoor play area is the perfect place to take kids to get out some energy between shopping the many stores.
Bobbi Sheldon, KUSA
Art lovers can appreciate the array of public art placed throughout the city. The Thornton Arts & Culture Center even put together a handy map to show where residents can find the public art within in the city.
A destination for Halloween fun
Thornton is also a great place in the Denver metro area to take in some autumn fun.
Hosted on a 40-acre cornfield, Haunted Field of Screams offers four haunted attractions each Halloween season dating back to 2001. It also holds the distinction of being the largest haunted attraction in the state. In recent years, the scream park has added mini-escape rooms and spooky carnival games to its list of offerings.
PHOTOS: Inside the Haunted Field of Screams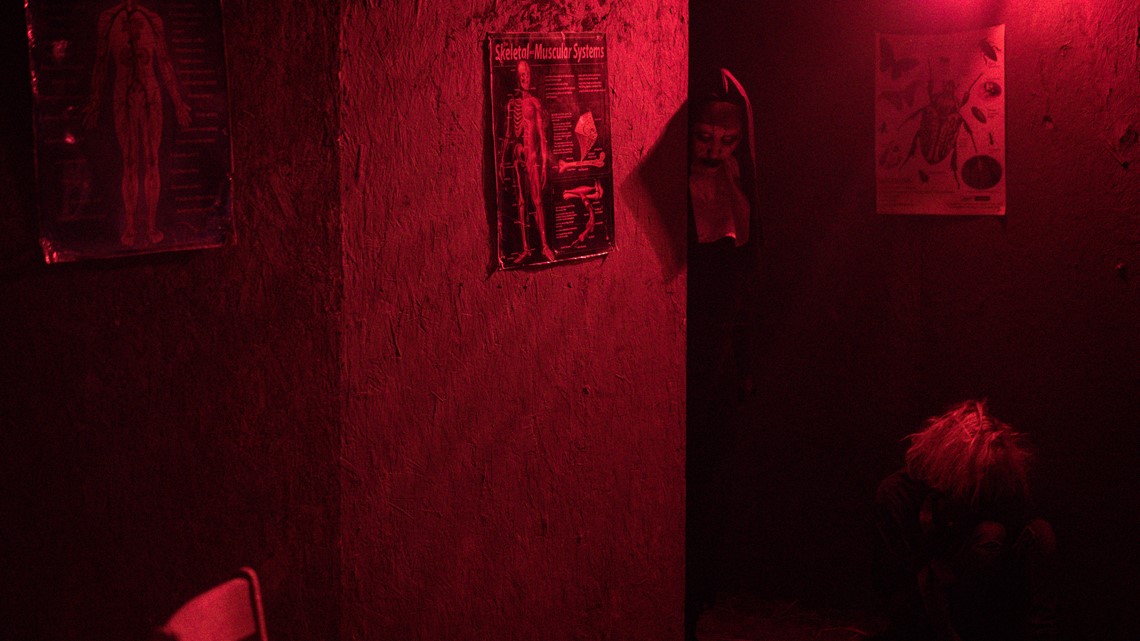 RELATED: Take a 360-degree walk through a haunted corn maze (and try not to jump)
Haunted Field of Screams is open Thursday-Sunday nights through Nov. 2. Tickets to the Haunted Field of Screams are $40 - $70, depending on upgrades for faster access. All tickets include entry into all of the attractions.
By day, families can enjoy the Maize in the City, where there's bounce houses, a petting zoo and a mini-maze built just for kids.
Maize in the City
Those simply looking to peruse a pumpkin patch for the perfect gourd can head to Hill's Harvest. They offer free hayrides on Fridays and Saturdays through the end of October.
Then there's Riverdale Road, a winding 11-mile stretch of road between Brighton and Thornton that is home to urban legends of hauntings and phantom joggers. You can read more about the alleged creepy happenings at this link.
Skeleton Park is a quirky and fun neighborhood haunt that entertains children and adults alike each October.
Bobbi Sheldon, KUSA
RELATED: Haunted houses and Halloween attractions around Colorado in 2019
SUGGESTED VIDEOS | Feature stories from 9NEWS