FORT COLLINS, Colo. — Green and white are the most noticeable colors in the Colorado mountains this week, but the gold is starting to show. And arborists say the gold might be extra vibrant when it peaks this year, because the trees are healthy.
"The aspens look amazing in our highest elevations," said Dan West with the Colorado State Forest Service. "I think we're going to have a great show this year."
West is one of the few people who has seen every tree in the state this summer. In collaboration with the U.S. Forest Service, he flies an aerial tree health survey every summer. They scan, photograph and analyze all 24 million forested acres of Colorado, including the aspen trees.
He said that most of the aspen stands are showing six inches or more of growth this year, which is a sign of great health. Healthy trees should equal great gold color in the fall.
He credits a perfect weather formula. A sunny September, preceded by a cool summer, and a very slow snowmelt.
"They get about 70% of their water in that spring runoff period. That's kind of April and May," he said.
He said the aspen leaves actually develop their base gold color in the spring when the trees are first leafing out. The green chlorophyll masks the leaves' true color over the summer months, and it's revealed once the days get short enough to trigger the end of photosynthesis.
That goes for yellow and orange pigments. He said the purple and red colors get produced by the leaves in the late summer and fall depending on the weather conditions. He said reds are unusual on aspen leaves but can develop in certain conditions.
West also said that healthy leaves often take longer to shed their green covers, so the peak of gold color, which sometimes comes as early as Sep. 20, will probably happen later this season.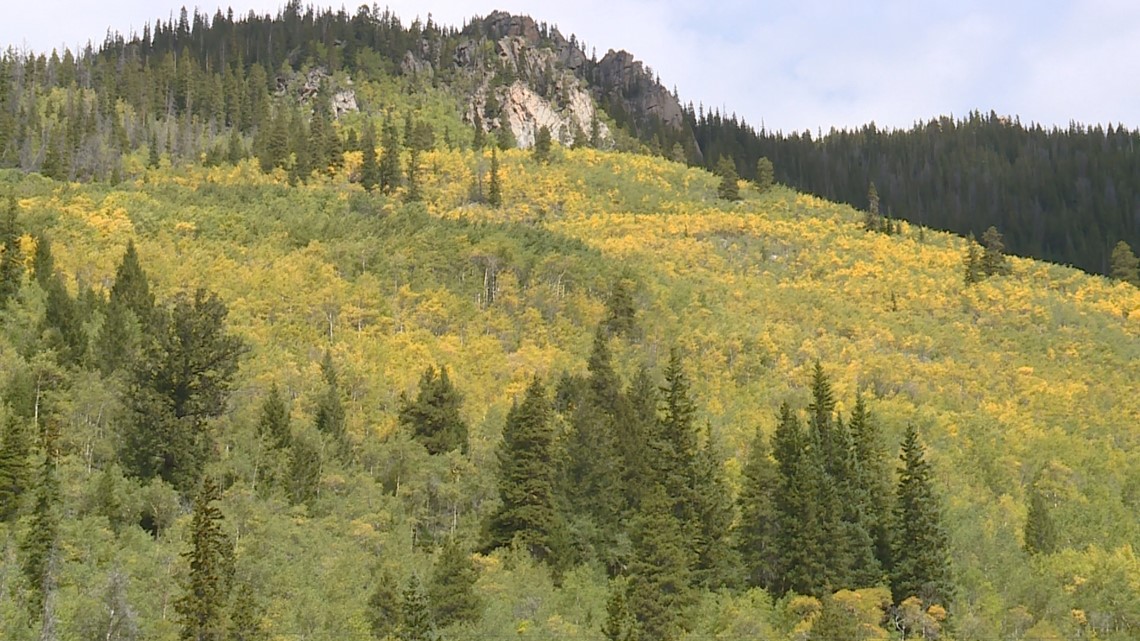 "I really do think we're going to be towards the end of September," he said. "The last week and maybe lasting through the first week of October."
He said a long-lasting peak of 10 to 14 days is also attributed to the healthy leaves. However, a high wind event during that time period or a deep freeze could cause the leaves to fall off the trees quicker, so don't wait too long to see the display.
That white stuff on the peaks shouldn't affect the aspens because most of the snow so far has fallen above treeline.