CENTENNIAL, Colo. — One of Denver's longest serving Barbecue establishments, founded and long operated by a Pro Football Hall of Famer, is closing.
Winston's Smoke Barbecue, named after Winston Hill, the blindside protector for Joe Namath, first started serving its rich pit-smoked meat 43 years ago.
The restaurant is located near East Arapahoe Road and South Holly Street. The final day will be Saturday, Jan. 21.
"I love it. Best BBQ in town,'' said Greg Brosius, who stepped in for a double-meat platter last week. "I've been eating BBQ since I was a young man. I've tried all the other ones around and I think this is by far the best.''
Winston Hill was the New York Jets' left tackle in the 1960s and 70s who in 2020 was inducted posthumously into the Pro Football Hall of Fame as part of its Centennial Class. Hill and his wife Carolyn had moved to Denver in 1968, just before his New York Jets stunned the Baltimore Colts in Super Bowl III – considered to this day the biggest upset in NFL history. They had three children who grew up in the Denver area and went to local schools – Hovlyn, Heather and son Marc.
"My dad had asthma,'' said Hovlyn Hill-May. "And so his lungs didn't get the treatment they needed. His coaches were like, 'Winnie -- they used to call him, Winnie -- Winnie you're sucking wind. The best thing you can do is move out to that high country and that way you'll be in shape when you get back to New York in the fall.
"So mom and dad went on a road trip and they found their way to Greenwood Village. Built a house there, and we were raised there and the rest is history."

After Hill passed away at 74 in 2016, his daughters Hovlyn and Heather continued to run his BBQ business in Centennial from afar with the help of pit master Ron Mitchell. Hovlyn is a teacher at Valley High School in Gilchrest. Heather is an opera singer who performs from New York's Broadway to Santa Fe, New Mexico.
The daughters grew up around the BBQ business, proudly admitting they worked for dad long before the legal work age.
"They were sensitive to their dad's interests,'' said Claudie Minor, the former Broncos' offensive tackle standout from 1974-1982 and 40-year friend of the Winston Hill family. "But the way I would couch it is, Heather had a song in her heart and she needs to sing. God puts that song in her heart and she needs to sing all over the planet. And she does and she does that well.
"Hovlyn is an educator and is focused in on educating young souls. So they had to follow their own hearts."
Yes, but Hill's daughters know how to multitask. As the barbecue business here closes, the daughters will redirect their efforts on a scholarship they have set up at Hill's alma mater, Texas Southern University, a Historically Black College and University.
"Both of us feel strongly about keeping our father's legacy alive,'' Hovlyn said. "One of the things that had to do with his incredible success with his restaurants was his hands-on personality. Barbecue people want to go there because they want barbecue but they also want that connection.
"Heather and I feel strongly about providing that authenticity and the fact she is based out of Colorado and New York and I live in Northern Colorado, which means at best I'd be making an appearance and she would be there when she's in town. We feel we can honor his legacy in a more integral way by promoting other things he cared about as well, which included education, opportunity, access and equity to sports. So we are going forward with his endowed scholarship."

""My dad had many mottos and one of them was 'finish like a pro,"' Heather said. "It didn't matter what you were doing, if you started it and have engaged in it then even if you're going in a different direction you finish like a pro.' The 'Finish Like a Pro Scholarship' aims towards juniors and seniors studying in some kind of athletic/medical area and that's where we decided to focus on continuing his legacy, although we love the BBQ. It's been part of our life. I might have a little bit of BBQ sauce running through these veins."
An iron man who went 12 consecutive years without missing a game, Hill retired in the late-1970s and hooked up with Daddy Bruce Randolph on the art of smoke-pit barbecue. Thanksgiving for the Hill family was an early dinner, then helping out Daddy Bruce serve the needy in the community.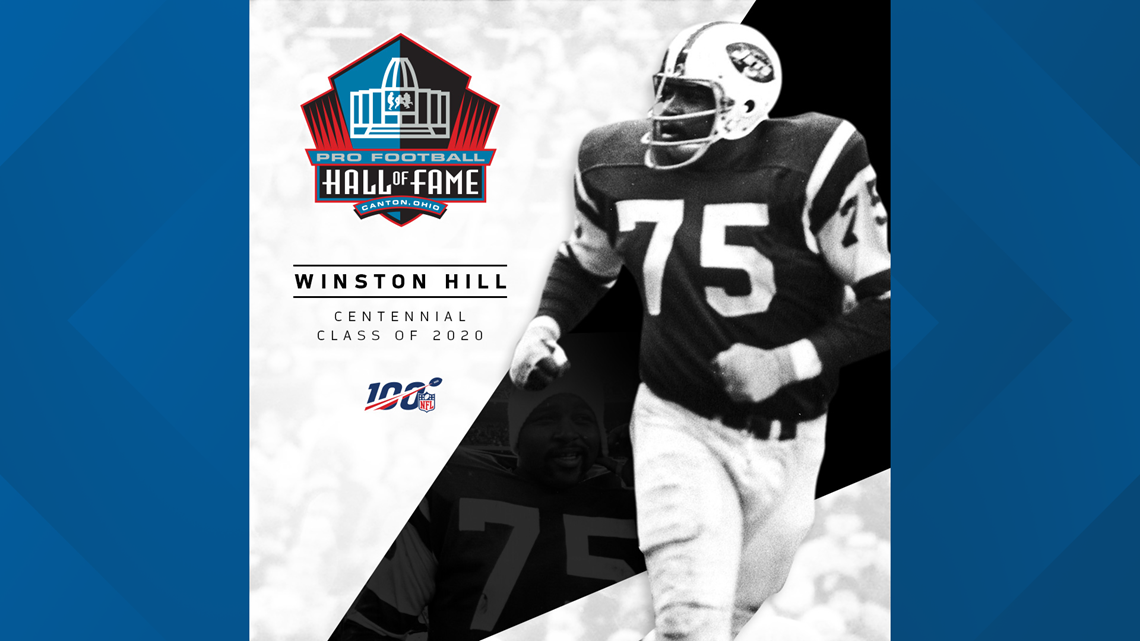 What made Winston's Smoke Barbecue so much better than other BBQ spots?
"The depth of the smoke,'' Brosius said. "The sauce is the best. The beef is fantastic. The coleslaw … you can't get it any better than it is here."
As they close the BBQ shop and open up a scholarship for college students, Hill's daughters were asked if there was anything they would like to say to their 43 years of customers.
"Thank you. Thank you for your support and your patronage,'' Heather said. "I hope you had great memories and lots of full bellies and fellowship and all the things that are brought together with food. We were so blessed to be part of this community and have our dad engaged in that way. It brought so many people together, so many friendships. We are so grateful."