MORGAN COUNTY – People from across the country are known to stop at the landmark bridge that crosses the South Platte on its way to this historic town that's home to 10,000 people … and just one Uber driver.
Fort Morgan is the county seat of Morgan County, with a history spanning back more than 100 years and an agricultural heritage that makes sense in a part of Colorado where the plains stretch for miles, seeming to disappear into the sky.
Allison Sylte, KUSA
The town is around an hour and 15 minutes away from Denver – close enough that some people choose to commute from the Eastern Plains and take Interstate 76 rather than brave gridlocked I-25 traffic, according to Robin Northrup, the executive director of the Fort Morgan Chamber of Commerce.
"Fort Morgan's that town where everybody knows everybody," Northrup said.
PHOTOS: A #9Neighborhoods tour of Fort Morgan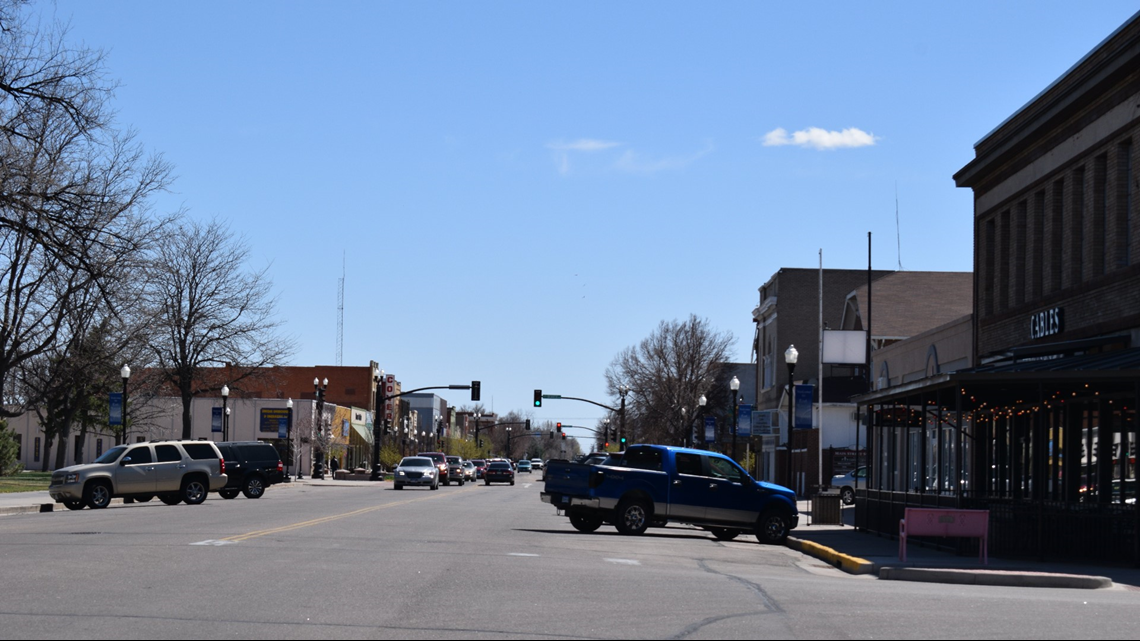 This story is part of our weekly #9Neighborhoods series. Check the 9NEWS Instagram at noon on Friday for a tour of Fort Morgan and to meet some of the people who call this town home.
A small town with more than one famous inhabitant
As you might guess, Fort Morgan is named after a fort.
The outpost was established in 1865 along the Overland Trail – and renamed after fallen Colonel Christopher A. Morgan in 1866. It closed two years later, but while it was in operation, it protected miners and other travelers headed from the Great Plains to Denver.
Photo from Great Western Sugar Co. Courtesy of Denver C of C (Return).
The town of Fort Morgan was founded on May 1, 1884 – and became the Morgan County seat in 1889.
Most of the town's economy comes from agriculture, but there's also a historic downtown with numerous local businesses, and even a movie theater.
And a walk down Fort Morgan's Main Street can give you a glimpse at the life of one of the town's most famous occupants.
Allison Sylte, KUSA
"People walk down Fort Morgan's Main Street and they can see the places where Glenn Miller worked as a teenager," said Suzanna Spears, the Center for Arts and Community Enrichment Coordinator at Morgan County Community College.
Glenn Miller, an iconic big band musician, graduated from Fort Morgan High School and scored 23 No. 1 hits in just four years. He was last seen boarding a plane from the United Kingdom to Paris on Dec. 15, 1944 – and his disappearance has been the subject of speculation ever since.
His memory, however, lives on in Fort Morgan, which hosts an annual swing dancing festival in his honor.
Allison Sylte, KUSA
Another famous Fort Morgan resident is science fiction author Philip K. Dick, who is buried in the town cemetery next to his twin sister, who died when she was just six weeks old and inspired some of his work.
Dick is known for writing "Blade Runner" and "Minority Report."
A true 'hometown' that rallies around those in need
Elsie Niall is 89 years old – and joked that this means she has lived in Fort Morgan for "quite a while" (as in most of her life).
"I like everything about it, she said. "I think we have a real caring community. I think if there's a loss and someone needs help, next thing you know, they get $10,000."
Allison Sylte, KUSA
That's something Angie Edwards-Aker can attest to. She is the fourth-generation owner of Edwards Right Price Market, a family-owned grocery store in Fort Morgan that has managed to stave off forces like Walmart during its 85-year history.
When she was diagnosed with breast cancer, 53 people in the community started a "meal train" that kept her and her family fed for months.
Her dad, Ron Edwards, came out of retirement to help her manage things at the store.
Allison Sylte, KUSA
"As long as I've been around, I haven't seen communities put out a helping hand as much as Morgan County has," he said.
And Edwards says this attitude has kept their family-owned grocery store open too, with loyal customers intentionally going out of their way to support this iconic local business.
Northrup says another case of Fort Morgan businesses helping each other stemmed from the sudden death of 52-year-old Kevin Hawes, who owned Unique Embroidery and Engraving right on Main Street.
She says after he died in February, his staff stayed open to fulfill the remaining orders and that other businesses donated their services to help his family.
An agricultural heritage with a fabric of local businesses
Allison Sylte, KUSA
Edwards Right Price Market has been able to carve a niche in the community through its meat department – as well as its efforts to find locally-sourced produce that are tough to track down elsewhere and a large flower store in the back.
"After Walmart came to town in 2001, the thing that kind of kept us going was our meat department," Edwards-Aker said.
She says she wasn't initially planning on taking over the family business when she went to college, but that after she graduated, she approached her dad and said she was ready. He then put her to work in every department in the store, and had the once-aspiring accounting major take over the business side of things.
Allison Sylte, KUSA
"How my parents were, they never forced us to take over the business," she said, adding that she's not going to pressure her kids either.
"I think we all realize a business isn't going to last forever," Ron Edwards said. "We're grateful for 85 years."
Marlene Funk's business hasn't been around as long. She moved to Fort Morgan from Loveland a few years ago, and opened Zazzy Café just off Main Street.
"We left the Front Range for a quieter, more peaceful place," she said. "Everybody knows each other."
%INLINE%
Among the items on the menu are a brie, fig and bacon panini (author's note: this alone is worth the drive from Denver to Fort Morgan) and various daily soups.
She says initially, she had to justify being a café that didn't just serve bacon and eggs, and that her customers didn't know what a panini was (they're now coming around).
"These cafes are a rollercoaster," Funk said. "If there's a sporting event, everyone comes to those … and you know it's gonna be quiet here."
Allison Sylte, KUSA
This is a busy part of the year of Diane Schulte, who owns The Flower Petaler off Main Street. The high school has its prom next week – which means it's basically this long-time florist's Super Bowl.
"We love it because you get to see so many locals – people you grew up with, their parents, their kids," Schulte says.
She has eight part-time employees, and also gets help from her mom.
"I've been doing this since I was 10," she said. "Florists are always hiring, so I've always been able to find a job."
Allison Sylte, KUSA
There are numerous small businesses in Fort Morgan, but as you might expect, the biggest employers are in the agricultural industry.
Cargill Meat Solutions Corporation is the biggest private employer in the town in town by far, with 2,100 employees. Leprino Foods comes in second, with 350.
A place a lot of them are known to go after work?
Allison Sylte, KUSA
The Queen Lounge, which is off of Main Street and advertises the toilet seats that hang on the wall and Jack Daniels soap dispensers. Debbie Wunderlich was tending bar when 9NEWS stopped by at around 3 p.m. on a Wednesday (just to take photos!) and says she got her job when she was there riding her motorcycle by and asked the manager if he needed help.
"Little town, good bar, good times," she said.
A Colorado town that actually welcomes newcomers (and has a free Vanilla Ice concert)
Allison Sylte, KUSA
Unlike some folks on the Front Range, Northrup said she genuinely believes Fort Morgan actually wants visitors and new residents alike to enjoy the town.
"We're more of a welcoming community," she said.
Northrup pointed out a multitude of events and things to do in this Eastern Plains town, from the Glenn Miller Swing Fest from June 7 to 9, to the Bobstock Music Festival (June 13 to 14) in Fort Morgan City Park.
For what it's worth, Survivor and Vanilla Ice are this year's headliners at the free concert, which Northrup says tends to bring in people from across the country.
If you're visiting and curious about Fort Morgan's history, the city museum – which has a model oil well, relics from its history and even a full-scale soda fountain – is worth a stop and completely free.
Allison Sylte, KUSA
Nearby is the old Farmers State Bank building, which opened in 1930 and is now home to numerous nonprofits and an art gallery in the basement, which showcases the work of local students. Someone even brought one girl's drawing for $50 – even though it wasn't even marked for sale.
Spears has big dreams for what this area could be.
"I would like to see this become an art district," she said.
Allison Sylte, KUSA
Riverside Park is just off I-76 near the town border and has incredible views of the South Platte River and the Rainbow Bridge.
This is the bridge we talked about at the very beginning of the story. The Rainbow Bridge was built in 1923 for $69,290 – and with 11 arches, this 1,100-foot span is the only rainbow-arch design in Colorado and has earned on a spot on the National Register of Historic Landmarks.
Allison Sylte, KUSA
Living in Fort Morgan
Northrup says right now, it's harder to find a place in Fort Morgan than usual due to increased demand. But, she says new developments should help counter that.
Downtown Fort Morgan is surrounded by numerous older single-story wooden houses, and there's a large development just outside of the city off of Highway 52 toward New Raymer.
According to Trulia.com, the median listing price for a home in the Fort Morgan town center is around $140,000.
"If I were to describe Fort Morgan, it's 'hometown,'" Schulte said.
Allison Sylte, KUSA