COLORADO, USA — Next year will likely see a return to pre-pandemic unemployment levels in most of Colorado's industries, according to a new report from economists at the University of Colorado Boulder.
As of October, Colorado's unemployment rate is about 5.4%. The report, which looked at 11 different business sectors, predicts another 73,900 jobs gained next year, representing about 2.7% job growth.
"We feel it's going to be continued robust growth, but there are a wide array of uncertainties that are out there that could make this forecast either too low or too high," Richard Wobbekind, Senior Economist at Leeds School of Business, said.
While the growth is significant, Wobbekind said it's not equal across all industries.
"Certain industries have not only come back to the same employment levels, but already exceeding employment level of February 2020," he said. "And other industries – leisure and hospitality – aren't going to get back to the same level until 2023. Even though they'll gain a lot of jobs, 2023 is probably when they'll get back to the same level of employment."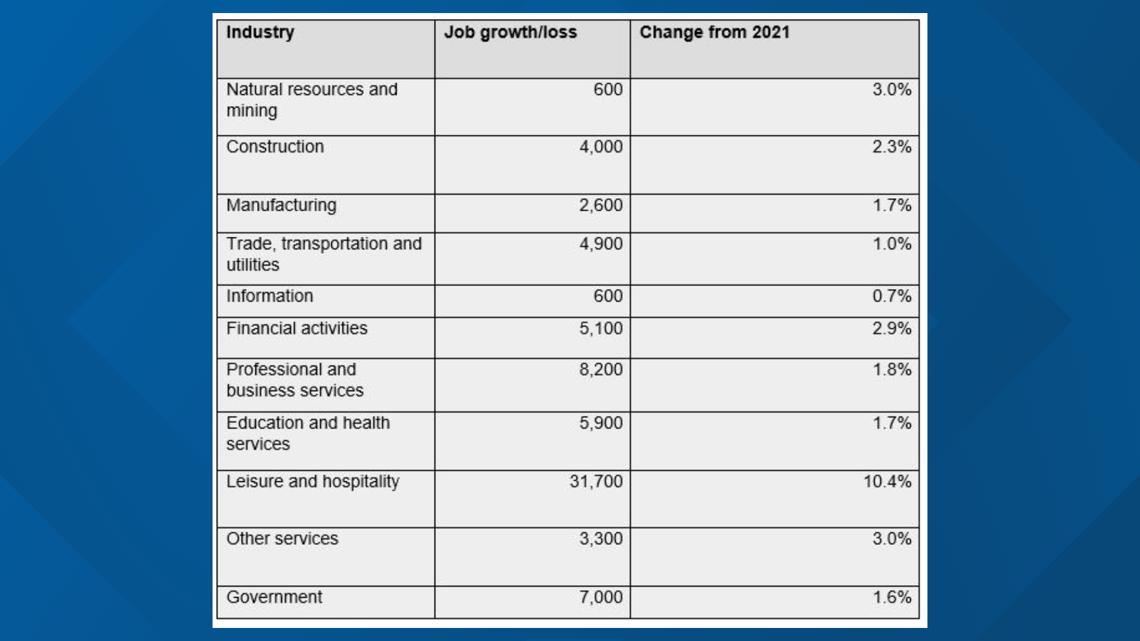 "This report doesn't contain any shockers to anyone who's paying attention to the restaurant industry right now," said Denise Mickelsen, Communications Director for the Colorado Restaurant Association.
"There might be busy-looking restaurants out there with full tables, but you can't forget that everybody is short-staffed," she said. "They have a lot of debt they've accumulated during the pandemic. [Some are] also, due to short staffing, operating fewer hours if not fewer days."
Mickelsen said there are other unknowns that can hamper a full recovery – like what impact, if any, the omicron variant will have on pandemic restrictions; choices within the restaurant industry to keep customers and staffers safe; and the upcoming winter season limiting outside dining, where some customers feel more comfortable.
"The industry is still in crisis. We anticipate three to five years until we see a full recovery," she said.
One major hurdle to recovery continues to be worker shortages.
Wobbekind described one problem as a mismatch between people's talents and skills, and the jobs currently available.
"That job might need welding skills or that job might be in nursing and you don't have nursing certification, or it might be in software," he said. "So there are a certain number of these jobs that are certainly in the mismatch category, and that's part of the constraint that's out there."
Another constraint, he said, is a change in population growth.
"We have slower population growth, and we have slower growth in Colorado's population," he said. "We have less in-migration to the state right now, and the birthrates are down in the state as well."