"I think the number one takeaway is that the economy is in a tenuous position," said Greg Sobetski, the Chief Economist of the Colorado Legislative Council Staff in an interview Friday. "We know that there are warning signs in the financial sector with the debt ceiling and with rising interest rates tightening monetary policy. So those are contributing factors to recession risk."
There are some positive takeaways from the report in general, including a low unemployment rate and strong business profits, Sobetski explained.
"So folks are finding ways to succeed in the current economy, even though we know that there are some headwinds on the horizon," he said.
However, inflation continues to be a concern and "erodes" many other economic gains, the report says.
When it comes to the state budget, it not only shows how much the state can spend, but also how much Coloradans get back in their TABOR refund, which is determined by the amount above the TABOR cap.
Last year, the state saw the largest TABOR refund in state history - $3.7 billion.
The projection for 2024 shows 2.75 billion dollars, with the number getting lower as years pass.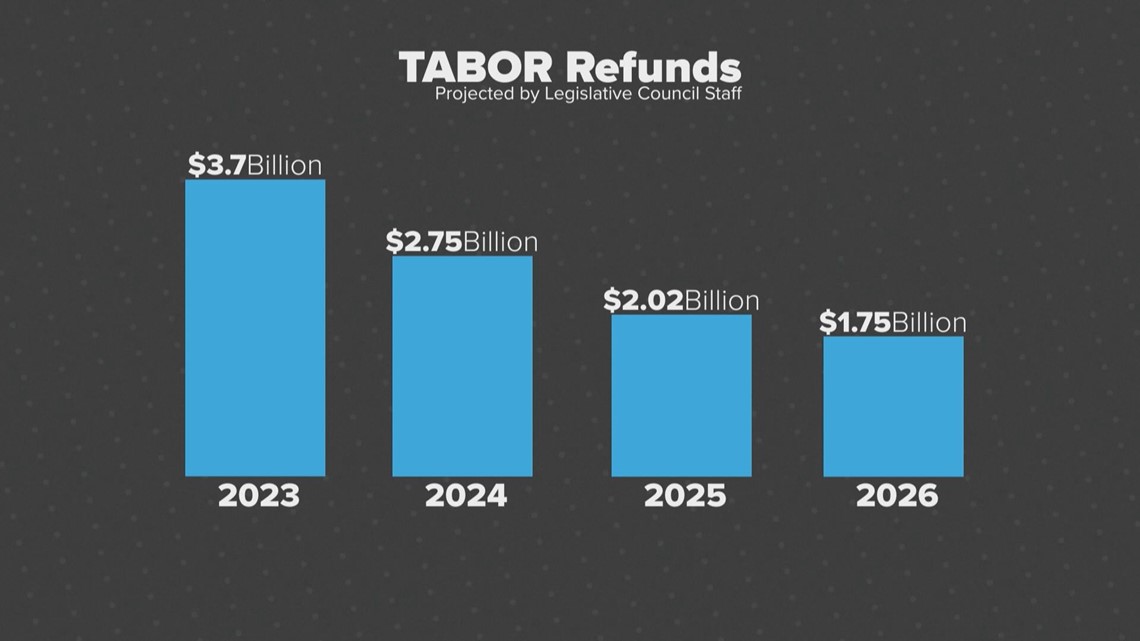 While TABOR limits how much the state can keep and spend each year, it's based on calculations from the previous year.
"That means that right now there's a little bit of a choke point where we haven't seen the inflation adjustments for the current fiscal year yet to account for the fact that prices have increased at the rate that they did last year," he said.
Sobetski says generally, it's not a question of whether the forecast will be different, but rather how much different.
"We know the forecasts will be imperfect. The question is how incorrect," he said. "Because revenue is over the TABOR limit, that if our forecast is wrong to the tune of 200 or 300 or $400 million in either direction, that difference will affect the amount of TABOR funds the state has to pay," he said. "But it doesn't affect the budget picture at all. We would need to be wrong by $2.75 billion in the current fiscal year."
He says such a large change could be possible if a recession were to occur, but as of now he believes there is not enough data in the economy right now to suggest such a scenario.
"But that risk is there. And that's something that we apprise lawmakers of when they set their budgets," he said.