I did not plan to be the first person I know to buy an electric car. Don't get me wrong: I like the idea of cleaner and cheaper energy, but I'm not an eco-warrior.
We made this decision because it made the most economic sense for our family thanks to some seriously large incentives that brought the car's pre-tax price below $10,000.
I'll dive into the pros and cons of the actual car I bought a little further down, but first:
First off, new electric and plug in hybrid cars qualify for two tax credits in 2017 in Colorado:
Note: I am a journalist, not a tax professional. Consult with your tax professional to ensure the tax credits will apply the way you expect them to in your household.
The amounts of these credits can vary depending on the vehicle in question. Please read the fine print at the links above.
In addition, there's a temporary incentive for Xcel energy customers in Colorado that runs only through June 30, 2017:
$10,000 Xcel credit (only for Nissan Leaf, applies to purchase price)
The Nissan Leaf is an all-electric car with a range of up to 107 miles on a full charge, according to the factory specs.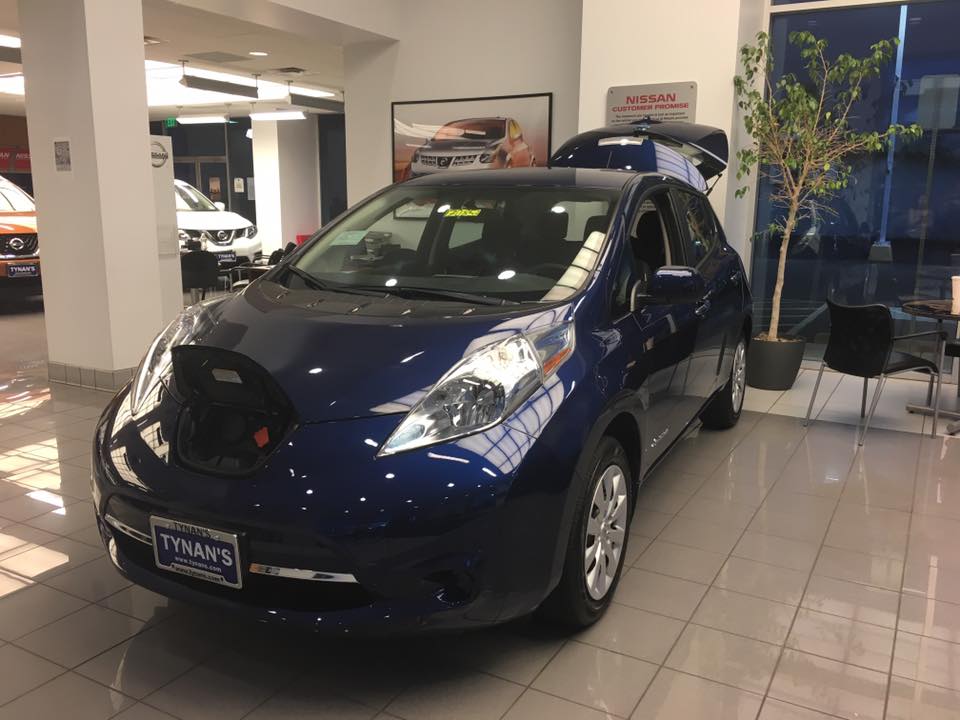 And before you go thinking that this is an ad for Nissan… I am not being paid to write this, nor would I recommend this car to everyone. Without the added $10,000 incentive, I very likely would have purchased something else.
But with the added incentive, this became an offer my family couldn't refuse. The dealer price on the Leaf we bought was $31,974. With all of the tax credits and incentives applied, our pre-tax price is $9,474 for a brand new car.
A few caveats: that's the price before taxes and fees ($3,341 on our vehicle) and we have to wait until next year to receive our $7,500 federal tax credit. Which means our total out-the-door cost was $20,315. After we file next year's tax return, the remainder will be $12,815 with all the taxes and fees—which is still about what we planned to spend on a low-end used 2015 gas car.
The state and federal tax credits are valid all year long on a variety of new-technology cars.
There's no cap on the number of $10,000 credits for the Nissan Leaf available through the Xcel program, but it will expire at the end of June.
Xcel told 9NEWS that 200 people in Colorado have taken the incentive so far. It's also available in Minnesota and Wisconsin.
But is it a good idea? Well, read on…
REASONS NOT TO GET THIS CAR
As I stated above, this car isn't for everyone. I can't imagine having this car as our only vehicle in Colorado—it'd be impossible to maintain our same outdoorsy lifestyle.
Our other car is a 4-door Jeep Wrangler and that's what we'll use for road trips and snow days.
The most common question I've gotten from friends is, "can you take a road trip in it?" The answer is no.
The best you can do with this particular car if you want to road trip is to pay an additional $1,700 (or upgrade to a premium trim) for a DC fast-charging port, which the dealer informed me would fully charge the car from 0 percent in about 30-40 minutes.
We did not do this, because it still seemed silly when you think about road trips in the Western United States. For instance, a road trip from Denver to Mesa Verde National Park in Southwest Colorado is 370 miles, which means you'd have to stop three times for charging, adding at least 1.5 hours to a 6.5 hour trip, if you can find DC charging stations on your route.
The car comes with a plug that works with a standard 110v household outlet, but that takes 20 hours to recharge from a fully-depleted battery. You can also get a 220v plug that charges the battery in roughly 3.5 hours—this does not require the DC charger upgrade, but will require a 220v outlet (the kind used for electric dryers, etc) near where you'll be parking the car and a new charging cable, which can be found for $300 online.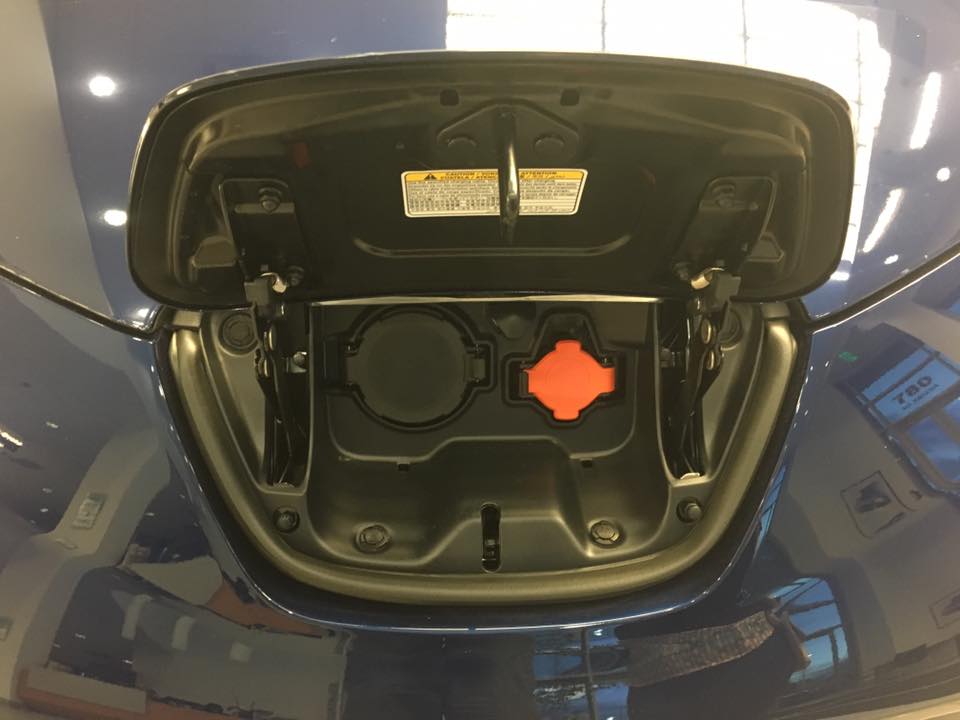 If you're looking for an electric car that can go farther, look for another model—you may want a plug-in hybrid that can recharge its batteries using an onboard gas generator.
The Leaf is also not all-wheel drive, which means I'm not taking mine out in severe winter weather.
And I can't vouch for what extreme temperatures will do to battery performance.
REASONS YOU MIGHT WANT TO GET THIS CAR
With the current incentives, it's super cheap—cheaper than a decent used car that burns gasoline.
It's also cheaper to operate. Xcel figures the charging cost on the Leaf is roughly equivalent to paying $1 per gallon for gas.
As mentioned above, the standard 110v wall outlet takes 20 hours to charge from zero. But if you have a metro-area commute, you aren't likely to drain the battery to zero.
My commute from Edgewater is roughly 12 miles round trip. That leaves plenty of room to run errands and still get the car back with a 75 percent charge, which will easily top up to 100 percent overnight.
I haven't had an issue topping the car up overnight yet, but I may someday decide to pay an electrician to install a 220v outlet where I park it and pay the $300 for the necessary aftermarket cable.
You'll get more miles out of the car on city streets than the freeway. The car has regenerative braking that powers up the battery when stopping. Also, try the "B" mode, which lightly uses the engine to brake and generate power when you take your foot off the accelerator.
It's also loaded: the base model of the Leaf comes standard with AC, heated seats, power windows and mirrors, a backup camera, and Bluetooth connectivity.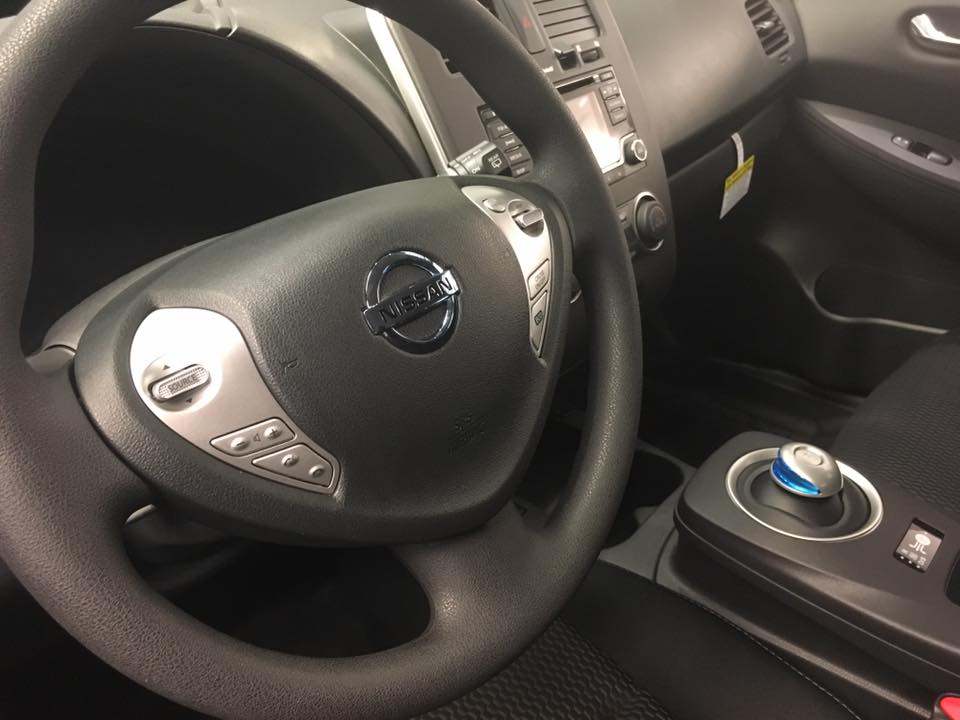 Maybe the most comforting thing: it drives like a normal car. While the instrument panel makes it feel very futuristic, the steering and operation of the car are very familiar.
The car has all of its torque available instantly from the electric motor, which does not need to shift gears.
It's also lower maintenance than a gas-powered car. It doesn't need oil changes or radiator coolant—just windshield wiper fluid and brake fluid.
The car is quiet. VERY quiet. I still don't know whether to list this as a pro or a con.
I like it when I'm driving, but it can be annoying in a parking lot—when you are stuck behind pedestrians who can't hear that you are there. The car does come with a very cute-sounding chime that beeps as you go in reverse, to help with this issue.
You will need to plan a place to plug it in. And if you have a farther commute, you may want to ask your boss if you can plug it in at work.
The warranty on the battery, which is not in an easily reached location, is 8 years. Ask me in 8 years whether that was sufficient.