DENVER — It's a tough time to buy a home in Colorado.
This year, that number has grown to $585,000, up more than 23% from a year ago.
While prices are high, inventory is low.
The DMR said there were 1,640 listings for detached homes in April 2021 – the lowest April on record. To put that into context, a balanced market is considered four to six months of supply. Denver had roughly 14 days worth of supply for detached homes in April.
Meanwhile, if buyers find a home they want, they have to act fast: homes are staying on the market for an average of four days.
Perhaps the group struggling more than anyone else is the first-time homebuyer. They usually enter the process with big dreams, but little experience and often, fewer financial resources than their competitors.
For the first timer, home buying can often feel like heartbreak. We asked three Denver couples to share their stories about trying to find a home in a historic Denver market.
CHRIS AND LINDSAY WOLF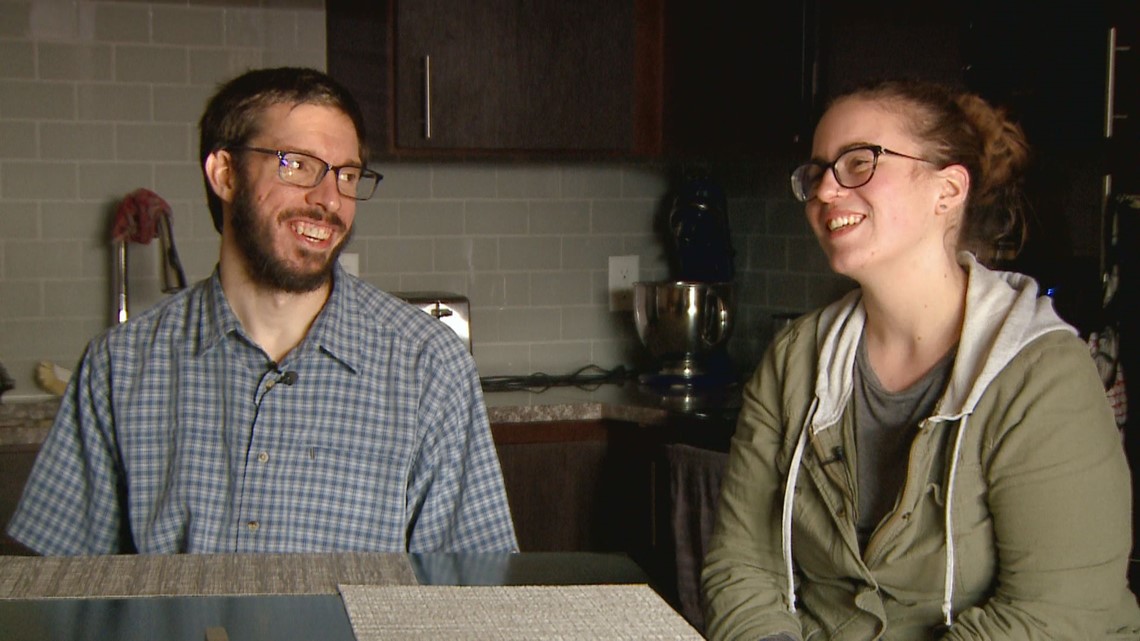 Chris and Lindsay Wolf have been married for three years, and live in an apartment in Jefferson County. The couple talked about buying their first home for a while, and decided to start the process in January of this year.
"I've been renting for nine years now, feels like a long time," Lindsay said. "But owning a home has always been one of our goals."
Initially, the couple started looking for a detached, single-family home, but quickly realized that in this competitive market with rising prices, they wouldn't be able to find something within their budget. So they pivoted to a different plan and started looking for a condo or townhome.
"We looked at upwards of 50 properties in a few weeks' time," Chris said. "I was encouraged with how many properties we saw."
While they found plenty of properties to tour, finding the right one within their budget and getting an offer accepted proved to be difficult.
"It was stressful. I felt stressed a lot," Lindsay said, joking that their wedding day was a piece of cake compared to the stress of home buying. "There were a lot of sleepless nights, at least for me, there were a lot of times when I was really thinking: maybe we need to move out of state."
They hated that option. Chris is a Colorado native, and Lindsay has lived here for years. The couple has friends and family here and didn't want to leave just because they couldn't find a place to live.
After a few busy weeks, the couple said they got "lucky." They were under contract for one property when a deal fell through on a previous property they liked even better. They changed plans and made an offer on the condo they liked best and it was accepted.
This May, the couple plans to move into their new two bedroom, two bathroom condo near family in Jefferson County.
"It's a few miles from where my parents live, it's a lot better in terms of commuting to both of our jobs, it's in an area that we really like and feels like it's closer to our friends and community that we have," Chris said.
"I'm just really happy that we get to stay in Colorado," Lindsay said. "The fact that we don't have to move away from our family and friends, even though that would be more affordable, I just feel really lucky that we get to stay in the state and place that we live."
MARCUS AND KATIE KOPLITZ
SHOPPING FOR A SINGLE FAMILY HOME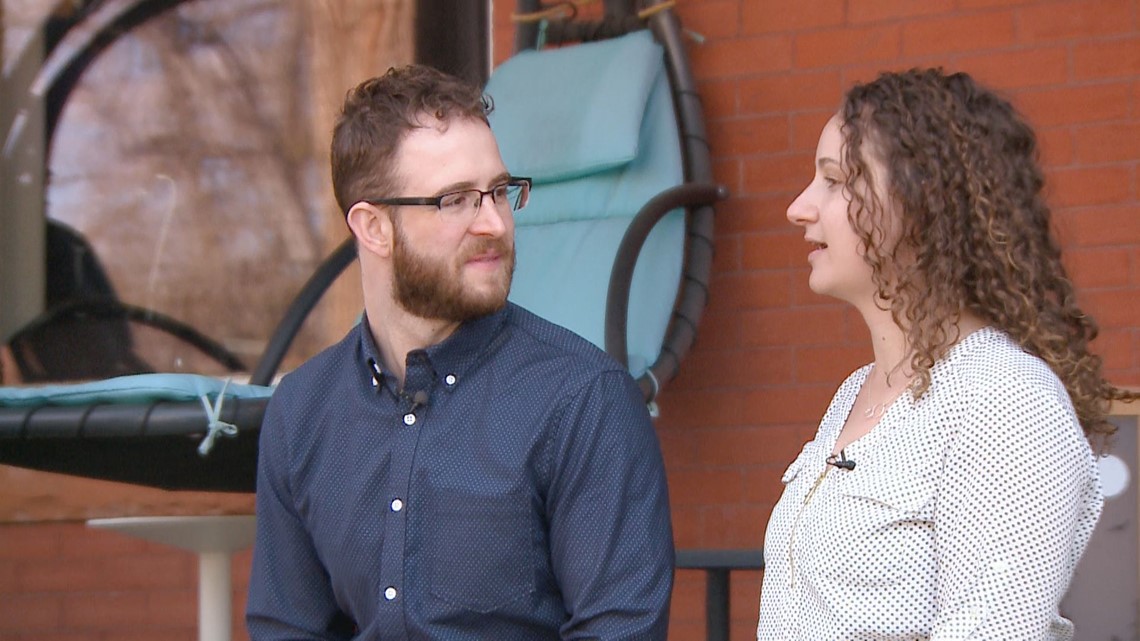 Marcus and Katie Koplitz have been living in their Capitol Hill condo for three years, and the married couple is ready to buy their first house. They own their current condo, so they have some experience as buyers already, but this is their first time attempting to buy a single family home in Denver.
Ideally, they're looking for a three bedroom, two bathroom home with enough space to entertain friends. If they can find something that also has a yard and garage, they would be thrilled.
"About a month ago, I had a much different picture in my head of what our home would look like," Katie said. "But after going and touring homes and seeing the market, that picture is changing."
The Koptliz's remember shopping for their condo in a competitive housing market years ago but said that experience hardly compares to the housing market now. They describe the fast pace of finding listings they like in a small pool of options, trying to get a showing, and having to make an offer – all within a matter of days.
Then there's the intense competition.
"We toured a duplex and we bid $100,000 over asking price and we were outbid by [another] $100,000," Katie said. "That shows you where we're at."
"There were 54 offers on the house," Marcus said. "Unless you have really deep pockets, or you're willing to put a lot of cash down, it's hard to get something in that neighborhood."
The couple began to change their strategy to become more competitive. They are offering to waive some traditional buyer protections – like an inspection, or negotiating price if the home doesn't appraise to offer value. They have savings for a down payment, but also took out a HELOC (home equity line of credit) loan on their condo in case they need extra cash to cover an appraisal gap.
But they're not giving up.
"What we've come to… is that we're going to have to compromise somewhere," Marcus said. "Were adjusting our expectations but also just staying optimistic."
The couple moved to Colorado several years ago and fell in love with Denver. They understand why the housing market is so competitive, and believe it will likely stay that way for a while.
"I'm a believer that you'll find the right house," Katie said. "If you… put a bunch of offers in and you don't get them, it wasn't for you. So just keep looking and hopefully you'll find something."
STEPHANIE ESTRADA AND BRETT HALLAHAN
Stephanie Estrada and her boyfriend Brett Hallahan decided in January that they were ready to buy a house.
They were couch shopping at the time, and realized they were tired of buying smaller furniture for a small apartment, and also tired of paying rent.
"We were originally looking for, hopefully at least three bedrooms, with a basement," Estrada said.
The couple spent several weeks touring homes, and quickly grew frustrated by the pace of the housing market and the unprecedented competition.
"One of the first houses we loved online, we had a walk through scheduled for a Friday afternoon and Friday morning we got a text [from our realtor] saying [the seller] accepted an offer already," she said.
Estrada said she was very upset after making an offer on one particular house she loved, and losing that offer. Soon, the couple decided to shift strategies.
They started looking for a newly built home. And it worked. The couple secured a four bedroom, 2.5 bathroom home with a partially finished basement.
"New build gave us an opportunity to get a lot without having to compete with people for it," she said. "We like the idea of it being new, not having to worry about what's wrong with x, y, z after moving in, and getting to pick and design what we wanted."
The only downside of new construction, Estrada said, is the wait time. Their home won't be completed until later in the year. The couple's lease on their apartment ends well before then, and they're trying to figure out where they'll live in the meantime. A shortened lease could be more expensive, and so is breaking a lease. And while family members have offered to let them move into the basement, Estrada says working from home in a family member's basement could be tough, too.
Estrada and her boyfriend are both Colorado natives and frustrated by the challenges of finding a house in their hometown.
REALTOR KELLY MOYE
SPOKESPERSON, COLORADO ASSOCIATION OF REALTORS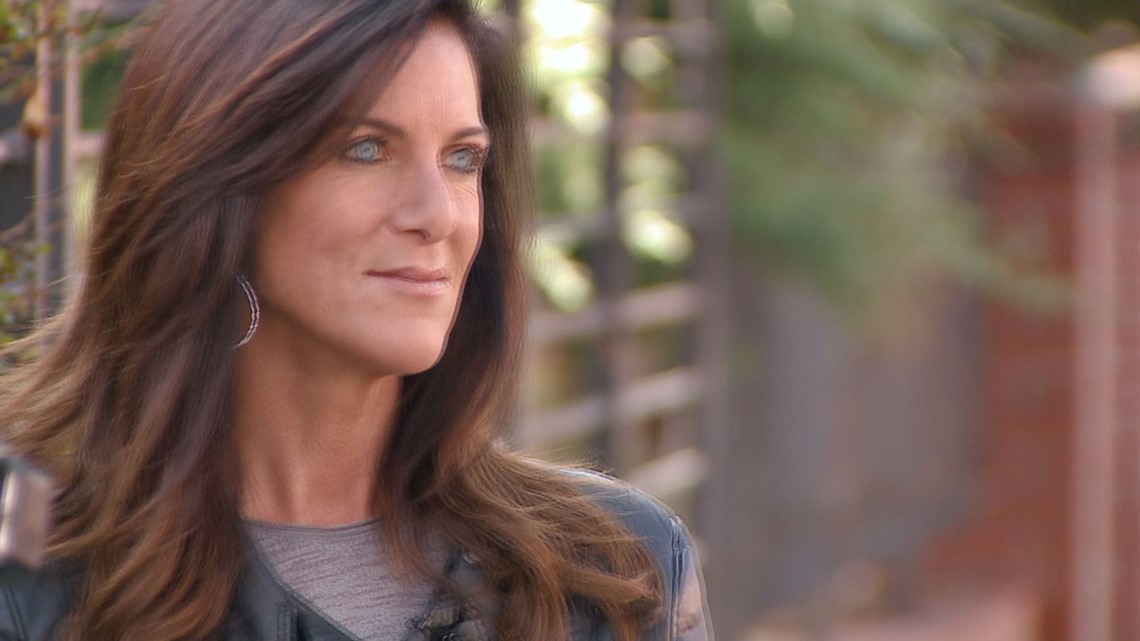 Kelly Moye has been a realtor in Colorado for 30 years. She says nothing in that time compares to the current housing market.
"Insane!" is how she described it.
"I've been a realtor through three ups and downs," she said. "I never thought I'd have to learn short sales and foreclosures. We went through that, I thought that was the hardest it's ever been, but I've never really seen anything like this in my career."
Moye, who is working to help the Marcus and Katie Koplitz buy their home, said first time homebuyers are really struggling to compete with other buyers right now.
"A first time homebuyer is eyes wide open, we're so excited to be here in Colorado, excited to get our lives started and invest in future – they're just pumped," she said. "They can't wait to start."
"Then I come in and say – ok. This is… going to be different than you thought."
Rising prices aren't a new reality in Colorado. But the competition is more frenzied than ever, houses are listing and selling in just a few days, and the buyer sacrifices are hard to comprehend.
Moye said even realtors struggle with guiding their buyers through the current market conditions.
"As a buyer's agent, when you're representing a buyer, you have to protect their best interest, that's our job," she said.
"And it is really hard to tell them to waive all these rights," she added. "Waive the right to ask the seller to make any repair. Waive the right to limit your purchase price based on the appraisal. Waive the right to do this or that and, inherently, those rights are there to help protect them. And you're there to help protect them. So to give them the advice that they should spend all of their money on an appraisal gap, waive the inspection, don't worry about the HOA docs… you're conflicted inside, because you want to do your job right, you need to do your job right, but one would say – you're not doing your job if you don't get them a house, so you're stuck."
But Moye said she remains optimistic. She said, in her experience, good relationships between realtors has helped her buyers find success right now.
While she doesn't think the frenzy is sustainable forever, she does feel like the competition is sticking around.
"I just hope [first time buyers] keep trying. This market isn't going down anytime soon," she said. "This is always going to be the road, the path, to wealth and happiness and space and being able to have kids and things people want to do. And I just hope they stick with it."