DENVER — Ball Arena owner Kroenke Sports & Entertainment has submitted a proposal to redevelop a 55-acre area around the arena, including its parking lots.
Kroenke Sports & Entertainment (KSE) owns the Denver Nuggets, Colorado Avalanche, Colorado Rapids and Colorado Mammoth, as well as the downtown Denver arena where three of those teams play.
Surrounded by parking lots, Speer Boulevard, Auraria Parkway and light rail lines, the Ball Arena area is an island isolated from downtown. That's how KSE describes it right now, but they have a vision of how it could be transformed.
"It's rare to find 55-acres under visionary ownership in a city with such potential," KSE said in the proposal.
The proposed development includes millions of square feet of mixed-use office, retail and housing space, with at least 12% of the area set aside as open space for public use.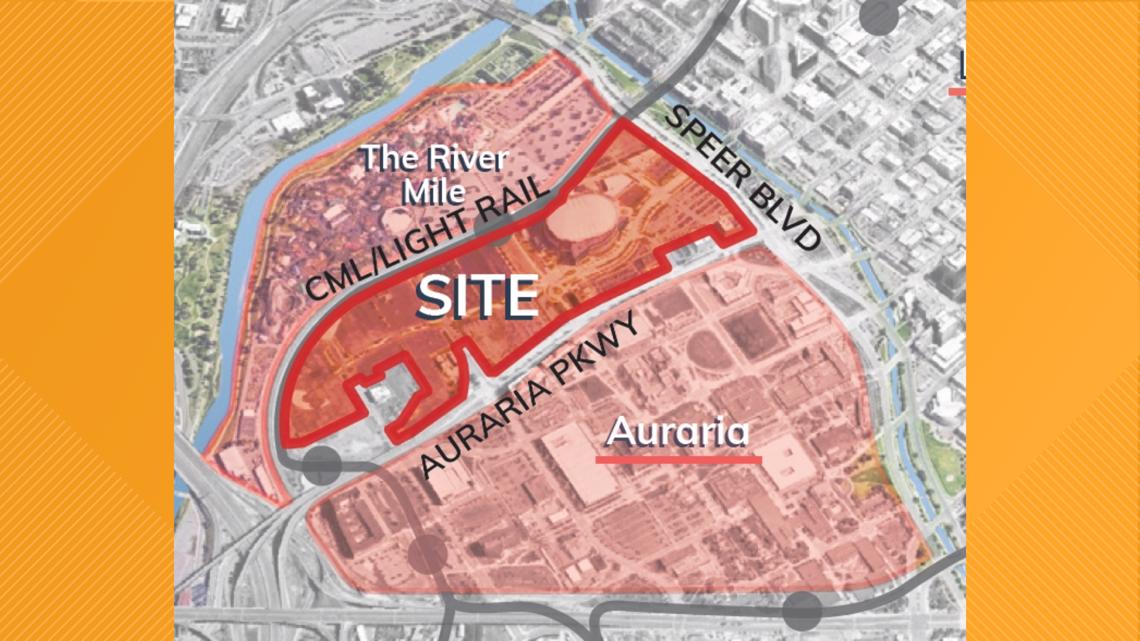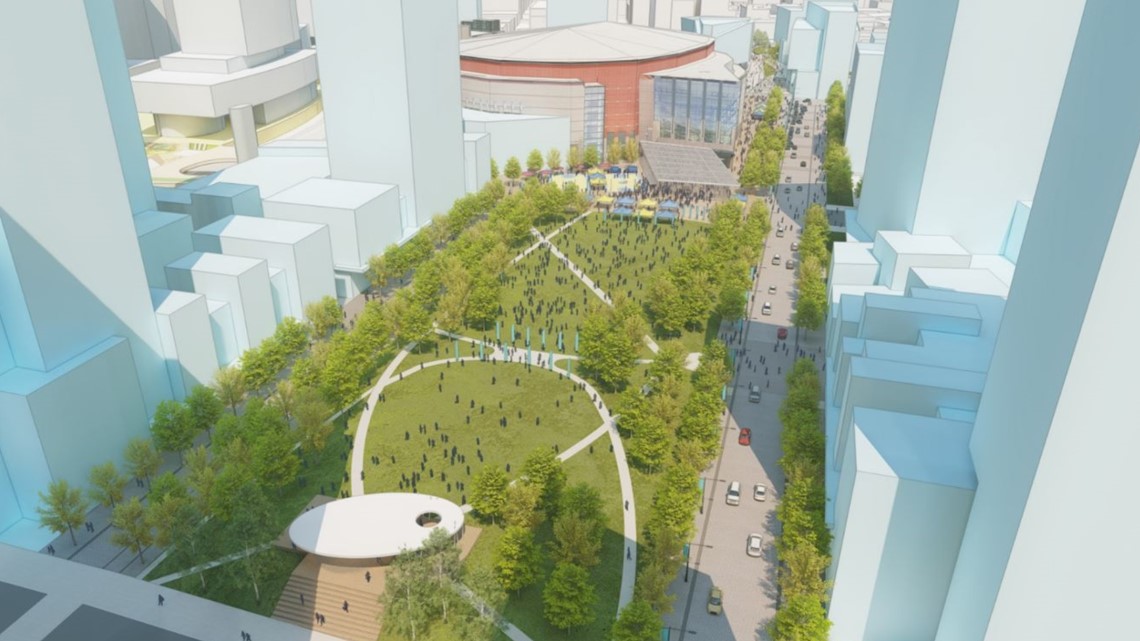 "Surrounded by a rich urban and environmental fabric, the site stands isolated from the adjoining context due to its large swaths of surface parking lots and constrained access points," KSE wrote in the proposal.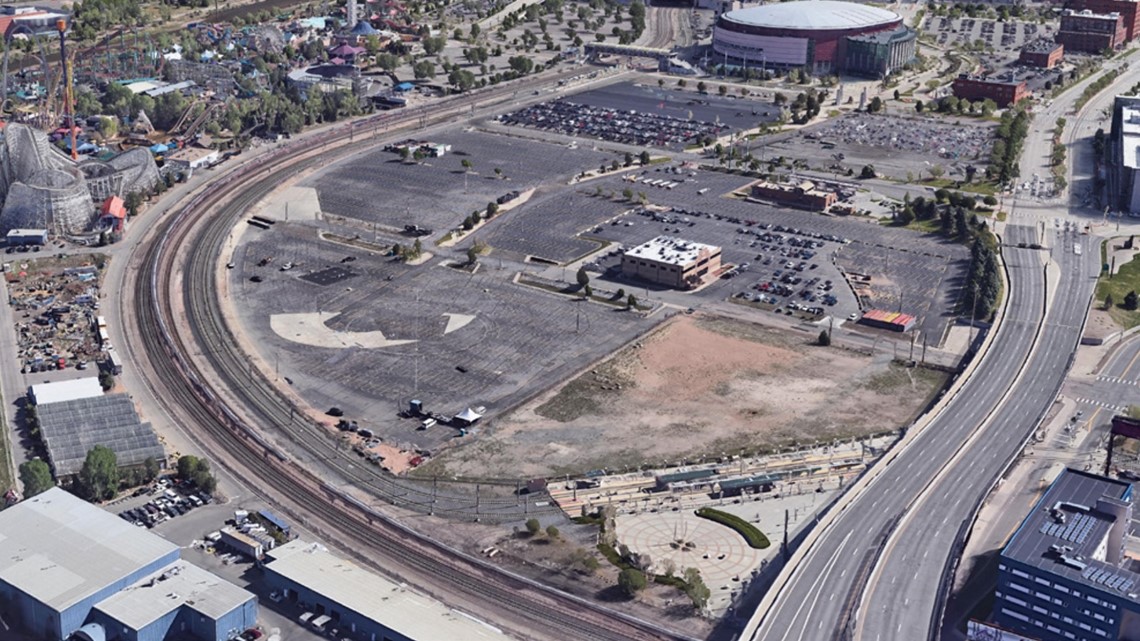 "[I] think this is a 20-plus-year vision but I do think that all entities are very anxious to get started," said Kourtny Garrett, CEO and president of the Downtown Denver Partnership. "This development is going to fill in where we have less connectivity and give people a reason to not only go to the game but stay and play, live, work, invest. I mean, it's truly a full, complete neighborhood development."
She said the proposed plan will serve neighborhoods.
"So, the park for example, the concept for bringing more greenspace to downtown Denver, more restaurants, more amenities that will serve the community here in downtown, it really is one of those transformative developments that will serves all of those purposes," said Garrett.

While the pandemic kept the workforce at home, Garrett said people are returning to the office. As a result, the proposal includes office space.

"40% of our workforce is back now and we're seeing more companies returning, particularly just now in the beginning parts of May," she said. "So, the demand for office space is not going to wholly go away."

The city has not yet completed a review of the proposal, and parts of it could change as a result of that review. The developer will also be required to host a community meeting to solicit feedback on the proposal before it advances.

"I read recently that between this project and the River Mile that downtown Denver would actually double in its size. So, I think just the sheer magnitude of density that this project adds is really significant for our city," said Garrett. "The really great thing is there are like ownerships, like partners in the project with the River Mile. But, for the downtown neighborhood as a whole it's brining two transformative districts, connecting them and then connecting those areas to the heart of our city."
Denver City Council in 2018 voted to move forward on the adjacent River Mile Project, which will someday include below-market rentals, schools, retail and restaurants along a stretch of the South Platte River surrounding the current Elitch Gardens site. Kroenke is a silent partner helping fund that multi-billion-dollar project.
That project was slated to begin construction in the summer of 2021, but as of now, it's still in the permit phase. Work to prepare the river and the site is expected to begin later this year, with building construction starting after that.
Here's what Matt Mahoney, senior vice president for KSE had to say about their proposed plans for the Ball Arena area:
"It's rare to find 55-acres under a single, visionary ownership in a city with such potential. This site embraces the goals outlined in community-led, adopted plans by the city, notably the Denver Downtown Area Plan Amendment and Central Platte Valley – Auraria Standards and Guidelines, including recognizing the pressing need for affordable housing. As a result, we have the potential to generate a truly unique regional destination characterized as a mixed-use neighborhood that maintains Ball Arena as its centerpiece.
The redevelopment project will create a unique regional destination, which will include residential, office and retail uses. The project embraces the city's goals for the area, including recognizing the pressing need for affordable housing near transit stops.
A complete, connected and inclusive neighborhood.
Reserving at least 12 percent open space for public use.
Provides improved connections to nearby areas of the city, including downtown, Auraria Higher Education Campus, Sun Valley Eco District and The River Mile.
We are launching a broad community outreach and engagement process to gain input from neighbors, area business owners and stakeholders. We are looking forward to sharing our vision for this project."