DENVER — Feeling buried by boxes of paperwork?
Pack up your unneeded receipts, bank statements and other documents and bring them to the 2018 Shred-a-thon on May 12 sponsored by 9NEWS, Shred-it, Inc. and Metro-Denver Crime Stoppers.
The Shred-a-thon is a yearly fundraiser for the Metro-Denver Crime Stoppers program. For a donation to help fight crime in your community, you can have up to three legal-sized paper boxes or kitchen sized garbage bags of personal documents shredded on the spot.
There are six total locations participating:
Westminster Police Department
Jefferson County Sheriff's Office
Arapahoe County Sheriff's Office
Aurora Municipal Courthouse
Shred-it, Inc. Headquarters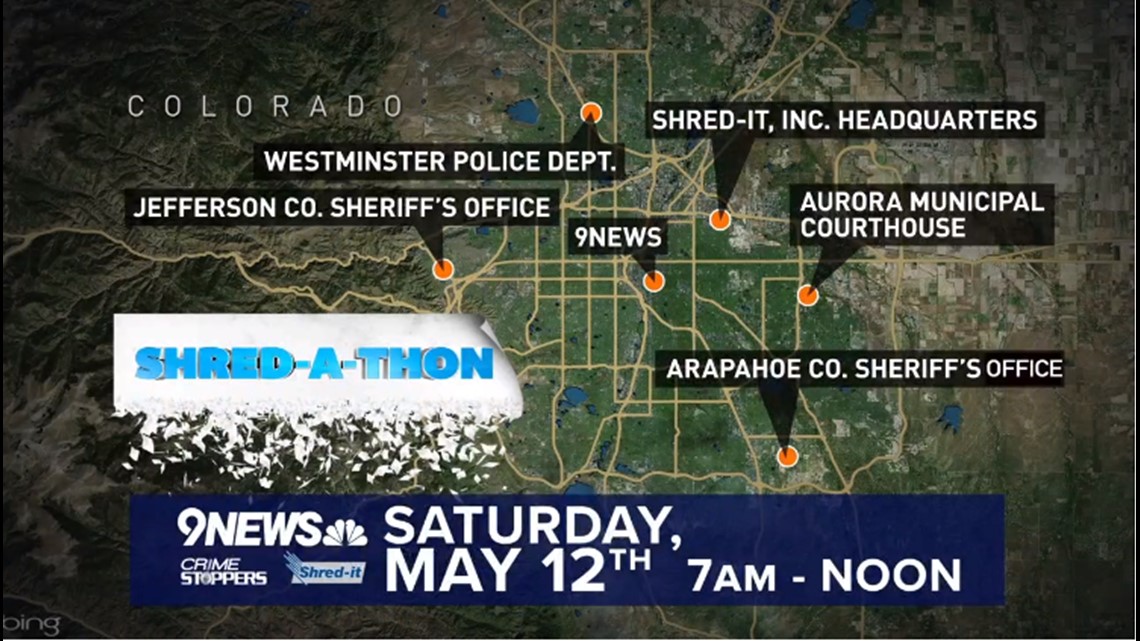 The trucks will start shredding paper at 6 a.m. on Saturday, May 12 at the 9NEWS location at Speer Blvd. and Logan. All of the other locations will begin at 7 a.m. The event runs until noon.
Experts suggest the public shred old paperwork with personal information on it, including:
Canceled checks
ATM & credit card receipts
Old credit cards
Credit card offers
Bills
Old bank statements
Tax records & receipts (7 years or older)
Medical records & bills (keep for 1 year)
Pay stubs (keep for 1 year)
The most recent versions of social security statements, annual insurance policy statements, retirement plan statements. Everything else can be shredded.
Shred-it, Inc. will shred up to 3 legal-sized boxes or kitchen sized trash bags of sensitive documents in exchange for a voluntary donation to Metro-Denver Crime Stoppers.
Metro-Denver Crime Stoppers is an organization that supports local law enforcement agencies across the Front Range by offering cash rewards for tips that help solve crime in our communities. This is the biggest fundraiser for Crime Stoppers. The tipline for Metro-Denver Crime Stoppers is 720-913-STOP (7867). All tipsters can remain anonymous.