DENVER — Seven Black-led nonprofits in Montbello have been working to support their community for decades. While the community relies on the impact of these organizations, they are not as well-known outside of the neighborhood. But they're hoping to change that.
They're calling themselves the Montbello7. Between them, they cover a range of needs — from transportation services for elders and violence intervention, to personal development and scholarships for teenagers:
100 Men Who Cook
Athletics & Beyond
Colorado Beautillion-Cotillion
Elevated Thinking for Success
Essie Lee Foundation (African American Autism Center)
Families Against Violent Acts
Struggle of Love Food Bank
"We impact individuals that really – I wouldn't say they don't have hope – but they haven't been able to see outside of their current circumstances," said Cheryl Carter, the founder of the Colorado Beautillion-Cotillion.
These groups pride themselves on giving people that hope and vision.
Cheryl Carter, Efrem B. Martin and Norma J. Paige – leaders from three of the seven groups – talked to 9NEWS about the ways they've been fighting for equal opportunity and social justice in their community for years. They said they're hoping new allies in Denver and Colorado will come alongside them – with more than just a hashtag – to elevate their community in ways they cannot do alone.
Colorado Beautillion Cotillion
After 11 years in Montbello, Carter has invested in her organization so much, it's almost taken over her home.
"If the young ladies want to participate in our Beautillion-Cotillion Ball, I have purchased all the dresses," Carter said. "I have over 200 formal gowns in my basement."
She prides herself on that collection, but more than that, she prides herself on how many students she can help without any of them ever having to pay to participate in her organization. That's important because most, she said, couldn't afford to.
"We have sometimes served 80 students in one year and presented them to society and we have never made a requirement that anyone has to pay," Carter said.
The Colorado Beautillion-Cotillion is a six-month training program where high school students learn about etiquette, finance, wellness, politics, relationship and communication skills.
"Anything that a young adult needs to propel them and prepare them for society," she said standing outside the Montbello Rec Center, one of the many places she and her students will meet for etiquette, dance and training throughout the year.
At the end of the program, students are presented to society at the annual Beautillion-Cotillion ball.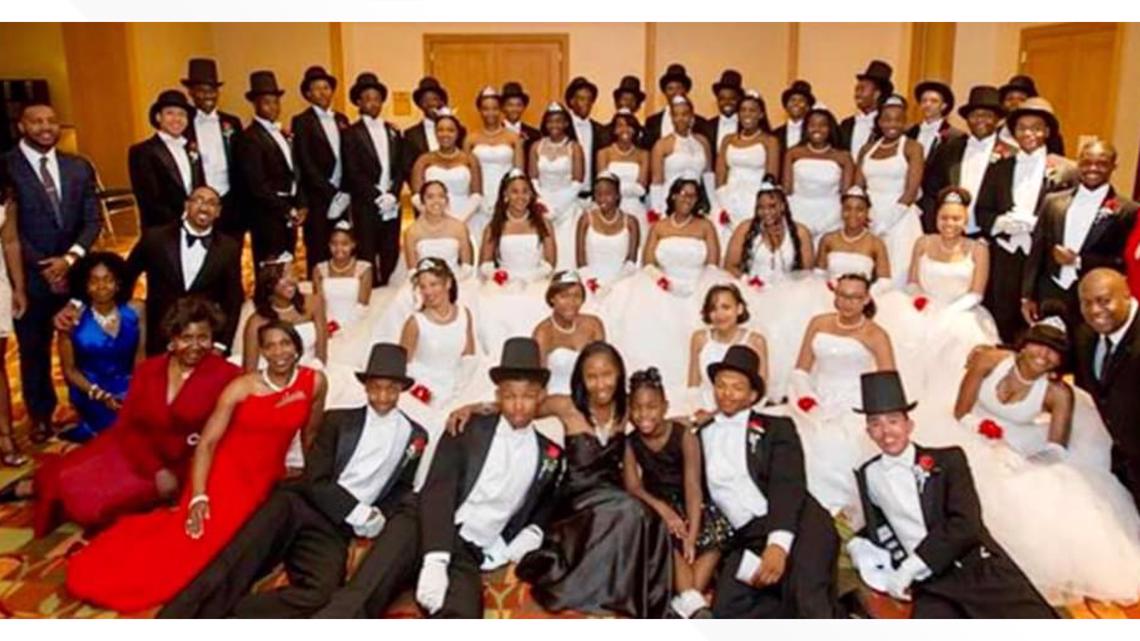 Carter started the Colorado Beautillion-Cotillion 11 years ago when she saw the opportunity in other neighborhoods of Denver and around Colorado, but wasn't seeing kids in Montbello receiving the chance to be mentored and presented to society in the same way.
"It's not a matter of being a part of a caste system or a class system or about their economic standings," Carter said. "If they have the desire to enhance where they are, our organization – that's what we do."
And that's what they've been doing for years, all on a volunteer basis, to provide nearly 1,000 high school students with that extra leg up on life.
"We provide them a doorway or a vision to what their future can look like," she said.
But all of Carter's investing has not been without personal sacrifice. She quietly let slip that her investment over the last decade probably could have afforded her the outright purchase of a very nice home by now.
"But it's so worth it," she said. Carter said she feels the impact she has had on students is far and away her greatest investment.
That selfless attitude is echoed by Efrem B. Martin and the folks who founded and lead another organization in the Montbello7, Athletics & Beyond.
Athletics & Beyond
"Athletics is the hook, but beyond sports, that's what we focus on," said Martin, chair of Athletics & Beyond since 2010.
Athletics & Beyond is another long-standing, 17-year-old Montbello nonprofit.
"We want kids to look beyond sports, to being professionals," Martin said. "You can be that journalist, you can be that scientist, you can be that mechanic – you can be whatever you want to be."
Mentorship and opportunity, he said, are the key.
The organization shows kids what their future can look like in places a lot of them never thought about going, or didn't believe they could, like college and career. Then, as mentors, the men and women at Athletics & Beyond help the students achieve those new-found goals.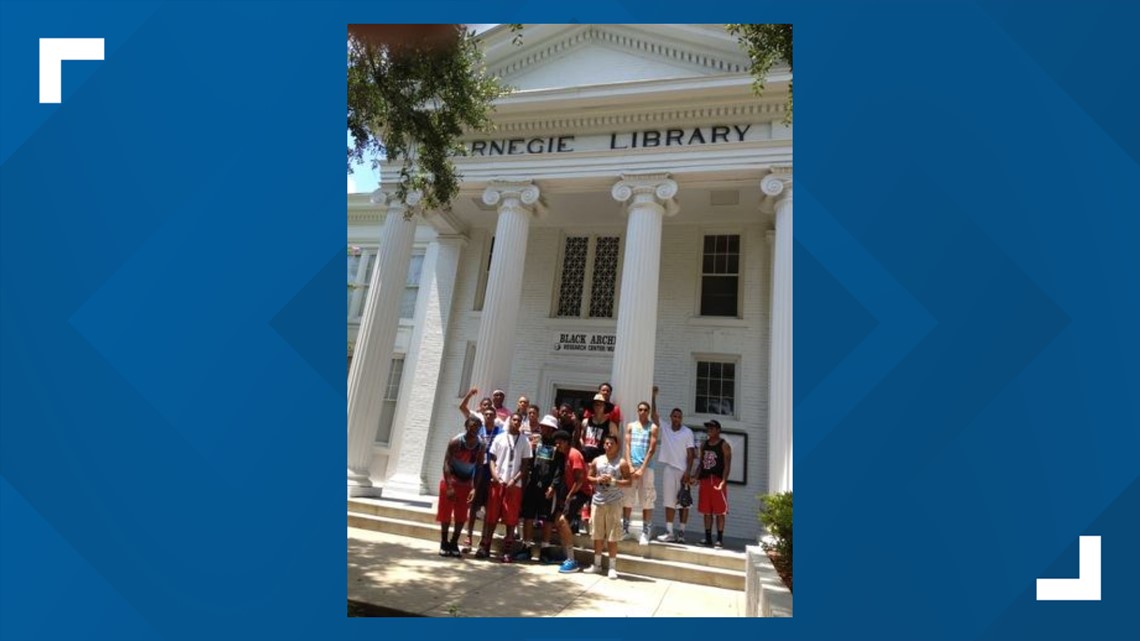 "I think it's important for students of color to be exposed to the other side and see what those examples look like. But they need to be mentored," Martin said. "You got to meet them where they're at. You have to build relationships."
Martin said he believes in that philosophy so much, he left his job as the dean of students at Montbello High School six years ago to have a more direct impact on students' futures by being out in the community.
Martin's passion is health and wellness – resources he said he feels his community are severely lacking.
"I think when you start venturing out of communities of color, once you get to the suburbs, the economics change," Martin said. "And that's where you're going to see the majority of those services that are being provided because they have the economics to back them.
"I mean COVID exposed a lot. Let's keep it real. It exposed a lot. You see the differences in health inequities. You see the differences in wellness inequity. And we have to do something about it."
Both the Colorado Beautillion-Cotillion and Athletics & Beyond work off the donations they receive and the money they raise. And there is a third organization in the Montbello7, 100 Men Who Cook, that actually exists to raise money for groups like theirs, as well.
100 Men Who Cook
"The main thing is the cause," said Norma J. Paige, vice president of 100 Men Who Cook. "We're raising money for organizations that are grassroots that serve youth in our community."
100 Men Who Cook has been in the community since 1984. They work particularly with men in Montbello, asking them to cook a dish and bring it to the black-tie event that sells out each year. It's their biggest fundraiser, Paige said. The idea is to teach men the value of community service while putting on an event that will raise as much profit as possible.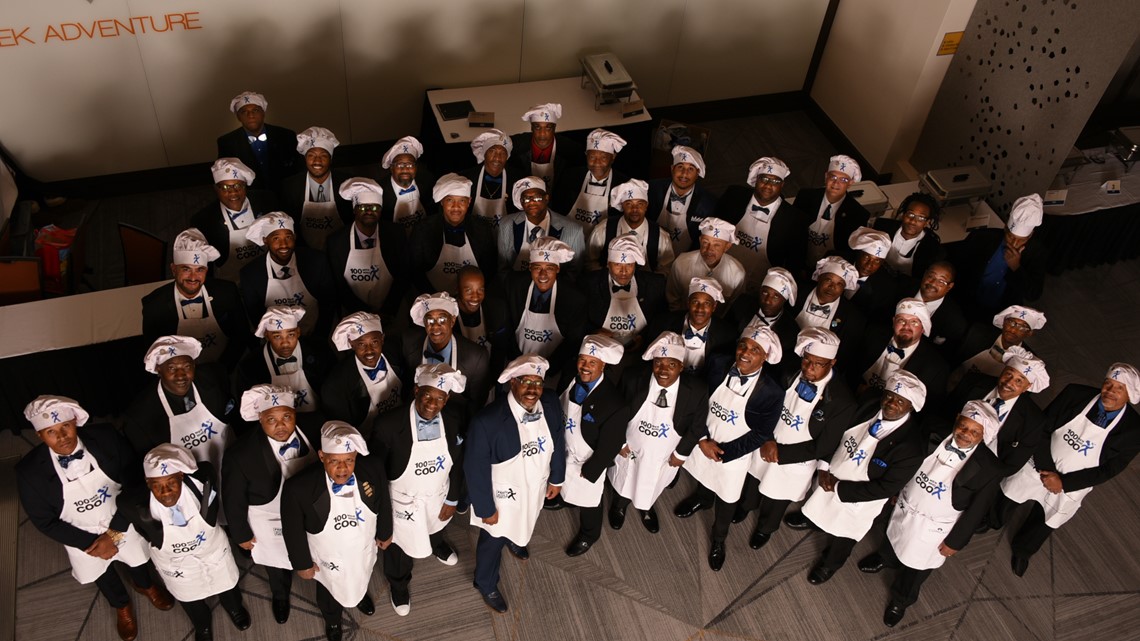 "It's almost an institution. It's known as the premiere black-tie event in the Black community," Paige said, standing outside the nonprofit's storage unit, full to the brim with stainless steel chafer serving dishes.
"People get excited about it every year which is why we sell out," she said. According to Paige, ticket sales amount to thousands of dollars raised by the end of the night for nonprofit organizations that serve youth in Montbello.
"Since 2013 we've been able to contribute over $80,000 to these organizations just on the way we operate," she said. They pick three beneficiaries to fund for 3-year periods.
"So they're not worried like we are, thinking where's the money coming from next year?" Paige said.
Even after all nearly four decades in the community, Paige said they still struggle for funding. That's why 100 Men Who Cook, the Colorado Beautillion-Cotillion and Athletics & Beyond have joined forces with the other nonprofits to create the Montbello7. Because they believe they are more powerful together.
Montbello7
"With the organizations that we've been supporting, they put their hands on at least 10,000 students a year," said Paige. "So imagine to have a place where they're able to come and it's actually filled with all of these organizations. A consortium of services that deals with everything, from eating, to athletics, to leadership development, food banks, autism services, etiquette..."
That's what the Montebello7 are joining forces to work toward: a new facility where they all can operate out of, for the first time.
"Everybody's renting a place for training, for their weekly session with students. To have our own facility would be phenomenal," Paige said. "I'd actually fallen into some acceptance that it would not happen."
Paige, like many of the leaders of these nonprofits, have been let down and made to go it alone for many, many years despite the impact of their work.
"We do whatever we have to do with whatever resources we have," she said, "but we are determined to have an impact on our future."
They are ready to fight harder than ever to give their community the resources it deserves. They're hoping the City of Denver and new allies will join them in that fight.