All this week on 9NEWS Mornings, we are highlighting Colorado cold cases.
Less than a year after the attack on Columbine High School, the school was in mourning again when two sophomores were mysteriously gunned down in a sandwich shop.
That was more than 17 years ago. The case is still unsolved, and it's now at a dead end.
Nick Kunselman and Stephanie Hart-Grizzell loved each other more than their families thought kids could.
Drawn together by arts and music, they were inseparable.
Nick worked at a Subway close to school. Stephanie hung out while he closed-up shop.
"Someone or some people came in and killed them," Jefferson County Cold Case Detective Elias Alberti said.
Early on Feb. 14, 2000, one of Nick's coworker's spotted the sandwich shop's lights on after midnight, and saw someone leave out the back: a man who was about 5'8," white and blonde.
The coworker found Nick and Stephanie shot dead behind the counter.
PHOTOS: Remembering Nick Kunselman and Stephanie Hart-Grizzell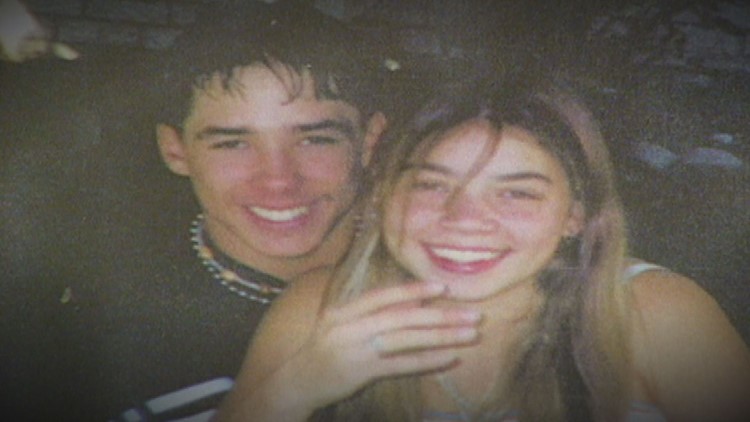 For parents and friends still healing from the infamous school shooting the year before, the Jefferson County Sheriff's Office described it as salt in the wound.
Pastor Gino Geraci of Calvary Church nearby said at the time, "They're understandably shocked, they're understandably in pain. They want to know exactly what you want to know. Who did this? Why did they do this?"
His church would host Nick and Stephanie's joint funeral.
They were buried together near Morrison.
"It's hard to make that phone call and find out nothing's happened," said Kelly Grizzell, Stephanie's mom around Valentine's Day, 2011.
Family and friends have marked each Valentine's Day wondering who shot Nick and Steph.
That particular year, they marked it at the Red Rocks Café.
"That's the thing that's unfair about this whole thing. [The person who shot them] is still out there," Theresa Kunselman said.
"It is surprising to me 17 years later that it isn't solved," said Alberti in a recent interview.
That's despite dozens of binders Alberti has, chronicling hundreds of leads they've chased and rabbit holes they've run down.
Despite the volume of evidence they've had problems with it over the years.
"In cold case homicides, missing people. You kind of have to back up and think, what did we have in 2000?" Alberti asked.
A lot of places didn't have surveillance video.
In this case, it didn't show anything helpful.
And you can imagine how many fingerprints are in a sandwich shop.
DNA, fingerprints and other evidence have been tested and sent out to other labs to be retested with new technology.
"Even around the world. And all that evidence still has led us back to no killer or killers," Alberti said.
Thousands of pages of testimony, boxes of evidence, still won't give up even a motive.
"Were they after Stephanie or were they after Nick? Were they not after any, either one of them?"
More questions for which Alberti doesn't have an answer.
The sheriff's office thought they were close to solving it at times.
They've even had people cop to it— more than once.
But detectives have kept some details private to ask specific questions.
"And these people haven't been able to answer those correctly. And we know based on those responses that they weren't involved," Alberti said.
Seventeen years later, they're still following new leads, but the case is still as stubborn as it was then.
"There are some cases that dead ends come up, and this is one of them," Alberti said.
Alberti thinks the puzzle is solvable, though there's only one way he thinks he can get answers for family and friends who are stuck with the same questions.
"We're really at a point with this case where we're going to need a lead," he said. "Two teenagers in a Subway down in Littleton, Colorado in 2000 do not get murdered, and nobody has any knowledge or information about it."
Anyone with any information should call the Jefferson County tip line at (303) 271-5195 or e-mail Alberti at coldcase@jeffco.us.
Tips can remain anonymous.