ADAMS COUNTY, Colo. — WARNING: The video above contains gunfire.
Seven people are hurt and one is dead after a shooting at a house party in Adams County early Saturday morning.
When deputies arrived, they found eight victims who had been shot. They were taken to the hospital.
The sheriff's office said seven people were injured and one was killed. Two of the victims are in critical condition as of Monday evening. The conditions of the other five victims were not released, but the sheriff's office said they are stable.
The teen killed was identified Friday afternoon as Alaina Simone Martinez, 15. Denver Public Schools said Alaina was a senior at North High School.
Neighbors said they heard dozens of gunshots coming from the party.
"At 3 in the morning we just wake up to gunfire," Yvonne Garcia said.
Her teenage daughter warned her parents to stay low, and it's a good thing she did.
"It hit close to home. Like people say, it really did hit close. It's right through my living room," she said. "That is scary. What if it was 7 o'clock in the evening? What if it was 6 o'clock in the morning when we're up?"
Now, they have two bullet holes in their home.
"To see all these casings on the floor, a hole in my window -- gun violence is horrible," Garcia said. "It's out of control."
She said she worries about her teenage daughter and the other kids in the neighborhood.
"It's not safe anymore to go to house parties," Garcia said. "It's not safe to be a kid enjoying your life anymore."
A neighbor's doorbell camera was recording when the gunfight started.
A blue car is seen driving past the house party multiple times. A neighbor said he heard fighting and then saw a group of young people pour into the front yard of the house.
When people started to gather outside and the car came by again, bullets started flying. The video shows some people at the party returning fire and shooting toward the blue car.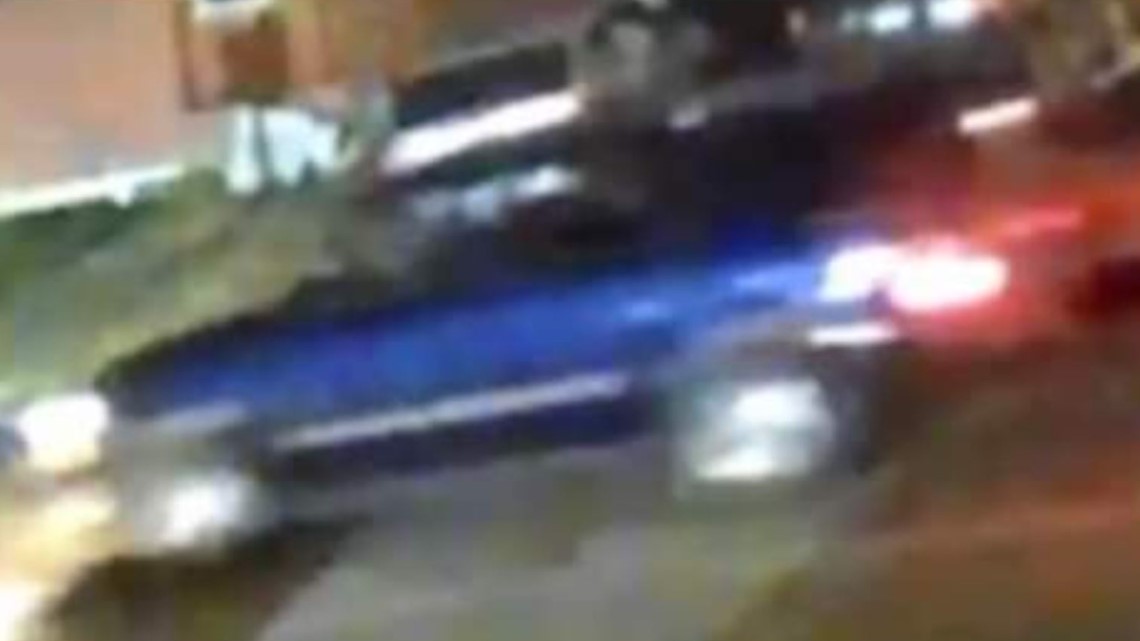 Now, investigators are looking for information about a dark blue early 2000s Chevrolet Tahoe they said was used in the shooting (pictured above). The sheriff's office said they don't know how many people were inside.
Anyone with information is asked to call the sheriff's office at 720-322-1313.
District Attorney Brian Mason said his office is looking into everything, including whether the shooting was gang-related.
"They were just in shock," a neighbor who didn't want to be identified said. "They were hysterically crying. They had no idea what to do."
She woke up to gunshots, too, and said earlier that night teenagers were posting videos from inside the house party.
"People were posting videos as if they were in a mosh pit, dancing to music, flashing guns like it was something to joke about," she said. "There were all kinds of guns. There was at least four or five in one video alone."
The videos have since been taken down.
"It just sounds like someone pulled up in a car. They were trash-talking the people at the party. They started shooting. The people at the party who had guns started shooting and then there were just bullets flying everywhere and who knows how many were shot, who knows who got hit by what bullets. It was just chaos at that point," she said. "They saw their friends get shot, which must've been absolutely horrific."
She said after the gunfire started, they could hear people screaming and saw them running for their lives.
"One girl knew her friend was shot in the side. One was shot in the leg. The driver, his friend, was shot in the foot. They were covered in their friends' blood. The car was covered in blood," she said. "I know my family's praying for everyone's safe return home and even if they are injured we are hoping for a speedy recovery for them and their family."