DENVER — A decision Tuesday will set free a man who was sentenced to 77 years behind bars in 2000 for a kidnapping and robbery after information was brought to light about a second similar robbery that was never provided to his defense team.
Jason Hogan's release comes after the Korey Wise Innocence Project became involved in his case and presented the Denver DA's Office Conviction Review Unit (CRU) team with concerns about the police work that led to his conviction.
In 2000, robbers terrorized women around the Cherry Creek shopping center – accosting them as they returned to their cars, holding them at gunpoint, sometimes spending extensive time with them rifling through their purses and robbing them.
In one case, a gunman made a woman drive to her bank and cash a $1,000 check and give him the money. He rummaged through her purse, holding her driver license for an extensive period of time, before fleeing.
Denver police investigators concluded two of the cases were linked – and they put out a release asking for the public's help. A department spokesman described the robber as 18 to 23, 5-foot-10 to 6 feet tall, with medium blond or brown hair and a "heavily pockmarked face."
Weeks later, an Arapahoe County sheriff's investigator working on a bank robbery investigation concluded that the suspect in her case – Hogan – should be looked at for the robberies outside the Cherry Creek Mall.
She put together a "six pack" of mugshots and sent it to Denver detectives, who ultimately showed it to the victim. The victim picked out Hogan. A Denver jury convicted him, and a judge sentenced him to 77 years in prison. That sentence started after he served 15 years for the Arapahoe County bank robbery (which Hogan admitted he committed).
Hogan denied from the first day having anything to do with the Cherry Creek robbery.
When the Korey Wise Innocence Project at the University of Colorado got involved it discovered a number of problems with the case:
Authorities told the public the suspect had a pock-marked face; Hogan's face is not pockmarked.
The victim told police that she did not get a good look at the robber's face but did study the back of his left hand (which he was using to shield himself). She described a tattoo on that hand – a sun of some sort. When Hogan was arrested, there was no tattoo on his hand. When the woman was viewing the photo lineup, she asked investigators whether Hogan had a tattoo; the detective told her not to worry about that – a lot of criminals, he suggested, drew on temporary tattoos to throw off witnesses.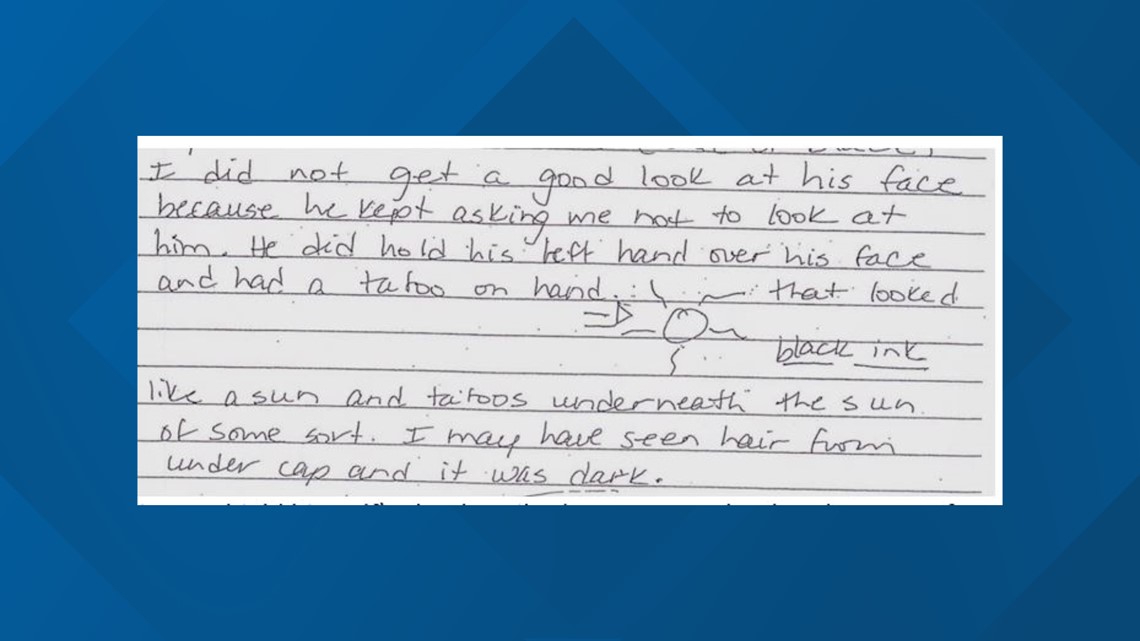 Denver police investigators failed to fingerprint the victim's driver's license (even though the robber handled it) or her car (even though the robber was in it for an extended period).
Denver police investigators failed to follow up at the bank where the victim cashed a check in the drive-up lane – not visiting it until a year later. By then, surveillance video had been erased and the teller who saw the robber could not remember what he looked like.
Most curiously, Denver police never disclosed the existence of the other robbery that investigators thought was committed by the same man – never charged anyone, never provided any records to Hogan's defense team. Investigators with the Korey Wise Innocence Project located police records in that second robbery. They showed that detectives believed the same person committed both crimes - but the victim in the second case did not identity Hogan in a lineup and his fingerprints did not match prints believed to belong to the robber. Those records were never turned over to Hogan's defense attorney.
As a result of the presentation by the Korey Wise Innocence Project, Denver District Attorney Beth McCann agreed to a new plea agreement. Under it, Hogan pleaded guilty to second degree kidnapping and was resentenced to time served and will be released from prison in Cañon City.
Under the plea agreement known as an Alford Plea, Hogan maintains his innocence, but admits that there is evidence that, if believed by a jury, could lead to his conviction.
"We appreciate the Korey Wise Innocence Project bringing this case to our attention," said McCann. "We were not able to conclude that Mr. Hogan did not commit this crime but given the fact that there was a subsequent very similar robbery and that information was not provided to us at that time so it could be disclosed to the defense counsel, we agreed that it was fair and in the interest of justice to resolve the case in this manner."
In 2022, McCann launched the Conviction Review Unit(CRU) describing it as an essential part of an effective and modern prosecutorial office. Since then there have been 45 sentence reduction applications received, 26 clemency requests and 42 actual innocence applications filed.
The CRU accepts submissions to review cases of defendants who deem their sentencing is not compatible with current standards of fairness and also reviews cases of defendants who assert that they were innocent or wrongfully convicted.
Those requests can include:
Post-conviction petitions
Clemency petitions
Parole petitions
Community corrections transition requests
Inmates convicted of sexual assault are not eligible to have their cases reviewed.