CLEAR CREEK COUNTY, Colo. — Four Colorado governments will pay $19 million to the family of a man gunned down in Silver Plume last summer, marking the largest police misconduct payout in Colorado history.
In a statement from their attorneys, Simon and Sally Glass, Christian's parents, said they hope the settlement sends a message that injustice won't be tolerated and that those responsible will be held accountable. That includes the responding officers who failed to intervene and protect their son.
"It is designed to send a message to the public, to the world, that we will not tolerate this type of violence in our community," Attorney Siddhartha Rathod, of Rathod | Mohamedbhai LLC, told 9NEWS on Tuesday. "That police officers must be held to a higher standard of protecting the public, and that the officers who were involved in this had a duty to intervene. It sends a message to the community that we must do something to change the situation in law enforcement, that we must hold these law enforcement officers accountable and law enforcement officers must hold each other accountable."
In an interview, Rathod said cases like Elijah McClain's, whose mother Sheneen McClain spearheaded reforms like the Police Accountability Bill, build on each other.
"What we're seeing, though, is that the problem isn't getting better. It's getting worse. And I think that's what's shown in the numbers here and in the non-economic terms," he said.
"Nineteen million dollars is a lot of money," said Dr. Joanna Schwartz, a law professor at the University of California, Los Angeles, who studies the impact of police misconduct settlements. "I think this agency will be thinking carefully about how it operates in the future, and other departments in the region and across the country are also going to take notice of this suit. But I think it's the noneconomic changes that will most directly impact the department in the immediate future."
Clear Creek County
Clear Creek County has the largest payout, $10 million. Former Clear Creek County Deputy Andrew Buen was the one who shot and killed Glass in June.
Their settlement will also change policing policies in the county.
Glass' parents will get to speak with new patrol recruits for the Clear Creek County Sheriff's Office, and the county will create a crisis response team by Jan. 1, 2025. The countywide co-responder program will pair mental health professionals and paramedics to go out on calls with law enforcement officers to prevent what happened to Glass from happening again.
Schwartz said that in many cases, law enforcement agencies aren't interested or willing to agree to these kinds of terms.
"I really haven't heard of another settlement that involves the parents actually themselves speaking to officers, which is truly novel in my experience," she said.
"They actually have a legal duty to intervene. Their training tells them to intervene, but it's not getting through," Simon Glass told 9NEWS. "And so maybe hearing directly from victims, like us, will help them understand why they have a duty to intervene, and how it can help avoid these sorts of situations in the future."
Albers committed to establishing 100% crisis intervention certification for current patrol officers by Jan. 1, 2027, and agreed to certify new patrol officers within 12 months of assignment.
The county also committed to dedicating a public park to Glass, and Clear Creek County Sheriff Rick Albers will issue a public apology, alongside the Board of County Commissioners.
In an apology letter from the sheriff's office, Albers "acknowledges that his officers failed to meet expectations in their response" to Glass's call for help.
"You didn't meet expectations. Talk about understatement of the bloody century, you know, to not meet expectations. One of their officers murdered our son, second-degree murder, did not meet expectations," Sally Glass said. "It's underwhelming and very disappointing language."
The letter says the sheriff has undertaken measures to "prevent a future failure," like the creation of the Citizens Policy Advisory Board that reviews and evaluates policing policies and procedures.
"Why did it take so long to get an apology? I don't know. Is Clear Creek County's statement an apology? I think it's lacking," Rathod said. "I think the Clear Creek County Sheriff doesn't recognize the gravity of the situation, and he doesn't recognize his involvement in Christian's death. And until sheriffs like the Clear Creek County Sheriff recognize their role in the murders of innocent Coloradans, we're gonna keep having these problems."
State of Colorado
A Colorado State Patrol trooper and two officers from the Division of Gaming also responded to the initial call, so the last $3 million in the settlement will be paid by the State of Colorado, specifically the state's Office of Risk Management.
CSP will open statewide Active Bystandership for Law Enforcement (ABLE) training with a brief video from Glass's parents that will be provided to all CSP troopers, cadets, and Division of Gaming POST-certified officers within 15 months of the video being prepared.
The state said in a statement that it's committed to continuing its efforts in prevention. As part of that, CSP will build a virtual reality training scenario, named after Glass, of his police encounter. They say it will focus on de-escalation in stressful scenarios that involve multiple jurisdictions.
"I think the dollars paid will have some impact, but this kind of directed, agreed-upon policy and practice change may be the quickest way to get those kinds of changes implemented," Schwartz said. "They were able to get something really powerful and unique accomplished through the settlement."
The state will also display three pieces of Glass's art in government buildings with a small plaque identifying him as the artist. Gov. Jared Polis will hold a dedication ceremony to celebrate Glass's life on Wednesday.
"I think that memorials and the memory of him, that keeping his memory alive is very important to us...I've read some things about people that go through this kind of thing, that as the years go by those things help a lot. Because you never really come to terms with a loss like this," Simon Glass said.
Idaho Springs
The City of Idaho Springs and the Town of Georgetown will also participate in the countywide co-responder program as part of their agreements.
An Idaho Springs Police officer was one of seven law enforcement personnel who responded to the initial call and who didn't intervene to stop the shooting. Now, the city will pay $1 million to Glass' family and is issuing a public statement on the shooting.
The city's statement says the police department will continue to work with the Jefferson Center for Mental Health, which has a licensed clinician ride with an officer or deputy each week for community outreach.
"I have three teenagers and one young adult child. I cannot imagine the agony and pain the Glass family is experiencing in losing Christian," Idaho Springs Police Chief Nate Buseck said in a statement issued by the city. "We, in law enforcement, need to do a much, much better job. This outcome is not acceptable, and all law enforcement officers need to remember why we signed up to do this job … and that is to help people."
Georgetown
Georgetown Police Marshal Randy Williams was on scene that night. The town is paying $5 million and issuing a public statement. It will also participate in the countywide co-responder program.
In a statement, the Town of Georgetown said all the police department's officers have been attending courses in "intensive crisis intervention responses" and that Glass's death was "tragic, preventable and unnecessary."
The Glass family doesn't have a concrete plan for what they'll do with the money from the settlement, other than setting up a foundation designed to help young people. They just hope the terms will help other families in the future.
"It's just how wrong it was, really everything that's happened. The non-economic terms, the financial settlement, the publicity, it's because it was so shocking, and so wrong," Sally Glass said. "And I hope to God, this just saves someone else."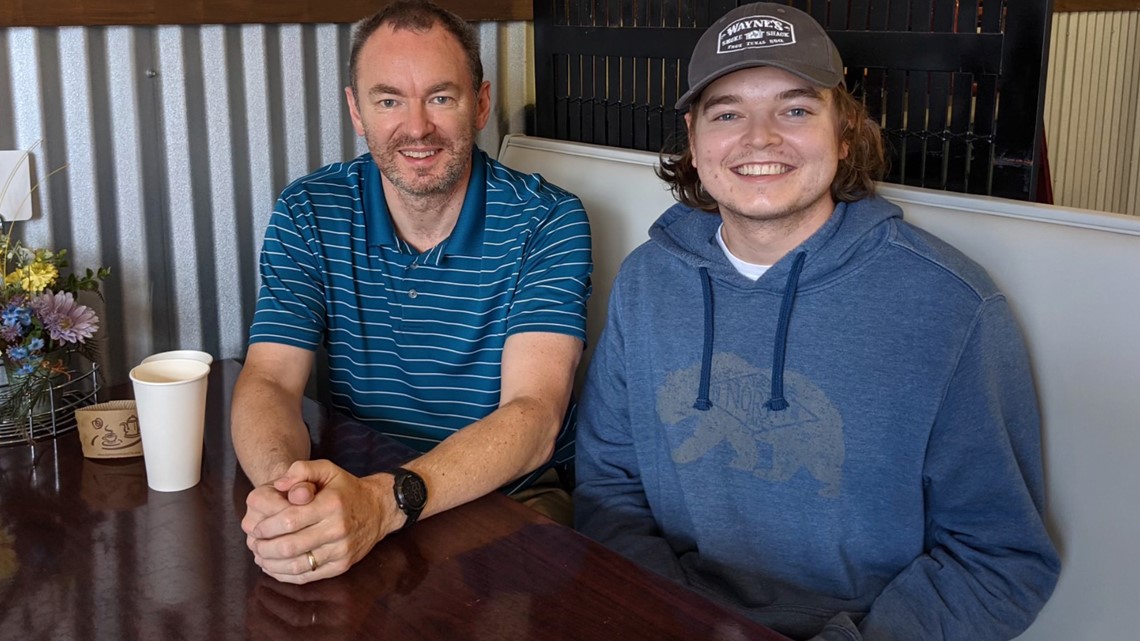 What happened to Christian Glass?
On June 10, 2022, Glass called 911 after his car got stuck on a road in Silver Plume. Seven officers from five agencies responded to the call.
Glass had called for a mental health check. He was shot and killed 70 minutes later.
Glass repeatedly told the responding deputies and officers that he was scared to open the door or roll down the window, but officers continued to try to get Glass out of his car. When that didn't work, Buen broke the passenger side window, used a Taser on Glass, and shot him with non-lethal bean bags. After, officers say, Glass reached out with a small knife, Buen shot him five times, killing him.
Gould, who wasn't on scene at the time of the shooting, was charged with criminally negligent homicide and reckless endangerment. An indictment says Gould was watching Buen's encounter with Glass via a body camera's livestream and alleges Gould gave officers on scene that night authorization to break into Glass' car.
> Do you have a news tip on this story or any other story? We want to hear from you! Tell us about it by emailing newstips@9news.com.