DENVER — The new week was one hour and 55 minutes old when gunshots echoed through Lower Downtown in Denver – in the midst of a large fight, a man in a parked Buick fired three rounds and hit two cars, one of them occupied.
The shooter got out and walked quickly away as police officers arrived on scene and began checking to see whether anyone was hurt. No one was.
A search of the Buick yielded two handguns, two magazines and $1,837 in cash, but the shooter hasn't been caught.
That incident occurred during the seven-day span last year from May 29 through June 4 – a week in which police responded to more than 1,000 shootings in the United States.
The shots fired in LoDo marked the first of at least 21 shootings in Colorado that week. Those Colorado shootings left 21 people with bullet wounds – 15 of them wounded, six dead, a 9Wants to Know examination of public records found.
It was only one week in a year in which Colorado experienced at least 783 separate shooting incidents, according to data compiled by the Gun Violence Archive. That's an average of more than two shootings a day, every day, for the entire year. In 2022, they left at least 637 people wounded and 358 dead.
The 9Wants to Know investigation, part of a look at gun violence across the country by news TEGNA news stations was focused on deliberate acts in which one person shot at another and, therefore, does not include suicides, which account for about three-quarters of gun deaths.
Public health officials view it as an epidemic, not unlike an illness.
"It's clear that there are social diseases, such as gun violence, and we have to use the same kinds of tools and thoughts and strategies that we've used for other epidemics in the past," said Dr. Eric France, the chief medical officer at the Colorado Department of Public Health and Environment. "We need to focus those same tools on the problem of violence – in particular gun violence in Colorado."
That violence affected those in the middle of it intensely – but it also reverberated through the lives of people unwittingly caught up in it.
"It's just gotten out of control," said Penny Alsabih, who witnessed the aftermath of one of that week's shootings in front of her Denver home. "It's just out of control."
"I always thought it would never happen to me because I'm a big guy," said William Wunsch, a victim of a carjacking. "People usually don't bother me."
To get a sense of what's happening in Colorado, 9Wants to Know examined all 21 shootings from that single week using police, court and coroner's records, interviews with some of those involved in or affected by the incidents, and state and national data compiled by the Gun Violence Archive.
Together, they paint a picture of gun violence in Colorado that can happen just about anywhere at just about any time and affect just about anyone:
Denver had the most incidents with nine, but shootings also occurred in Aurora, Lakewood, Lafayette, Colorado Springs, Pueblo, Greeley, Garden City and unincorporated Larimer County.
Only one of the days – Tuesday, May 31 – passed without any reported shootings.
The incidents occurred at all hours, and more happened between noon and 6 p.m. that week than occurred between midnight and 6 a.m.
Those hit by gunfire ranged in age from 15 to 66. At least 10 of them were 30 or younger, and at least four of them were teenagers.
To date, seven of the incidents have resulted in arrests, but the others, including four of the five homicides that week, remain unsolved.
"If an aging parent or family member dies from a stroke, or a heart attack, it's expected," France said. "When somebody dies at an early age from a tragic disease or gun violence, it's something that will impact that family for years."
'This has been hard'
Penny Alsabih was up late, studying a website to look for new plants for her yard, when she heard a strange noise.
"I wasn't sure what it was, quite honestly," she said.
Her son and daughter both had friends over, and she thought maybe someone had dropped a phone. It was about 1 a.m. Friday, June 3.
A minute later, she heard something else and walked out onto her front porch. A man lay in the street, a scooter on top of him.
"Are you OK?" Alsabih asked.
She ran inside, grabbed her phone and called.
Then she went out to the street.
"I got shot," the man said.
Alsibah's son and his friends tried to help, performing CPR after the man lost consciousness. His name was Scott Ligocki Jr. He was riding home from work. He was 40. He died about 20 minutes later at a hospital.
A year later, Alsabih is still grappling with that night.
"I never thought there would be a shooting in front of my house," Alsabih said. "This has been a hard – a hard, long journey with this and trying to figure out how to move forward and try to let my kids be teenagers and not have them locked in the house. And we're still evolving with this almost a year later."
New approaches to gun violence
A generation ago, it was common for doctors to ask their patients questions about things in their lives that could threaten their safety. That conversation is now evolving to reflect what's happening in society.
"Doctors are more often now going to be speaking about not just whether your family is in a car seat or wearing their seatbelt, or your child is wearing helmet when they ride their bicycle – they may also ask you about: are there firearms in the home?" France said. "And, if so, are they stored safely?"
Against that backdrop, the state health department and the University of Colorado's medical school have launched projects designed to approach gun violence from a lot of different angles.
"We really are looking at taking a data-informed approach at reducing and preventing gun violence happening in Colorado," said Jonathan McMillan, director of the health department's Office of Gun Violence Prevention, created by legislators in 2021.
"The intent is to be a nonpartisan, science-based partner and center of excellence for research, for education, and most importantly, I think, for collaboration," said Dr. Emmy Betz, an emergency room physician who heads the Firearm Injury Prevention Initiative at the University of Colorado School of Medicine. The school and some of its departments committed $4.5 million to the project to fund it for three years.
McMillan and Betz are coordinating their work, and both said they believe in an apolitical approach.
"It's not about legislation, and it's not about yelling at each other, but it's really about trying to actually make communities safer in our state," Betz said.
The health department's project has three directives.
First, create a resource bank that includes extensive data on gun violence that can drive decisions about steps to try to curb it.
Second, launch a public education campaign about things like the dangers of guns that aren't securely stored and about existing state laws – such as Colorado's "red flag" law, which allows judges to remove guns for up to a year from people deemed to be dangerous.
Third, create a grant program to support community-based organizations already working on strategies aimed at reducing the violence. McMillan said those programs can take on many forms: "After school programs, sports programs, STEM programs, cooking programs, entrepreneur programs – whatever that may be."
McMillan brings a unique perspective: He grew up in northeast Park Hill in the late 1980s and early 1990s as gun violence exploded in Denver.
"That was a time that I lost a few people who I went to elementary, junior high or high school with," McMillan said. "I was a part of that scene and made some really poor decisions, which later led me to being incarcerated at the age of 25."
Betz brings her own unique perspective from her time in the emergency room, where she often sees victims of gun violence who are predominantly young and often people of color.
"I would say every day I'm in the ER, I see someone at risk of firearm death," she said.
Seeing otherwise healthy people with gunshots wounds is, she said, "awful every time."
Every time, she experiences a mix of feelings.
"Usually at the time, there's a little bit of fear," she said. "What if we can't do enough to save this young person? Then with that usually comes anger at the whole situation. Anger that we, as a society and as adults, have let this keep happening and that we haven't figured out how to stop it. And sadness for the person and their family."
The project Betz is heading is working in a number of areas – among them is a program to distribute free locking devices at gun shows so that firearm owners can securely store their weapons.
"We're happy to give the devices out," she said. "But then we also love the chance to talk about statistics, to talk about how to prevent kids from accessing guns, prevent theft, prevent suicide, and so forth."
But she said it will take everything from programs aimed at keeping kids in school to helping people out of poverty.
"It takes sort of a comprehensive wraparound approach to understand why is that kid kind of getting off on the wrong track?" she said. "Does it have to do with issues at home? You know, what's happening with their parents? Does it have to do with instability in food and housing?
"Is it that a summer job might really help them get back on the right track?" she asked. "Understanding what the factors are that are driving them to potentially be involved in activity that might lead them to be exposed to guns."
The gun violence that week in 2022
The gun violence that unfolded over that week in 2022 involved many different circumstances – and some that remain unclear.
Three men were shot to death in cars, including a young father killed in Colorado Springs.
Parking lot disputes led to shootings in Lakewood and Garden City near Greeley.
A man in search of a car threatened several people with a gun in Greeley before shooting and wounding one and speeding off with a sedan, escaping a pursuing police officer when he tore through a railroad crossing moments before a train arrived.
> The video below shows the suspect evade police by crossing the tracks when the train coming:
In Denver, two men fired at a nightclub at closing time, somehow missing all the people crowded on the front sidewalk. A Denver Police officer working security on that sidewalk returned fire, but the shooters escaped. Investigators later arrested two men, who face charges.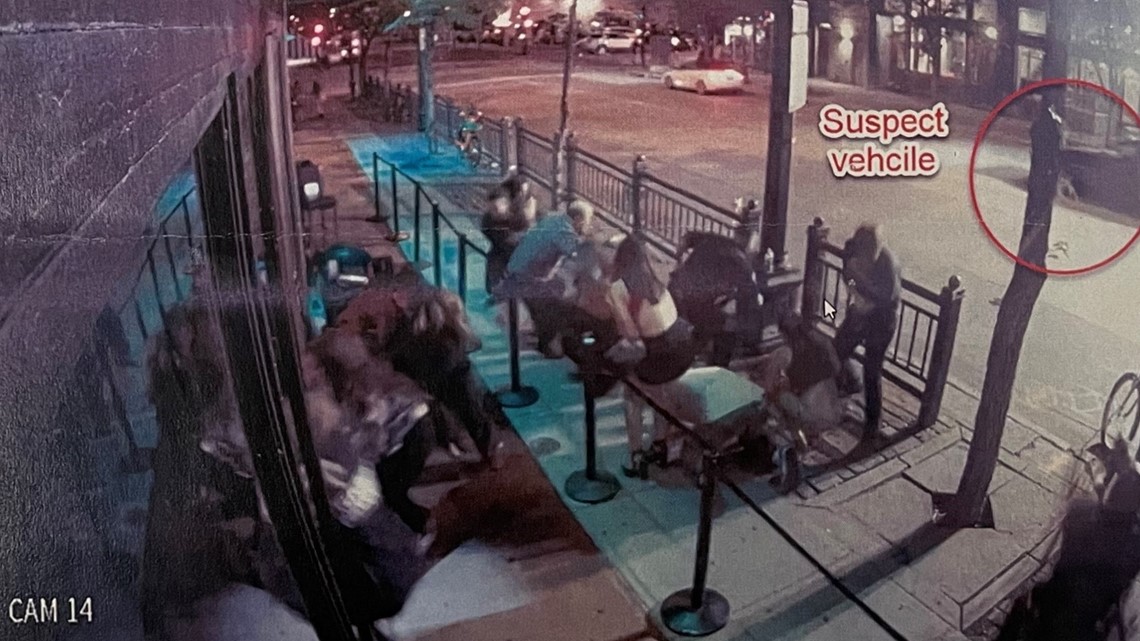 A fugitive wanted in Larimer County died after shooting at a Sheriff's Office deputy and then being shot by the officer – but a coroner concluded it was a combination of fentanyl, stress and heart disease that killed him, not the bullet wound.
One teenager shot another in a culvert under Sheridan Boulevard in Lakewood.
And there was a prolonged gunbattle that played out in Denver's Central Park Neighborhood.
It began with a group of young people cruising through the parking lot at the Central Park Recreation Center, breaking into cars.
Two men emerged from the rec center, eventually pulling weapons and engaging in a gunfight with people in the other car that wound its way through neighborhood streets. One bullet hit a nearby home.
"I knew almost immediately that it was a gunshot," said Teddy Gordon, who was home with his sister and a friend, watching TV, when a bullet slammed into the frame next to the front door of his family's home.
"It freaked me out a bit," he said.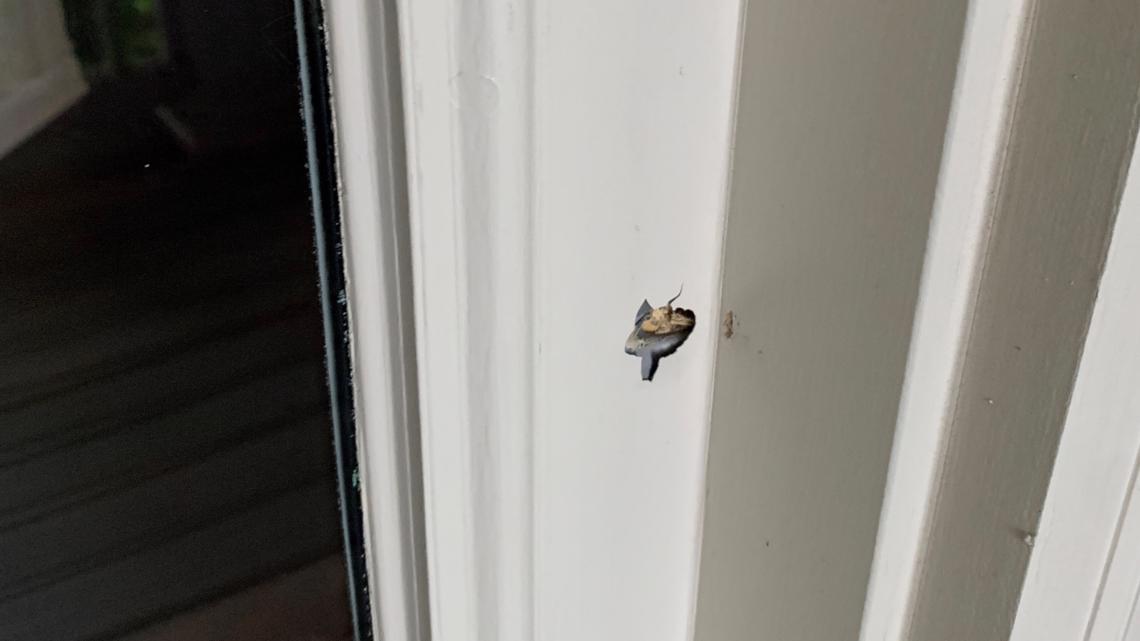 The chase ended when the first car spun out in a greenbelt and everyone in it scattered – including a 15-year-old girl who collapsed nearby with four bullet wounds.
Responding police officers grabbed a 15-year-old fleeing the area who was armed with a so-called "ghost gun" – an untraceable weapon with no serial number.
Someone else from that car ran down an ally just as William Wunsch got out of his Toyota Camry to open his garage door. When he turned around, a young man was in the driver's seat of his running car.
"He said, get out of here or I'll shoot you," Wunsch recalled. "I thought about it and I let him have the car. … Better than being dead."
That suspect hasn't been caught.
Even with all the violence, France, with the state health department, didn't hesitate when asked about his hope for the future.
"I think I would use the word optimistic – optimistic because we're all having this conversation. We're all focusing on it," he said. "And we're all putting pressure on the communities to come up with solutions for this, whether they're legislators or local governments or families. We all feel like we can't go on like this. And we have to come up with a solution."
Three hours before the end of that week last year, the last of the 21 shootings unfolded at a skate park in Colorado Springs that has frequently been the scene of gun violence.
It was about 9 p.m. A 27-year-old man was shot and wounded. The case remains unsolved.
> Do you have a news tip on this story or any other story? We want to hear from you! Tell us about it by emailing newstips@9news.com.
More 9NEWS stories by Kevin Vaughan:
9NEWS+ has multiple live daily shows including 9NEWS Mornings, Next with Kyle Clark and 9NEWS+ Daily, an original streaming program. 9NEWS+ is where you can watch live breaking news, weather updates, and press conferences. You can also replay recent newscasts and find videos on demand of our top stories, local politics, investigations and Colorado specific features.