DENVER — A grand jury indicted a Denver Police officer in a shooting in Lower Downtown in July in which several bystanders were wounded by gunfire, saying the indictment was in part because that officer knew he didn't have a "clear backdrop" when he fired his weapon.
The grand jury returned a 14-count indictment on Wednesday against Officer Brandon Ramos related to the incident after hearing testimony from 17 witnesses and reviewing 140 exhibits. The charges include eight counts of assault.
Denver Police officers saw Jordan Waddy, 21, shoving and punching another person in the early morning hours of July 17 outside Larimer Beer Hall. Waddy was the "aggressor" in the attack, hit the other man and had a gun, police said.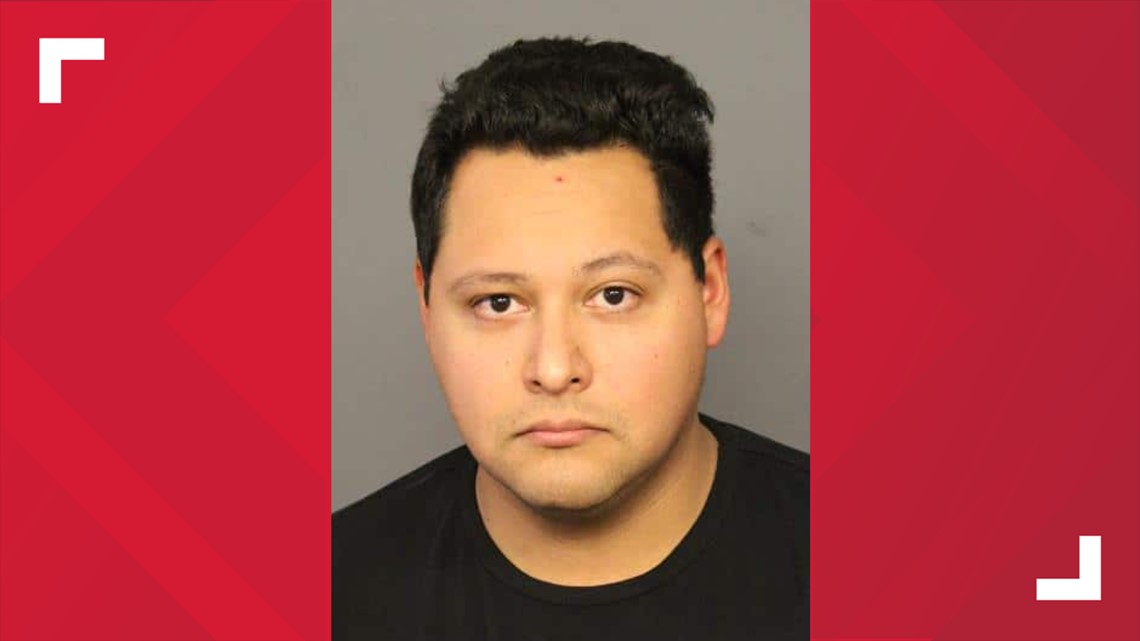 Body camera video released by the city in August shows officers walking along Larimer Street. Police said they tried to stop Waddy. The footage shows Waddy walk onto Larimer Street. He's seen in the video taking his hands out of his pockets and putting them in the air as he walks back onto the sidewalk. Waddy then walked toward the crowd gathered outside Larimer Beer Hall and away from officers.
CONTENT WARNING: The video below shows at least one person get shot. Normally we would blur the video, but we think it's important context for you to see it in its entirety.
Denver Police said Waddy then pointed a gun at two officers, who each fired at him. One officer fired four rounds and the other fired twice, DPD said. Three officers fired a total of seven times. Six bystanders were injured.
Three of the six bystanders – Yekalo Weldewihet, Bailey Alexander and Willis Small IV – said at a news conference at the office of their attorney, Siddhartha Rathod, that they were relieved at the indictment.
"This officer fired into a crowd of more than a hundred people and shot five of us," Alexander said, reading a statement. "We were all struck with a bullet from Officer Ramos' gun and it is by the grace of God that all three of us are able to stand here and talk to you today."
Denver Mayor Michael Hancock expressed surprise at the news of the indictment. He issued a statement calling the shooting "regrettable."
Prosecutors have opened a criminal case against Ramos in Denver District Court.
According to the indictment, Ramos only saw the side of Waddy but fired at him twice. The document says Ramos "knew" that a large crowd of people was behind Waddy and that he did not have a "clear backdrop." Waddy never turned toward or faced Ramos, according to the document.
Ramos was indicted for wounding five of the victims.
Ramos was not in "immediate danger" when Waddy began to pull his weapon out, the indictment says. It goes on to call his decision to shoot "reckless, unreasonable and unnecessary" for protecting himself and others and says that he "consciously disregarded an unjustifiable risk" to the crowd behind Waddy.
Ramos was charged with the following:
Two counts of second-degree assault – reckless
Three counts of third-degree assault - knowing/reckless
Three counts of third-degree assault - negligence with a deadly weapon
One count of prohibited use of a weapon
Five counts of reckless endangerment
Ramos will be suspended without pay due to the felony charges, which is standard protocol, according to a Denver Police spokesperson. He had been on modified duty assignment since the incident.
The Denver Police Protective Association said on Wednesday that they were "deeply saddened" for those wounded that night but called the decision to indict Ramos "unfortunate and sad."
"While we respect the grand jury process, we will rigorously defend officer Ramos using every available resource at our disposal," said Tyson Worrel, the organization's president.
Ramos joined the department in 2019.
The indictment says that the two other officers both "reasonably believed" their lives and the lives of others were in danger when they discharged their weapons.
Both of them were directly in front of Waddy when he began to pull a gun from his sweatshirt, the indictment says. It also notes that from where they were standing, no one was between them and Waddy and no one was behind Waddy.
A criminal case against Waddy is pending before Denver District Court. He is charged with three counts of possession of a firearm as a previous offender and one count of third-degree assault His attorney has said previously that they planned to sue.