DOUGLAS COUNTY, Colo. — Two people who were contacted inside a stolen Kia in the parking garage of a Lone Tree RTD station late Tuesday night were fatally shot after they exchanged gunfire with Douglas County deputies, according to Sheriff Tony Spurlock.
"This is another thing law enforcement in the metro area is seeing every day," Spurlock said. "Stolen cars. Suspects in the stolen cars, armed and they're engaging police officers."
The Douglas County Sheriff's Office has a pattern crimes unit that specifically focuses on stolen cars. Around 11:30 Tuesday night, a member of that unit noticed a black Kia without a license plate backed into a spot in the garage located at 10203 Station Way in Lone Tree. That deputy called for backup and then they approached the car, Spurlock said.
"Almost immediately when they're making contact with the car, officers are being shot at from the passenger windows on both sides of the car," Spurlock said. "We returned fire. This took place three times. There were three volleys of shooting between the suspects and our officers."
>Video below: Douglas County Sheriff speaks on shooting involving deputies:
Six deputies fired their weapons and both suspects were struck and pronounced dead. Their names are not being released until their next of kin can be notified. However, Spurlock said both were wanted on warrants for auto theft and theft. One of them was wanted for questioning related to a shooting that occurred within the last three months in Denver, he said.
One deputy was wounded when he was hit in the face with glass from a window that was shot out.
"He was also, miraculously, a bullet goes through the sleeve of shirt and you can see where it went through his shirt,' said Spurlock. "He was not hit by any bullets. He was just hit by glass."
That deputy was treated at a Lone Tree hospital and has since been released.
"Our officers were very, very lucky last night that something more dangerous didn't happen to them," Spurlock said.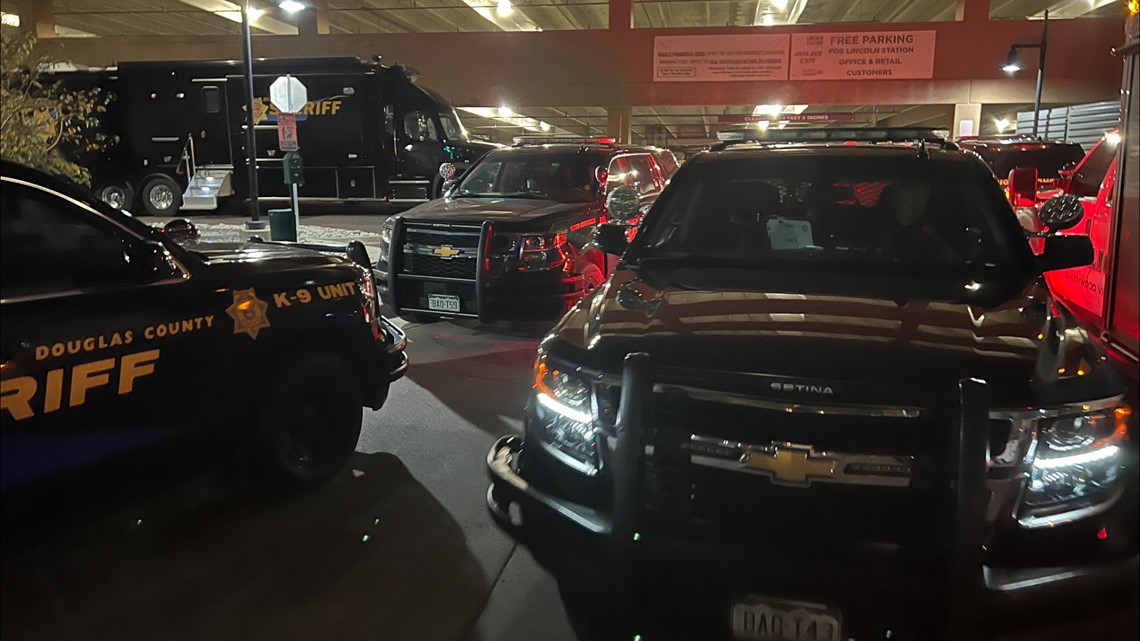 He said deputies were in the area because of a "string" of auto thefts that have occurred in the northern portion of Douglas County. He indicated the lot the RTD lot as well as hospital lots or big business lots are common places where thefts occur.
"We have been saying for the last year and a half that auto theft has been the number one crime that has been affecting, basically the metro area," Spurlock said. "Because it's related to other crimes. Theft. Burglary. And then drug-related. And we are seeing people that involved with weapons as well in these auto thefts."
Two guns were found inside the stolen car. Spurlock said they were still searching the vehicle for other evidence.
The six deputies who fired their weapons are on leave, which is standard protocol. The incident is being investigated by the 18th Judicial District Critical Incident Team.
9NEWS+
9NEWS+ has multiple live daily shows including 9NEWS Mornings, Next with Kyle Clark and 9NEWS+ Daily, an original streaming program. 9NEWS+ is where you can watch live breaking news, weather updates, and press conferences. You can also replay recent newscasts and find videos on demand of our top stories, local politics, investigations and Colorado specific features.