DENVER — One second, Meghan Meehan said she was standing in her kitchen. The next, she said she was pinned underneath her refrigerator and piles of rubble, unable to escape.
"I saw outside, I could see the sky, I could see my neighbor three doors down looking at me, and I saw rubble, just rubble," Meehan said from a witness stand in Denver County Court Wednesday afternoon. "And then I saw Todd. I was trapped and screaming for help, and then I heard someone very close to me, coming closer.
"I could hear someone crunching through the rubble, so I stopped screaming and I saw that it was Todd and I just got very scared."

That man — Todd Perkins, the former handyman at the building where Meehan lived — is now standing trial for an explosion that left behind a pile of rubble at what up until Aug. 14, 2018 was a seven-unit multiplex off North Santa Fe Drive and West 4th Avenue.
The 57-year-old is charged with attempted first-degree murder and first-degree arson. Opening statements in what's scheduled to be a five-day trial happened on Wednesday morning.
Prosecutors argued Perkins had recently been fired as the building's handyman and was looking for revenge. His public defenders claimed that the man sitting stoically in the courtroom was a scapegoat who was unfairly targeted because he's different.
"He doesn't have the best manners," Colorado State Public Defender Victoria Eidsmo said. "He's short, uncouth, he's rude, none of the tenants really like him, and when this building blows up, all the tenants point their fingers at Mr. Perkins."
"You'll hear their determination, before anyone went into this building, that there were no outside leaks, migrating gas," Deputy District Attorney Austin Leighty said. "You will hear from witnesses who believe without a reasonable doubt that Todd Perkins set this train in motion."
Meehan, who worked as a bartender and artist at the time of the explosion, detailed what she said were strange interactions with Perkins. On more than one occasion, she said she saw him peering through her skylight, and said that he had yelled at her before and sent odd text messages.
In the hours before the blast on Aug. 14, 2018, Meehan said she saw Perkins entering her neighbor's apartment even though she had been told he had been fired. This prompted a text to her landlord.
Moments later, she said her home crumbled around her. Meehan said a Good Samaritan came and held her hand while they waited for firefighters. Meanwhile, she spotted a fire beginning to burn just a few feet away.
"I remember just something clicked in my head, like 'ok, this is not working,'" Meehan said. "I thought I was going to die. I needed to get out. I was trapped, and so instead of pushing out, I squeezed myself out of the fridge."
Both Meehan and Perkins were taken to the hospital after the blast. Six other people were injured but not transported.
Roughly a year and a half later, Meehan said she hasn't been able to resume her normal life and has multiple doctor's appointments per week.
"It changed my life, my whole life," she said.
Two other victims also testified on Wednesday. Adam Landmark and his girlfriend, Reina Dohlen, were asleep in their bed when suddenly they heard what he described as the "loudest sound ever."
The blast was so powerful they said it blew their doors off their hinges, and they became buried in the brick and stucco that made up what was once their building.
Earlier in the morning, both Dohlen and Landmark said they smelled natural gas — something they claimed essentially knocked them out and made them miss their alarms.
"They get it right in movies: it was just silent and all you hear, it's like a quiet ringing. It's like you can hear the dust falling," Dohlen said.
PHOTOS: Natural gas explosion injures 9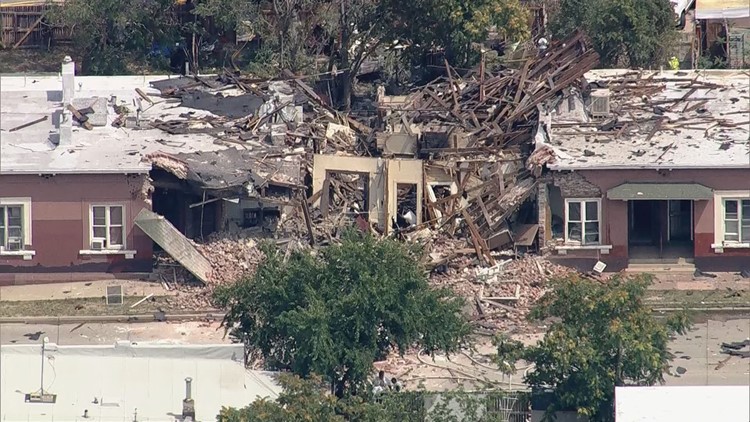 Dohlen said she saw multiple passersby run toward what used to be their apartment, and she and Landmark were able to dig themselves out before a fire spread to where they had been sleeping.
"I was frantic, panicked, freaked out, confused, I think we both were, we didn't know what was going on," Dohlen said. "Adam said we need to get out of the house, it's going to set on fire, which it did right after we got out."
One of the first police officers to arrive on the scene, Sgt. Troy Bisgard, said he remains amazed that the scope of the explosion wasn't worse.
"It's unbelievable: quite frankly as I was working this, I couldn't believe that somebody hadn't died," Bisgard said. "I was blown away."
Prosecutors claimed that Perkins intentionally caused the explosion, unscrewed a natural gas line and brought a gas can into one of the units. His defense says it's not unusual for a handyman to be inside an apartment and said he was resetting the breakers.
Both sides concede it's not known what Perkins was doing in one of the units before the explosion. There's no surveillance.
Perkins, who has pleaded not guilty, had been living in a trailer-turned-cabin behind the multiplex where the explosion occurred. He has been held in the Downtown Detention Center since his arrest in February.