DENVER — The handyman who caused an explosion that destroyed a multiplex off North Santa Fe Drive — severely injuring himself and one other person — was sentenced Friday afternoon to 195 years in the Department of Corrections plus five years of parole.
Todd Perkins was also ordered to pay restitution.
A Denver jury convicted Perkins in January of the following charges related to the August 2018 explosion:
Criminal attempt to commit first-degree murder
First-degree arson
First-degree burglary
Second-degree burglary
First-degree assault
Attempted first-degree assault
Use of a deadly weapon (a sentence enhancer)
>The video above is from the day Perkins was found guilty
Perkins had been accused of intentionally causing the Aug. 14, 2018 explosion at a seven-unit multiplex off North Santa Fe Drive and West 4th Avenue, destroying the building. Perkins, who lived in a trailer behind the property, was seen walking out of the rubble in the immediate aftermath of the blast.
Due to the COVID-19 outbreak, his sentencing hearing was held over a video conference. Several victims attended the session but none of them spoke. Prosecutors did however, read statements from some of them.
Thomas Mulcahy owned the building that exploded.
"I lost my property and so much more," he said in a letter read by prosecutors. "I just want Mr. Perkins to receive the maximum for what he did to all of us... especially my tenants."
Two of the tenants were Adam Landmark and his girlfriend, Reina Dohlen, who were asleep in their bed when suddenly they heard what Landmark described as the "loudest sound ever," during Perkins' trial.
At sentencing, prosecutors told the judge "the ceiling fell on them" and said they were "side-by-side the moment they thought they were going to die."
PHOTOS: Natural gas explosion injures 9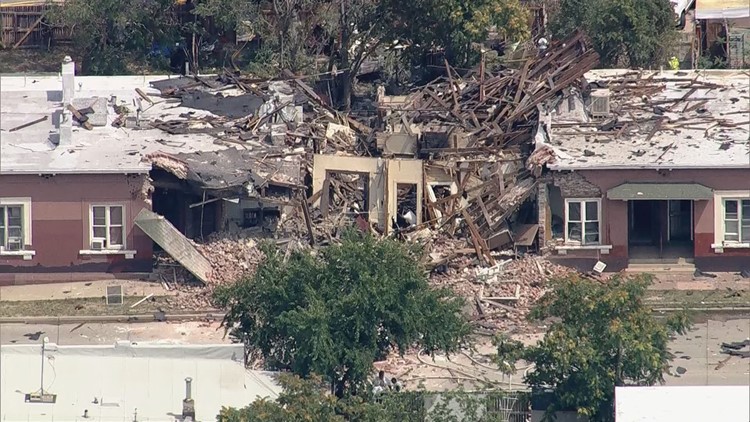 Another tenant said in a statement through prosecutors that the explosion destroyed nearly everything they owned and that "things that made them feel safe were suddenly gone."
Meghan Meehan was home at the time of the explosion and transported to the hospital afterward. She testified at trial that she was trapped underneath her refrigerator, and barely escaped before fire consumed what was left of her apartment.
Prosecutors argued that Perkins unscrewed a natural gas line and brought a gas can into one of the units as retribution against the owner of the building, who had recently fired him from his role as a handyman.
In their closing arguments, prosecutors cited a text message Perkins sent to the building owner that read "I will get you as always." He was also supposed to move out of the trailer he lived at while working as the multiplex's handyman.
Perkins' public defenders alleged that he was a scapegoat, and that there was no physical evidence directly linking Perkins to the crime.
Perkins was acquitted on a charge of stalking related to the incident.
He did make a statement at sentencing, but it was noted that he fired the public defenders that represented him at his trial. The judge said he would be assigned new attorneys to handle any potential appeals.
"I'll meet with someone," Perkins responded. "I just can't deal with Ms. Eidsmo or Ms. Prince anymore."