DOUGLAS COUNTY, Colo. — The mother of the 18-year-old killed during the STEM School shooting in May said she "had the perfect family" before that fateful day while testifying during the final day of a hearing that will determine if the younger suspect will be tried as a juvenile or as an adult.
Last week, a judge ruled there was enough evidence to move forward with a trial for 16-year-old Alec McKinnney. The reverse transfer hearing that wrapped up Wednesday afternoon will determine if that trial will happen in juvenile or adult court. The judge will issue a written decision on Dec. 4.
"Just because juveniles are looked upon as being young doesn't mean that they don't have the capacity to do mass homicides, shootings and domestic terror," said John Castillo after the hearing.
He's the father of Kendrick Castillo who was killed in the shooting.
"I'm not saying that troubled youth can't be rehabilitated, but it depends on the crime that they're doing," John Castillo said. "Mass-calculated murder on innocent students is not one of those."
McKinney and his co-defendant, 19-year-old Devon Erickson, are accused in the May 7 shooting that ended in the death of Kendrick Castillo, who is lauded as a hero for joining other classmates to rush one of the two gunmen. Eight others were also shot.
"I hugged him, told him I love him like every day," Maria Castillo said during her emotional testimony about the day of the shooting. Loud sobbing could be heard throughout the courtroom while she spoke. Even McKinney, who has often sat looking straight ahead with no emotion, cried.
She said she texted her only son at 12:50 p.m. asking if he would be home after school and that he replied saying he planned to come home.
That was the last time she heard from her son. Just over an hour later, she said, her husband, John Castillo, called and told her there had been a shooting at the school.
It took place just days before Kendrick Castillo would have graduated.
"I had all the invitations for his graduations ready to send," she testified. "I still have them at home."
Both the defense and prosecution have been calling witnesses to testify over the course of the last seven business days. Kendrick Castillo's parents have sat near the front of the Douglas County courtroom for every day of the hearing so far.
Maria Castillo also said they visit his grave every day, even after court when it's dark and cold.
"We drive there and tell him goodnight, and that we miss him so much," she said.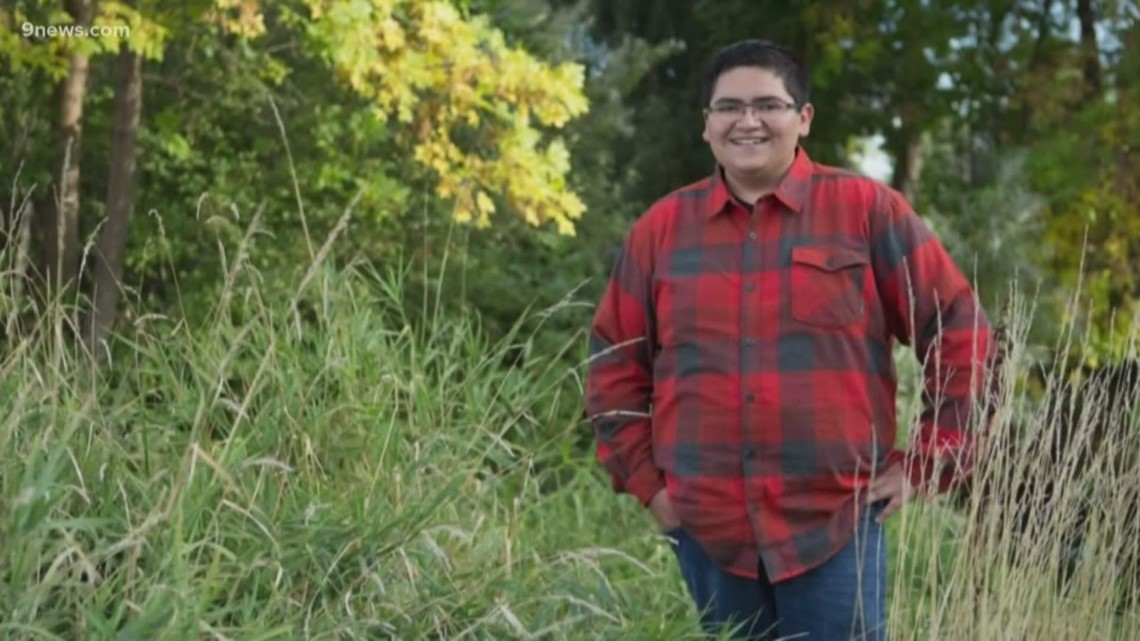 Both McKinney and Erickson are charged with 46 separate counts, including two counts of first-degree murder, one count of conspiracy to commit first-degree murder and 31 counts of attempted first-degree murder.
Maria Castilllo was the last witness to testify before the defense and prosecution made their closing arguments.
Before she took the stand, Det. Brian Pereria with the Douglas County Sheriff's Office returned to testify. He also testified during the preliminary hearing last week.
Pereria's testimony focused on Instagram and Snapchat accounts for McKinney and his co-defendant. He looked over 70,000 pages of social media records, and testified that violence "came up quite a bit" in conversations between McKinney and Erickson in the month prior to the shooting.
On April 8, just 29 days before the shooting, he testified that McKinney expressed hatred toward a fellow student.
In a Snapchat message, McKinney described the student using various expletives and said "I expletive hate that kid" and wrote "Imma [sic] kill him".
On that same day, McKinney wrote, "I'm gonna kill someone at school today," Pereria testified. He said McKinney and Erickson then joked about a school shooting.
Pereria also testified that McKinney used Snapchat to arrange the sale of Xanax. He noted that he was doing so in February 2019, which was about a year after McKinney had been suspended for giving Xanax to a friend who later overdosed, according to court testimony.
At the time of the shooting in May, McKinney was still taking part in a diversion program through the court system as a result of that incident, according to court testimony.
Pereria said during his testimony in messages between the two suspects, there was "animosity expressed toward Mexicans, blacks and Jews."
Closing arguments
Wednesday afternoon, both the defense and prosecution gave their closing arguments.
The defense argued that McKinney should have a chance for redemption and pointed to his troubled childhood.
They argued that he was born to a 16-year-old mother who later "cast away her loving family for an abusive man." McKinney witnessed that abuse and was often left to care for his younger siblings when his mother was out late.
The defense said McKinney was diagnosed with an adjustment disorder in 2008 but his mother "was in denial and did nothing."
They argued that McKinney's mom knew he was cutting but waited two years to get him any help, and that reports were made to the Department of Human Services about possible drug use at the home in 2015 and 2016 and no action was taken.
Defense attorneys also argued that McKinney had been hospitalized several times and seen numerous health care professionals, but none of them communicated with each other, which meant McKinney couldn't get the care he needed. They also argued that Erickson was the ring leader and that McKinney had been pressured into carrying out the plot.
Prosecutors made the case that redemption is irrelevant and said there was a "a great deal of preparation" before the shooting by McKinney and his co-defendant.
They noted that McKinney fired nine shots from his weapon and said it was he who had the idea to put the guns into a guitar case to get them into the school.
Prosecutors said McKinney's "pattern of living included deceit" and that no one around him saw this coming. They also noted that out of all the health professionals who saw McKinney, he never received a diagnosis of any mental illness.
"It's a matter of choice, not mental illness." said District Attorney George Brauchler. "He does well when he wants to."
Both the defense and prosecution spent a good portion of their time talking about the different sentencing options available in juvenile versus adult court.
The defense argued that if ruled an "aggravated youth offender" McKinney could be sentenced to maximum of seven years for a first-degree murder conviction. They also noted that each of the other charges he faces could result in a five-year sentence and when those are added, he could be sentenced to more than 130 years in prison.
If convicted at the age of 20.5, another hearing would be held to determine McKinney's progress with treatment. He could then to transferred from a juvenile facility or a judge could reconsider his sentence.
If convicted in adult court of first-degree murder, he would automatically be sentenced to life in prison with the possibility of parole after 40 years. Under Colorado law, defendants who commit crimes as juveniles cannot be sentenced to life without the possibility of parole.
Prosecutors argued that there was no requirement for the sentences for each charge to be served consecutively, which could result in a much shorter sentence. They also noted that the victim's families would have testify at future hearings and would need to relive the worst day of their lives again.
Brauchler also noted that McKinney's co-defendant is just 2 years older, but due to that age difference, would automatically be sentenced to life without parole if convicted.
He said it would be a "dramatic injustice" for McKinney, whom he called the "ringleader" to get a much lighter sentence. Brauchler also pointed out McKinney's apparent lack of remorse, which was also noticed by Kendrick Castillo's parents.
"I look over and I keep looking for empathy," John Castillo said. "Some type of human emotion and I hate to say it, but I see crocodile tears. And I see that if there is any even type of emotion, it has to do with his family and his situation."
The hearing wrapped up Wednesday afternoon. The judge is expected to issue a written decision around noon on Dec. 4. An arraignment date has been set for Dec. 16.