DOUGLAS COUNTY, Colo. — More than 40 years after the death of Helene Pruszynski, her older sister finally got to speak directly to the man who took her sister's life during a sentencing hearing.
"We were tormented by this tragedy. Our sadness was so deep," Janet Pruszynski-Johnson said during the sentencing hearing.
James Clanton, now in his 60s, in February pleaded guilty to a charge of first-degree murder after deliberation. He was officially sentenced to life in prison during a hearing done over video conference. He was arrested in December 2019.
"He took our kind, loving, sweet Helene from us," Pruszynski-Johnson said. "It couldn't be true. Our family would never be the same."
Pruszynski, 21, was found dead in a Douglas County field on Jan. 17, 1980, the day after she disappeared. Her killer tied her hands behind her, sexually assaulted her and stabbed her repeatedly in the back.
"It gives me some peace knowing that this beast is in jail, but I don't think we'll ever have closure, because Helene is not here," Pruszynski-Johnson said.
Johnson came to Colorado Wednesday and attended the hearing in person. She was the first of about 12 people -- including family members and friends and former classmates -- who spoke at the hearing.
>Watch the full statement from Helene's sister below
Johnson fought back tears through most of her five-minute statement and noted that her brother and parents were not in attendance because they are no longer alive and would never learn who killed Helene.
"Oh how they wished, hoped, dreamed of this day," she said. "A day of reckoning, an arrest, a conviction, justice. I will try my best to speak for all of us."
Johnson said she was nine and her brother was 12 when Helene was born. When she died she said her brother retreated and "suffered in silence," and she said she often cried herself to sleep at night thinking of her parents and how they were coping.
"She was the baby of our family," she said. "We knew she was destined for great things in the future, then our world was shattered when we received that phone call 40 years ago. It was as if someone had reached in and torn our hearts out. I cannot find the words to accurately express the pain and anguish and heartache my family experienced that day and every day since."
In 1980, Helene was a junior at Wheaton College in Norton, Mass., and had come to Denver to intern at KHOW radio.
"To the day my dad died, he was a protective father," Johnson said. "He felt guilt, deep guilt for letting Helene go off to her internship."
While in Denver, Pruszynski was staying with relatives in Englewood.
Her friend Kitsey Snow was also staying at the home of Helene's aunt and uncle while she attended college in Denver. In court Wednesday she read journal entries she had written on the day Helene disappeared and the days after.
"January 16. This has been the longest and worst day of my life," she said, reading the entry in court. "I am writing because I don't know what else to do ... We waited for Helene to come, and waited, it's now 11 p.m. and no Helene. No call, nothing."
She regularly rode a bus to and from downtown Denver, where the KHOW studio was located at the time.
On the night she disappeared, she got off a Regional Transportation District (RTD) bus on Broadway near Union Avenue, but she apparently was kidnapped as she walked to the home where she was staying.
Snow described how she and Helene's relatives went looking for her at the bus stop and called her boss who said they she had left at 6 p.m.
"I can't believe this is happening," she read. "I keep telling Auntie Wanda not to worry, or imagine the worst, which of course is what I am doing. Poor Helene what is going through? Is she alright?"
She read an entry from 1 a.m. on Jan. 17 in which she wrote that they hadn't called Helene's parents yet because they didn't want to worry them, but after speaking with bus driving and learning that he didn't recall seeing Helene on the bus, they finally called her parents in Massachusetts at 4 a.m.
"What an awful [call] to make," Snow read from her diary entry.
She said in court that Helene's parents were set to arrive in Colorado at 2 p.m. on Jan. 17, the day after she disappeared.
"On the noon news we heard that the body of a young girl had been found," Snow read from her diary entry.
She said they tried to stay positive while Helene's aunt and uncle went to the airport to pick up her parents. She said at 1:30 p.m. a detective and the coroner came by the home and she knew Helene was dead. Helene's parents arrived at the home shortly before 4 p.m. that day.
"When they saw the priest they knew," Snow read from her diary. "Mrs. Pruszynski cried and said 'no, no' not my baby. When I looked at Mr. Pruszynski I ached more than I ever thought possible."
Her case had been re-investigated several times over the years and was unsolved for nearly four decades when investigators used a new tool known as "genetic genealogy" to identify James Curtis Clanton as her killer.
Pruszynski-Johnson said as years went by they tried to focus on memories of their beloved sister but that it proved difficult, with holidays being especially hard.
"We would talk about the good time we had with her," she said. "The proud moments, her many accomplishments. The cute and funny things she would do, Her beautiful smile, her kind nature but behind all of those cherished memories there was the sadness, the emptiness and anger that Helene never got the chance to live out her dream, her future."
Using DNA recovered at the crime scene, investigators focused first on finding relatives of the killer. That search eventually led them to Clanton, who was originally known as Curtis Allen White.
He had changed his name in Florida two years after Pruszynski's murder, according to court documents.
Clanton was arrested Dec. 11, 2019 after Douglas County sheriff's investigators surreptitiously collected a beer mug from a bar he had visited and had it tested for DNA.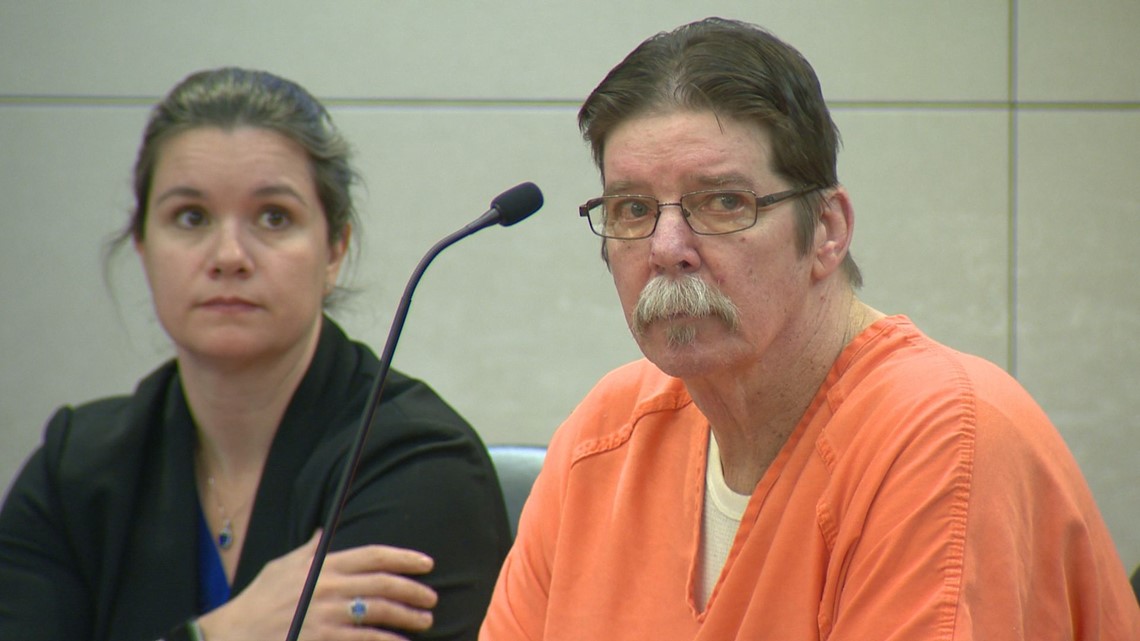 That test showed a genetic match to DNA left on Pruszynski's body and clothing, according to court documents obtained by 9Wants to Know.
Clanton waived extradition and was returned to Colorado two days after his arrest. He actually began his confession on the way to the airport in Florida.
Less than three months later he pleaded guilty and was sentenced Wednesday to life in prison.
"I didn't want to see his face so when his face was on the scene, I turned away," Pruszynski-Johnson said. "I don't want to hear a word or see him, because I have not been able to see my sister for 40 years so I have no desire to hear what he has to say or see what he looks like."
Clanton did not say anything in court, but his attorney Daniel Cunny told the victim's family and friends that he is sorry.
"When Mr. Clanton had his own daughter and he found the love that one has for their own child," Cunny said. "His remorse greatened as he began to imagine the pain he caused Ms. Pruszynski's family."
Clanton agreed to plead guilty as long as he didn't face the death penalty. Under Colorado law, Clanton will be eligible for a parole hearing in 20 years during his life sentence.