JEFFERSON COUNTY, Colo. — The Jefferson County Sheriff's Office has lifted a shelter-in-place that was issued Wednesday morning after a man was found with a gunshot wound in a pickup truck.
The shelter-in-place was issued for part of a neighborhood west of South Sheridan Boulevard and south of U.S. 285.
Two suspects were last seen running south from the scene of the shooting Wednesday morning in the 3600 block of South Depew Street, the Sheriff's Office said.
The victim was taken to the hospital, where he was pronounced dead around 10:45 a.m.
The shelter-in-place was issued around 11 a.m. for residents who live between South Harlan Street and South Sheridan Boulevard, and U.S. 285 to LeHigh Avenue. Residents were asked to remain indoors, lock their windows and doors and report any suspicious people to 911.
The shelter in place was lifted around 5:15 p.m. The sheriff's office said the two suspects are still wanted. They said there will continue to be heavy police presence in the area throughout the evening and Thursday.
The suspects in the homicide were described as two Hispanic males, 5-foot-5 to 5-foot-7, tall and thin, in their late teens to early 20s. One suspect was wearing a black hoodie and blue jeans, and the other was wearing a red and green short-sleeve shirt and tan shorts.
After the shooting, the sheriff's office said, the two suspects ran south from the parking lot between two adjacent apartment buildings. A short time later, they were caught on camera getting into a gold Chevy truck at the apartment complex. A third person drove the truck, the sheriff's office said.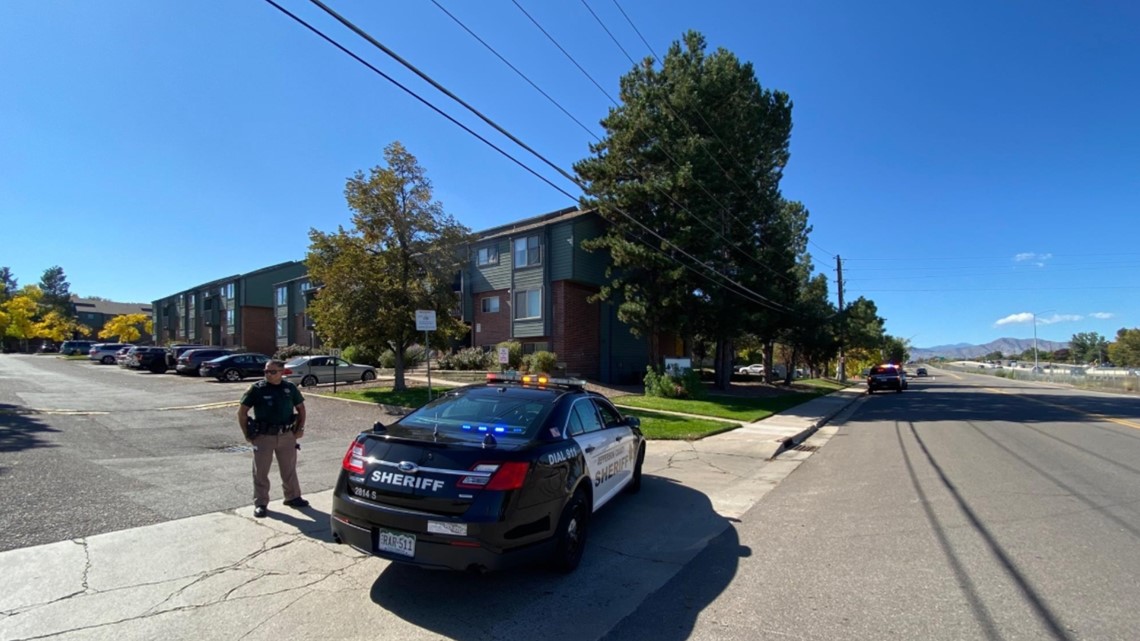 During the shelter-in-place, deputies searched the area and a SWAT team cleared several of the buildings.
Wednesday afternoon, law enforcement found the truck and took the driver into custody on West 29th Avenue near the intersection with Zuni Street. The sheriff's office said the driver was the only person in the truck. They're still working to determine whether he was involved in the homicide.
Anyone with information on this homicide is asked to call the Sheriff's Office tip line at (303) 271-5612 or Metro Denver Crime Stoppers at (720) 913-STOP (7867); reference case number CR22-16638.