Shannon and Staci Kent, 45, of Leadville were charged on Friday with attempted tampering with a deceased human body.
The body was identified by fingerprints as Victor Akubuo, 42, from Southern California, according to Park County Coroner David Kintz Jr.
Akubuo was killed in a single semi-trailer crash on July 30, 2020, in Park County, Kintz said. The Kent Funeral Home was hired by Akubuo's family and his body was released to the funeral home on August 11, Kintz said.
Kintz said Akubuo's body is back in his office's custody and Akubuo's family has been notified of the circumstances. The family has made arrangements with another funeral home, Kintz said.
"This is a sad and disturbing case involving our community and a difficult investigation for our officers," said SPD Chief John Minor.
>The video above is from a prior incident involving Shannon Kent in 2019
Coroner Shannon Lee Kent and his wife Staci were both arrested around 8:30 p.m. in Leadville by SPD and the Lake County Sheriff's Office (LCSO). In addition to the main charge, Shannon was also charged with a violation of his bail bond conditions, stemming from his previous arrest for having his wife, Staci, act as a Deputy Coroner for four months although she was never legally sworn in nor was an appointment filed with the County Clerk, SPD said.
According to SPD, investigators found a deceased person in a coffin at 561 Blue River Pkwy. in Silverthorne. That location was formerly named Bailey-Kent Funeral Homes and was owned by the Kents, police said.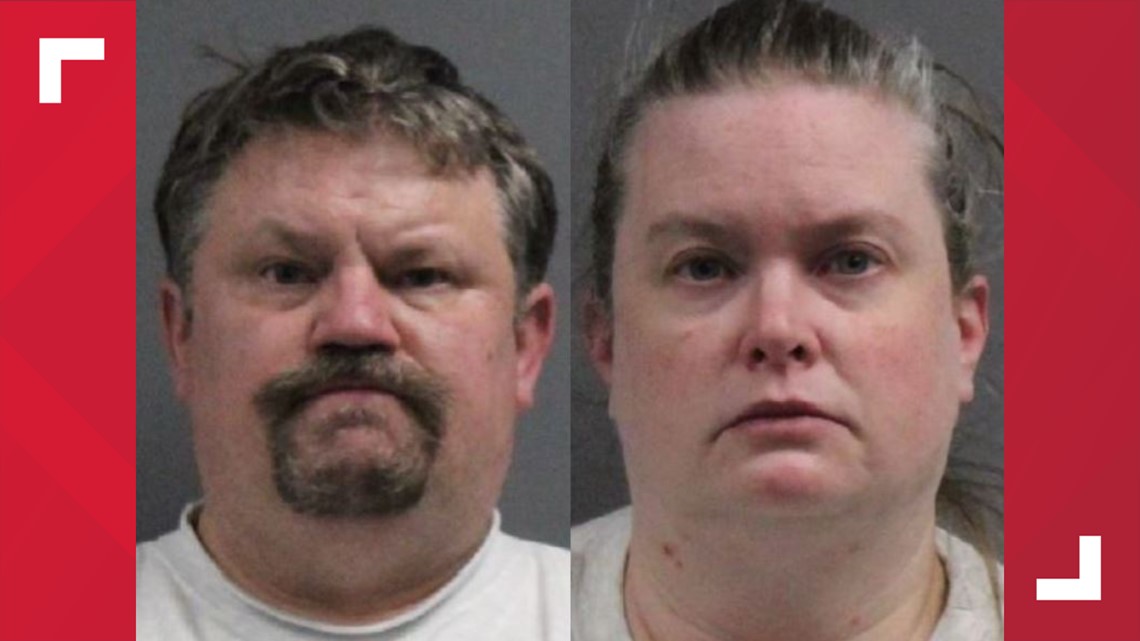 The former Lake County deputy coroner, according to the affidavit, had planned to buy the business earlier from the Kents but reported that he saw "red flags" and backed out of the deal.
Officers contacted the prior deputy coroner, who said he had seen an infant in a casket in a two-door freezer at the Leadville Funeral Home, owned by the Kents. He had planned to buy that property as well as the Silverthorne property, the affidavit says. He recalled seeing the infant about "four weeks ago", the affidavit says, and investigators believe it is the same unidentified infant seen when a search warrant was executed at the property by LCSO in October 2020.
Legal counsel for the Kents said the infant was "stillborn" and was abandoned to a doctor who asked Shannon Kent to store the remains. However, when interviewed, that doctor said no infant was abandoned to her.
She recalled, however, that in 2017 a traveling doctor called her to assist with a birth. Investigators said they've repeatedly reached out to the woman in that case but no contact has been made. They've been unable to identify the infant.
The affidavit also notes that no stillborn deaths have been registered with the Lake County registrar since 2012.
Investigators had been looking into other suspected wrongdoing by the Kents for at least a year, according to the affidavit. In February 2020, a woman contacted the LCSO and said she had given birth to a stillborn baby at 35 weeks in December 2019.
Following her baby's death, she and her fiance reached out to Kent Funeral Home and told investigators working with the Kents was "nothing short of a nightmare."
She said it started out with a lack of communication and later said she eventually received cremated remains she was "not sure" were her sons, in part because the ashes she received would not fit in the infant-sized urn they had purchased.
Investigators later called in experts to examine the remains, according to the affidavit. Those experts determined the remains belonged to a "minimum of two people" including an infant and a "larger individual."
The mother said she was also concerned, according to the affidavit, because when she originally received the ashes, there was no paperwork, such as a death certificate, chain of custody of the remains, or any evidence of whose remains they were.
Shannon Kent was previously indicted by a grand jury in 2019 on charges of official misconduct, according to police, and he was accused of sending his wife to death scenes even though she was not a sworn deputy.
Coroner duties require investigating causes of death and taking the bodies of people who die outside of hospitals when physicians are not present.
Deputy coroners can exercise the authority of the elected coroner, however, Staci Kent was not a sworn deputy, according to the release.
Shannon Kent was first appointed to the Office of Coroner in 2012. He was elected coroner to four-year terms in 2014 and 2018.