THORNTON, Colo. — The son of a 69-year-old man who died after being assaulted outside a bar in Thornton on Christmas Day made a plea to the public for help in finding the person responsible for his father's death.
Thornton Police said officers responded just before 10 p.m. Dec. 25 to a reported crash involving a pedestrian outside Thirsty's Sports Pub on East 104th Avenue. The victim, 69-year-old Manuel Osvaldo Jacquez-Machado, was taken to a hospital where he died the next day.
Investigators later learned that Jacquez-Machado was assaulted, and not hit by car, after he backed into another person's car, according to police.
Javier Osvaldo-Jacquez, the victim's son, described the victim as "a husband, a father, a brother, a friend and to many the joy of the party." He was also a cancer survivor who lived with rheumatoid arthritis for the past 35 years.
"My dad, during his time working downtown, was a man that grew fond of feeding the homeless," Osvaldo-Jacquez said. He added that his father had recently retired and was enjoying his passions including photography and gardening.
"'Oz' left behind a wife, a sister and I, plus two in-laws and six grandchildren," Osvaldo-Jacquez said. "We as a family are suffering tremendously."
Osvaldo-Jacquez made a brief statement directed toward the person who killed his father.
"If you are watching, we promise you we forgive you," Osvaldo-Jacquez said. "Life is about forgiveness, and we understand, but do the right thing and come forward. We know it was something that happened. We know it was tragic and there's no turning back now. But once again, from the bottom of our heart, we still forgive you for what's happened."
Osvaldo-Jacquez told reporters that his family has spent the last month on high alert, looking at every driver of a Jeep they see to check whether that person fits the description of the assailant.
"It's stressful. It's exhausting … because regardless of what we do throughout the day, you're constantly trying to look. Is that the Jeep? Is that the guy?" he said. "There's so many questions and variables, but when you don't have the answers, it's exhausting."
> Watch the full news conference below:
According to surveillance video and a witness, the assailant arrived at the bar parking lot around 9:45 p.m. and parked behind Jacquez-Machado's vehicle, police said. The assailant stayed in his car the entire time leading up to the assault and never got out.
Jacquez-Machado exited the bar at 9:52 p.m., started his car and rolled into the assailant's car in what was described as a "minor collision," according to police. The assailant got out of his car, yelled at Jacquez-Machado and appeared to hit his car a few times.
Jacquez-Machado got out of the car and began walking toward the assailant.
"[Jacquez-Machado] was not doing this in an aggressive manner, he was not raising his voice, anything like that," said Detective Kevin Gifford.
That was when the man assaulted Jacquez-Machado, including at least one punch and one kick, and left Jacquez-Machado unconscious in the parking lot. He pulled out and left the parking lot at 9:54 p.m. going east on 104th Avenue.
Police provided the following description of the assailant:
A thin man who's 5 feet to 5 feet, 8 inches tall
Red/blonde hair that is below the shoulders
Red/blonde beard
The vehicle involved was described as a red 2014-2018 Jeep Cherokee or 2017-2021 Jeep Compass similar to the one pictured below. It has a black decal on the hood and an aftermarket roof rack: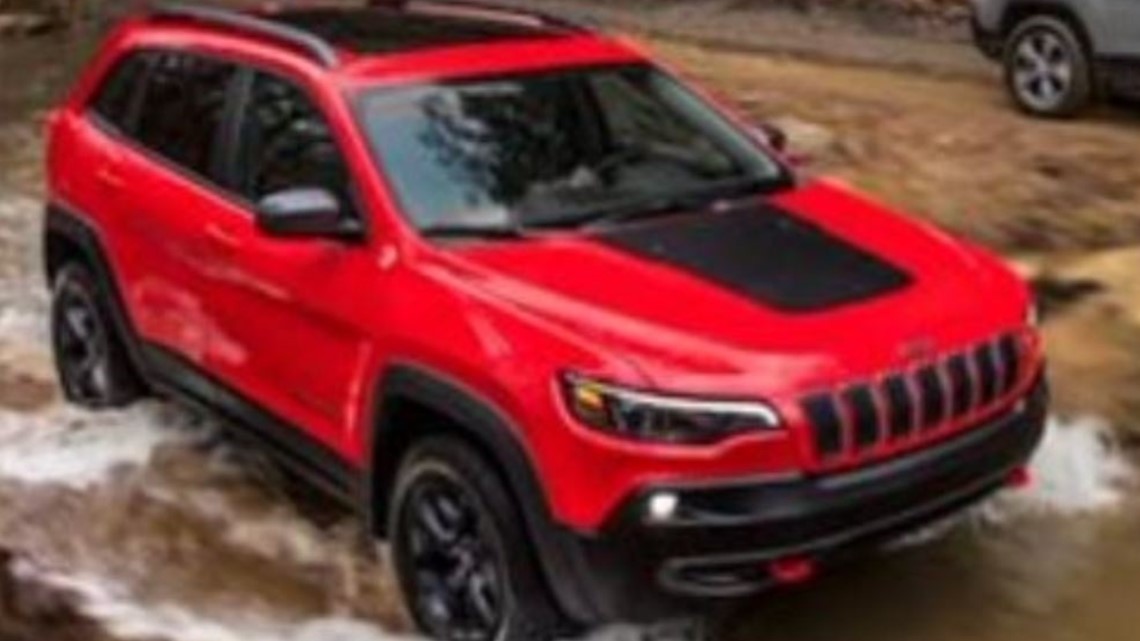 Anyone with information is asked to call Crime Stoppers at 720-913-7867 or visit metrodenvercrimestoppers.com. Tipsters can remain anonymous and may be eligible for a reward of up to $2,000.
Metro Denver Crime Stoppers works by assigning a code to people who anonymously submit a tip. Information is shared with law enforcement, and Crime Stoppers is notified at the conclusion of the investigation.
From there, an awards committee reviews the information provided and, if the information leads to an arrest, the tipster will be notified. Rewards can be collected using the code numbers received when the tip was originally submitted.
9NEWS+ has multiple live daily shows including 9NEWS Mornings, Next with Kyle Clark and 9NEWS+ Daily, an original streaming program. 9NEWS+ is where you can watch live breaking news, weather updates, and press conferences. You can also replay recent newscasts and find videos on demand of our top stories, local politics, investigations and Colorado specific features.